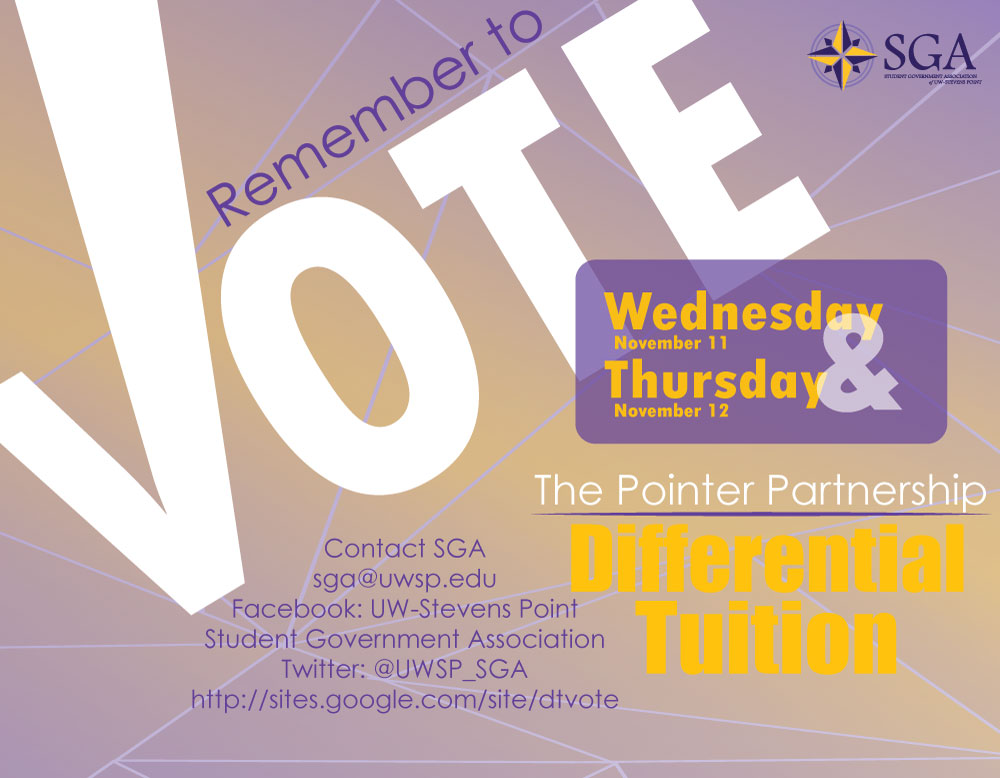 The Student Government Association (SGA) needs our voice in an upcoming differential tuition referendum that could reduce the time you wait for high-demand courses and improve student advising.
What is differential tuition?
The referendum, also called "The Pointer Partnership," asks whether you would pay an extra $200 in tuition for services that could help students graduate more consistently in four years.
Normally, some of your tuition helps cover administration costs across the University of Wisconsin System. Differential tuition is different because all of the funds generated would only support UW-Stevens Point students and programs. Currently, UW-Stevens Point is only one of three UW System campuses that has no differential tuition.
What would differential tuition do?
1.    Reduce bottlenecks in highly demanded courses: Highly demanded courses fill quickly, preventing students who can't get in from graduating on time. Differential tuition would allow the university to hire about 15 faculty and instructional staff to provide more sections of those courses.
2.    Provide consistent advising: The campus would create student success centers in each of the four colleges. Professional advisers in each student success center would help students:
Explore interest areas and career paths
Develop a four-year graduation plan
Become accustomed to using the timetable, course catalog and registration process
Connect with resources and services that support success
Support students in their exploration of career paths and graduate schools.
3.    Cover students who have the highest financial need: A portion of the money collected will be used to help cover the cost of differential tuition for those students with the highest financial need.
What will differential tuition not do?
Unfortunately, differential tuition cannot bring back classes or programs we lost because of budget cuts. However, differential tuition won't necessarily last forever, either. SGA has implemented a rule that says differential tuition would end after two consecutive years of "no confidence" votes should it determine that differential tuition no longer serves students well.
Important to know
All students will receive an email with a link to the ballot for the referendum. Learn more about differential tuition, then vote Nov. 11 or 12.
Everyone's vote matters. Check your email and vote! SGA President Katie Cronmiller has to bring this proposal to the UW System Board of Regents regardless of voter turnout. Let's show we are active and vote regardless of whether you support it.
However, if you have any questions, visit SGA's Web page dedicated to differential tuition, contact SGA at sga@uwsp.edu or visit Room 052 at Dreyfus University Center.
Kaya B. Gravitter is a double major in political science and international studies at UW-Stevens Point.