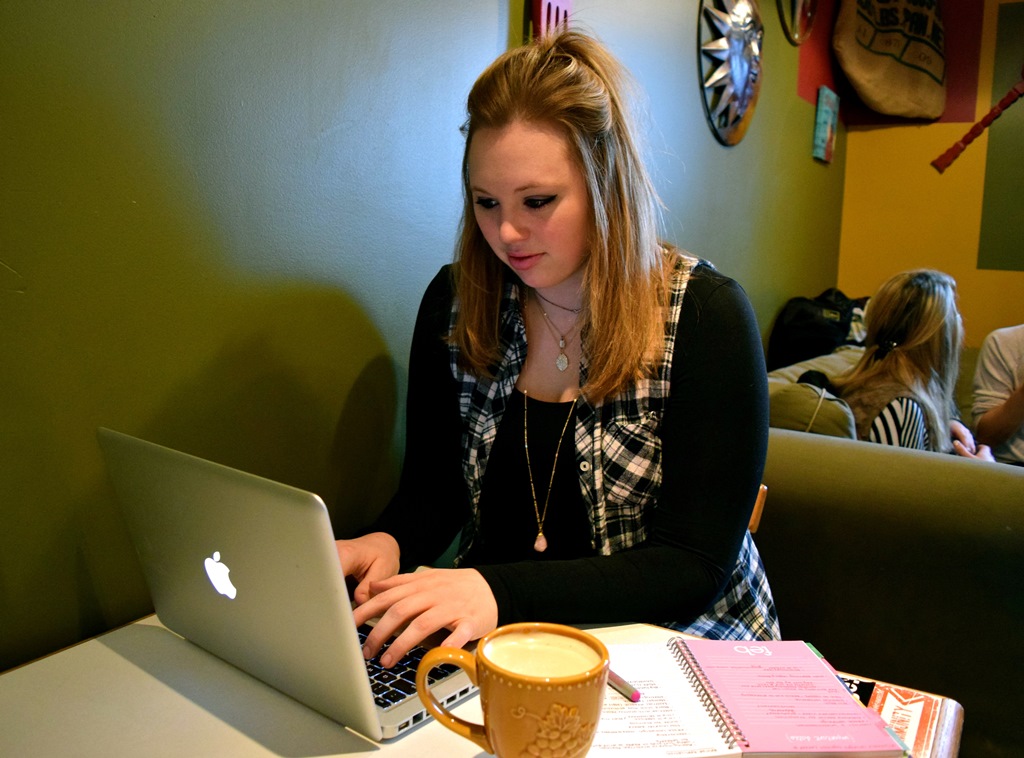 One of the things I love about the University of Wisconsin-Stevens Point is the number of coffee shops we have nearby. My parents might say I spend too much on coffee, but there is something about a great coffee shop that helps me get homework done.
There are seven coffee houses nearby, but I find myself spending the most time between the Basement Brewhaus, Zest Bakery and Coffeehouse and Starbucks.
The Basement Brewhaus is at the Dreyfus University Center on campus and is the perfect place to hang out between classes. It is always filled with college students working on homework, playing pool or just hanging out. If there's one place I spend the most time on campus, it's there. The Basement Brewhaus is very eclectic. Whether students are attending Open Mic Night, trivia nights or just simply grabbing a cup of coffee, there is something for everyone. If I have a group project, we meet in the Basement Brewhaus. If I am in between classes I run down to the Basement Brewhaus. If I just need a place to focus and write a paper, I am at the Basement Brewhaus.
Zest Bakery and Coffeehouse is on Isadore Street across from the Health Enhancement Center on campus. Zest is friendly, bright and a great place to sit and drink coffee while channeling creative energy. It is a place where students can grab lunch with a friend or sit and study for an upcoming exam. Zest is welcoming and full of college students and professors. My friend Mikaela and I love catching up at Zest because it is affordable, and they have some of the best coffee around. As students become busier with school it is nice to have little spots that make getting lunch with a friend easy and fun.
Starbucks is at Division Street and Maria Drive across from Watson and Burroughs halls. It is a typical Starbucks, filled with the aroma of coffee and busy baristas. Starbucks is a place I and a lot of my friends go to do homework and talk. My parents and aunts will sometimes send me Starbucks gift cards, which are always nice little gifts. During finals week, those gift cards become little blessings. It's a place where my writing comes more naturally and the busy atmosphere helps me to focus on what I need to accomplish.
Coffeehouses are great for college students looking to get coffee and meet a friend or students trying to accomplish some studying. Especially when working late or studying for long hours, coffee can be the only thing that keeps you sane. Here are a couple tips for coffee lovers like myself:
Find the best way to study for yourself.
I study best in a place where there is a little background noise. So studying in the Basement Brewhaus or at Zest helps me get more done. If you need complete silence, grab a cup of coffee to go and head over to the library or a quiet space on campus. Find what works best for you and enjoy your coffee while accomplishing your homework.
Save your coins!
Coffee is an extra expense and definitely something I need to account for in my budget. Gift cards from family members are awesome, but know how much you are spending at places such as Starbucks. It might surprise you! Try to budget your money and save your change so that you are not spending too much on coffee. Also, find out if the places you go have punch cards or rewards programs. The Basement Brewhaus has a punch card that when you fill out all 10 punches, you get the 11th free. Enjoy your coffee while saving some money!
Caryn Reinthlaer, from Rhinelander, Wis., is a communication major with a public relations emphasis at UW-Stevens Point.