If you missed the Involvement Fair, that's OK! There's still plenty of time to find an organization that interests you. In a previous blog, I mentioned students can use the Stevens Point Involvement Network (SPIN) to discover organizations and events on campus. Here's how:
Step 1: Log onto SPIN using your university credentials.
That's the same username and password you're using for myPoint, D2L and your campus email.
Step 2: Update your settings.
Click on your name in the upper right corner and select "Settings." Here, you can add a picture, link to your social media profiles, edit your privacy settings and manage your notifications.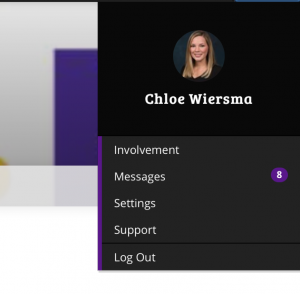 Step 3: Find organizations.
Select "Organizations" on the top of the page. You can filter by specific categories to find groups that interest you, or simply scroll through to discover more than 200 organizations on campus. Click on an organization to see upcoming events, social media feeds and contact information.
Step 4: Find events.
Select "Events" on the top of the page. From here, you can discover specific events happening on campus. You can even filter by perks. Only want to attend an event that serves food? You got it. Or filter by categories such as "Networking," "Movie" or "Recreation." You can see the specific time and location once you click on an event. You can even RSVP to events or add them to your calendars.
There's also a mobile application you can use for finding events called Corq. This counterpart to SPIN makes finding events on campus even easier.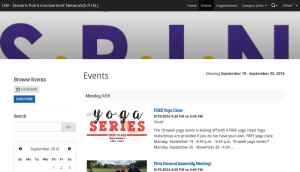 Step 5: Attend and join!
Take the next step by attending the event or joining the organization you found. One of my favorite tools is the messaging feature. You can message organizations prior to attending their meetings and ask questions or get information. This is a great option for students who may have classes during an organization's meeting time, but still wish to participate in the organization's activities. You can even message board members in an organization to reach out for resources, advice or information. Once you chat with someone in an organization, you'll likely be interested and want to join!