Ever wonder if there is an easier way to keep yourself organized, on budget, or in shape? Well with today's technology, we can have tools to help us right at our fingertips. There are so many apps out there that can do so much and many can help college students control our crazy schedules.
Here are 11 must-have apps: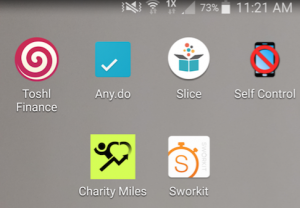 Financial Apps
As college students, we are always looking for ways to save money or make it last longer. If you look online there are many budget apps out there, but I picked out a few that may be helpful.
1. Toshl Finance Budget and Expense: This app helps you set up a monthly budget. All you have to do is input your income and expenses, while also making sure you stay on track.
2. Mint.com: Mint also helps you keep your finances in order. This app lets you check your bank accounts and lets you know when bills are due with a convenient reminder.
3. Slice: As college students we may not have time to go to the store to buy things, so online shopping is handy. Slice is an app that allows you to keep track of all of your online shopping transactions.
There are so many more apps out there that can help students with their finances. Just do a search online to find one that fits your needs.
Educational Apps
4. Evernote: Taking notes in class can sometimes make it hard to keep up with the professor. Now there is an app called Evernote, that allows you to record voice memos, to-do lists and notes. You can also attach documents to the notes and share them with other classmates.
5. StudyBlue: From Evernote, you can download the app StudyBlue, which allows you to transform your notes into digital flashcards and practice quizzes.
6. SelfControl: While studying for tests there can be many distracting things all around us, especially our phones. SelfControl is an app that you can use to block certain websites for a set period of time.
Keeping up with studying can seem like a daunting task, but if you take it one step at a time, it could minimize your stress and these apps can help, too.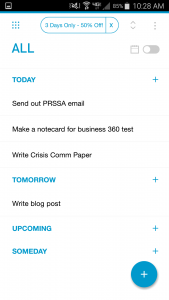 To-Do Apps
With our crazy college schedules, remembering when everything is going on can be difficult.
7. Any.do: This app allows you to create a to-do list and change priorities of things depending on how urgently you need them done.
8. Studios: Similar to Any.do, this app tracks your daily class schedule, homework assignments and future exams. It will even silence your phone during your scheduled class time!
Fitness Apps
Finding time to work out can be difficult, but apps are making it easier to get your daily workout in.
9. Fitnet: This tool can help you reach your fitness goals by allowing you to follow workout videos. It also uses the camera on your phone or tablet to let you know how well you did during the workout.
10. Sworkit: Only have time to work out for five minutes? Sworkit gives you high-intensity workouts in various time ranges.
11. Charity Miles: Even though, as college students, we do not always have spare money to donate, Charity Miles donates 10 cents for every mile biked and 25 cents for every mile walked or run to charity organizations. We can stay fit and feel like we have made a difference while doing so.
There are a variety of apps out there that can help college students stay organized and healthy. My advice is to find apps that work for you and be sure to actually use them.