Recently, I went on a trip to Indianapolis to attend the Public Relations Student Society of America (PRSSA) National Conference with UW-Stevens Point's PRSSA Chapter. Before going on the trip I was excited, but I also had no idea what to expect. I was new to the organization and had never been to its national conference before. After going, I am really glad I did because I was able to network with others, learn more about public relations and connect with the other PRSSA members.
But attending conferences isn't just for public relations students! Here are three key takeaways from this trip and why I believe attending conferences is important for all students participating in organizations and clubs at UW-Stevens Point.

1. Learn New Things
When going to a conference, be open to learning and experiencing new things. At PRSSA National Conference, there were so many inspirational speakers who we were able to choose from. Warner Brothers Television sent three representatives to be on a panel, which was very interesting. They gave us advice including be resourceful, stay in contact with people, learn something from every experience, and the worst thing someone can say is no. When these speakers said to stay in touch with people, they wanted us to remember that people you know now may be able to help you later in life. Conferences can offer real world testimonies that can open your eyes to new ideas you may not have thought of. And the practices learned can be brought back an applied to your organization on campus.
2. Network With Others
While on the trip, I was able to meet some people I would have never met otherwise. I am now friends with students from other states and I also got to know peers from UW-Oshkosh PRSSA. A friend of mine in our group is an arts management major and is looking for an internship or job for the near future. After the Warner Brothers' presentation, she introduced herself to one of the panel members and was able to get his business card. Who knows, it could lead to an employment opportunity.
As Neale Donald Walsch says, "Life begins at the end of your comfort zone." Any conference can give you a chance to show off your skills and meet new people, but we all know it can be hard to introduce yourself to a stranger. That stranger could be the CEO of your dream company, your mentor, a friend or a trusted peer, but you will never know unless you take that scary first step.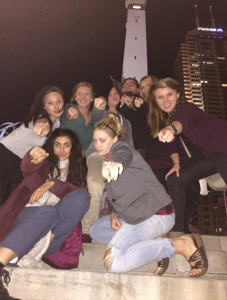 3. Bond With a Group
The best outcome from the trip with UW-Stevens Point's PRSSA Chapter was getting to know those who went with me. I think it will really help our group dynamic as the year moves on and we will be able to understand why members want to do certain things. Because of this trip, we were able to learn what each other's goals are and what we want to take away from the organization during our time in college. This group of individuals has now become more than just members of the organization I am part of; they are now my friends, too. Going to a conference is a way to facilitate better communication, motivate each other, think outside of the box and break down barriers between members of your organization. These are people you are working with on a daily basis to try to achieve your goals, so having fun while learning new things can help improve relationships within your student organization or group.
Going to a conference may sound boring to some, but that is only the case for people who do not take advantage of the opportunity in front of them. Never be afraid to step out of your comfort zone because you never know who you will meet or what you will learn. Also remember it is never too late to join an organization on campus where you may have many different opportunities. Check out the Student Involvement and Employment Office (SIEO) or the UW-Stevens Point Involvement Network (SPIN) to learn more about different organizations and clubs at UW-Stevens Point.