Right now is an interesting time in my life. I am looking forward to all the adventures to come as I start "adulting," but I am also very nervous about the change. I have been going to school for the last 18 years of my life and now what? No more summer break to hang out with friends, go on vacations, or just enjoy not having homework. No more late night study sessions or random coffee runs. There may be a lot of "no mores," but there are also so many possibilities – and that might be the scariest part.
How do we know the path we choose is the right one?
Because I'm not sure what I'll be doing after graduation, I am going to embrace the time I have left at UW-Stevens Point and start preparing myself for life after graduation. I still have a semester of fun times with friends, being involved with PRSSA, and trying new things. College was always something I wanted to do, but I didn't realize how hard it was going to be to leave. Throughout my time on campus, I looked forward to starting my life and career. But now that the moment is here, it is scary to think about what is to come. And because of that, I want to make the most out of the time I have left by learning more and saying yes to opportunities.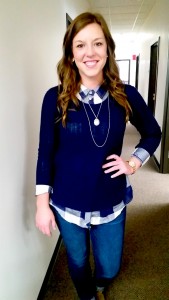 The opportunities are endless, and if I say yes to different occasions this semester, other doors may open down the road. This last semester, I think it will be important for me to network with many people and make real connections. Yes, what you know is important. But in our world right now, who you know also matters. You never know how a new connection may help you find a career or guide you in the right direction until you meet them.
In looking back on the jobs I have had so far, all but one I've found through making connections with people. While volunteering, I worked alongside a woman and found out she was a manager at a coffee shop and needed another barista. After having a hard time finding a summer job, my uncle knew of a company that needed someone to mow their lawn. When looking for an internship, a friend of mine was working for the Chancellor at UW-Stevens Point, heard about the assistant special events position and thought of me. Making connections with people can really help you in the end, and recently I've realized how many different people have guided me on my journey so far.
It is scary to be walking blindly down the path called life, but we have to remember that we are not alone. For me, remembering this is something I struggle with. I want to do everything myself, to prove to others that I can do it no matter what. But there are times we all have to learn to ask for help or guidance. Luckily, since we are all Pointers, we have many resources and people willing to help us succeed.
Need help figuring out if you are prepared to graduate? Check out the Academic and Career Advising Center. Feeling like you do not have enough on your resume to stand out among the competition? Go to the Student Involvement and Employment Office to find volunteer and job opportunities. Another way to beef up your resume is to join an organization, and it is never too late for that. Check out SPIN for a list of different orgs on campus. There are many other types of resources on campus, and if you are not sure where to start, ask someone for help. They may be able to point you in the right direction.
I am not sure what lies ahead and that makes me nervous. Nevertheless, I hope I have done enough to make myself stand out and I trust that UW-Stevens Point has set me up to be successful. The next chapter of my life is quickly approaching and I look forward to it, but I am definitely going to enjoy my last few months on the campus that has helped shape who I am.