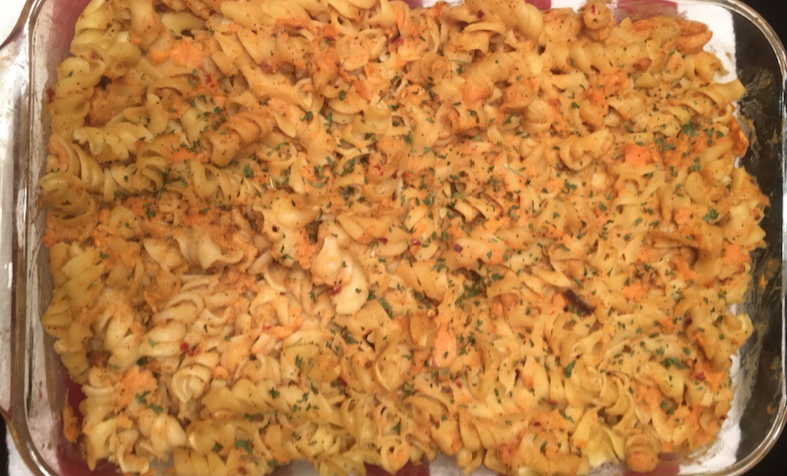 In my transition to becoming vegan I had to learn a lot about what to eat and how to cook it. This was especially difficult at first because I had never been into cooking at all.
It all started when I found (what is now one of my favorite websites) onegreenplanet.org. The site has a variety of vegetarian, vegan and gluten-free recipes. Since I've been vegan I've been able to explore more, add my own flare to recipes and even create my own. I am excited to have the opportunity to share them with you, and hopefully you can try them for yourself! They are all healthy, vegan and can easily be made gluten-free.
The recipe of the month for March is sweet potato mac and cheese. For all my sweet potato and pasta lovers, this is the perfect recipe for you. It is very savory and quite filling.
Ingredients:
2 sweet potatoes (3 cups) cubed

16 oz. elbow macaroni

½ juice of a lemon or 1 Tbsp.

1 tsp. Dijon mustard

1 tsp. soy sauce

1 tsp. garlic powder

1 tsp. dried chili flakes

1 Tbsp. nutritional yeast

1 Tbsp. olive oil

1 tsp. pink sea salt and pepper

2 cups unsweetened almond milk

fresh parsley for garnish
Directions:
Preheat the oven to 400 degrees Fahrenheit.

Place sweet potato cubes onto lightly oiled baking sheet, drizzle with oil and season with salt and pepper.

Cook pasta according to directions, drain and return to pot.

In a small bowl combine lemon juice, dijon mustard, garlic powder, dried chili flakes, nutritional yeast, oil, salt and pepper.

Cook sweet potatoes for 17 minutes, turn cubes, then cook another 17 minutes. Do not turn off the oven.

Add cooked sweet potatoes to a bowl with the almond milk and all the mix from the small bowl.

Mash well with all ingredients except noodles. If it is too thick, add more almond milk.

Fold "sauce" together with noodles, spoon into casserole dish and place back in the oven for 10 minutes.

Remove, sprinkle with parsley, cool and serve!
The first time I tested this recipe, I found adding the full teaspoon of dried chili flakes to be extra spicy, but if you like spice I would definitely recommend it. The second time, I found it much more savory to only sprinkle a few and taste-test the "sauce" before mashing with the sweet potatoes and almond milk. I also find it more fun to switch up the different types of noodles depending on the type of texture you're looking for. I used elbow macaroni the first time, but now I like to use rotini, as shown in the picture. This recipe can also be easily made gluten-free by simply substituting traditional with gluten-free noodles.
I like to make my dishes on a Sunday and then eat what I've prepared for dinner throughout the week. It is nice to have something already prepped, and it is easy to eat leftovers when you just can't get enough. Enjoy!
For Pointers who live on campus or have a university meal plan, don't forget to try the many vegan, vegetarian and gluten-free options offered by Dining and Summer Conferences locations across campus.