Want to attend awesome (and mostly free) events on campus, but not sure where to find them? Look no further! Here's a list of Centertainment events for the rest of the fall semester.
Unless noted, all events will be held in the Dreyfus University Center Encore.
Remember: most events are FREE with your UWSP student ID or $5 without.
September
Kalahari Trip: If you like waterparks, this is the trip for you! September 22 – 8:30 p.m. departure from campus
Pho with Fay Ray: Enjoy a night of funk on September 22 at 8 p.m.
Canvas Extravaganza: Show off your artistic abilities at this fun-filled event! September 23 at 10 p.m.
"Despicable Me 3" Movie: September 27 and 29 in the Dreyfus University Center (DUC) Theater
Mungion with special guest Butter: Come and jam out September 28 at 8 p.m.
Hypnotist Freddie Justice: Prepare to be amazed! September 29 at 8 p.m.
October
Comedian Andrew Sleighter: A night full of fun and laugher starts at 10 p.m. on October 6!
Open Jam Night: Bring your instruments and join in on the fun! October 7 at 8 p.m. 
WebsterX: Get ready for a night of creative and catchy hip-hop! October 19 at 8 p.m.
"Spider-Man Homecoming" Movie: October 12 and 14 in the DUC Theater
Shane Bitney Crone: If you want to learn more about this LGBTQ+ activist and world traveler, check out this event on October 20 at 4 p.m.
Comedy Open Mic Night: Come and show UW-Stevens Point your humor and support your fellow Pointers on October 21 at 8 p.m.
Halloween Lituation: Join the party and get in the Halloween spirit on October 27 at 10 p.m.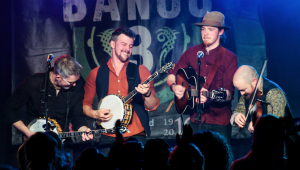 November
DIY Popsicle Palooza: Tonight's the night to be crafty – and eat popsicles! November 2 at 8 p.m. 
All Tiny Creatures: Experimental pop at its best on November 3 at 8 p.m.
Pottery Painting with Clay Corner Studio: Make your own clay creation on November 4 at 8 p.m.
Carl Wockner with Bloth: Unique acoustic pop on November 9 at 8 p.m.
Movie Trivia Showdown: Test your movie knowledge on November 11 at 8 p.m.
Thanksgiving Mania: Join the Thanksgiving fun, Pointer style! November 16 at 8 p.m. 
Late Night Radio: Get your ears ready for some great electronic music on November 17 at 8 p.m.
College Bingo: What college student doesn't want to win prizes? November 10 at 10 p.m. 
Foreign Goods with Kyerokaya: A jazz/reggae performance you won't want to miss! November 30 at 8 p.m. 
December
Comedian Mike Paramore: If you need a laugh, this is the place to be! December 1 at 8 p.m.
Harbour with Easy on the Eyes: A night of pop, funk and more! December 8 at 8 p.m. 
DIY Holiday Ornaments: Get in the holiday spirit on December 14 at 8 p.m.
Breakfast with Santa: Holiday fun for all ages starting at 9 a.m. on December 2!
Make Your Own Snow Globe: First-come, first-served! December 14 at 8 p.m. 
DIY Ugly Sweaters: The uglier the better! December 2 at 10 p.m. 
There you have it, Pointers! These are fun, inclusive events that you don't want to miss out on. So come on down, bring your friends and enjoy what Centertainment has to offer!
To learn more about Centertainment Productions and see the full calendar of events, check them out on online and follow CP on Facebook, Instagram and Twitter.
TL;DR
Scrolled right down to the bottom of this post? Check out the Centertainment fall calendar of events.
Show your #PointerPride and we'll see you at the next event!