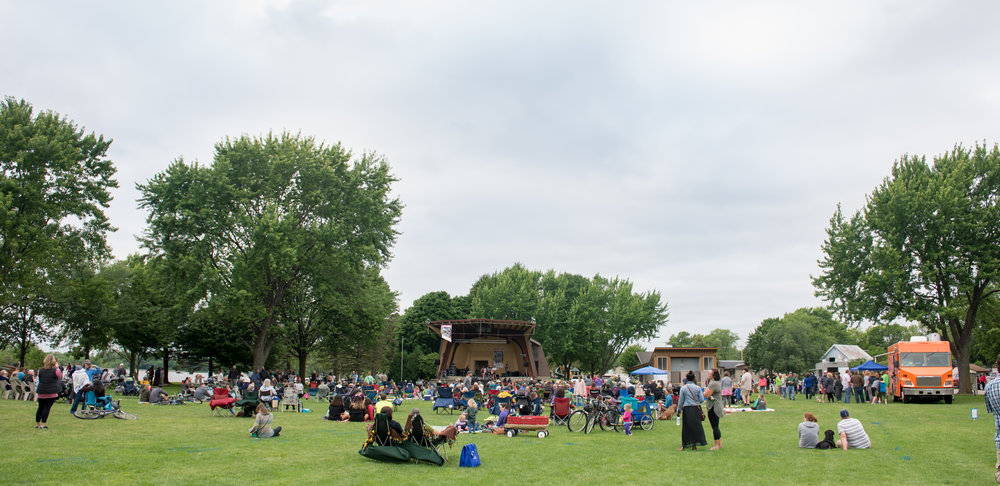 Even though it seems like fall has just begun, it's never too soon to start looking ahead toward summer.
Summer is a great time to think about trying an internship. It's almost the perfect time for it. There are fewer classes splitting your attention, and it's a short three-month time commitment – or sometimes even less. I can't even think of a negative reason for interning over summer, which is why I took advantage of it this last year.
I had my first internship during my sophomore year before I transferred to UW-Stevens Point. I was working for a small festival—staffing and training volunteers—in the fall semester while taking a 15-credit course load, participating in clubs and stage-managing a play. It was hectic to say the least, but I still loved it. Fall always seems to be a little crazy.
When I transferred here, I found out students could take an internship over the summer semester. I immediately enrolled for COMM 480, the internship course in communication, which is my major.
I got started at the end of May after being hired by a local non-profit organization located in downtown Stevens Point called CREATE Portage County. I met the executive director, Greg, at a networking event that UWSP's Public Relations Student Society of America chapter held earlier in the spring semester of 2017. We started talking about open positions and what he was looking for in a summer intern. By the end of the spring semester, I got the job!
CREATE hired me to be the production coordinator for the Levitt AMP Stevens Point music series, which took place Thursday evenings at Pfiffner Park. The Levitt Foundation funded 10 free concerts throughout the summer in 22 cities across the country. In 2017, Stevens Point was one of those cities.
My role as production coordinator gave me a lot of different experiences. I was responsible for contacting every artist who was performing, creating a schedule for their arrival, setup, sound check and performance, reading their contracts, and coordinating requests and hospitality needs. After that, I communicated these details and needs on their behalf to the rest of the staff working on the concert series.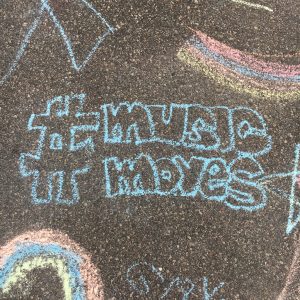 I was also tasked to do some social media publicity work and created a Snapchat account for CREATE over the summer. I used the platform to show live footage of concerts and other programming we held every week. I engaged CREATE followers with Facebook and Periscope LIVE videos and posted boomerangs and created content on Instagram – all with the hashtag "#musicmoves" to show our audience and stakeholders at the Levitt Foundation how much fun we were having in Stevens Point.
As the summer progressed, I began working on some larger event planning logistics, assisted with set-up of food and beverage vendors, organized children's activities, and campaigned for CREATE. Their mission and goals are to promote creative placemaking, helping to support people who create, and to grow creative arts and entertainment experiences in Stevens Point. The concert series was a great way to start talking to Portage County residents about what CREATE does and how they can get involved to help better Stevens Point through creativity and innovation.
Looking back now, I know I had the best internship ever. Not only because I met a ton of bands and artists, but because I had such a well-rounded position and learned about various elements that go into planning outdoor concerts.
One of the best things about pursuing this opportunity over the summer was that I could really focus on my work. I wasn't taking as many classes as I would during the academic year, and I was working less at my other part-time jobs. I had time and energy to dedicate to this venture, which came across in my performance – ultimately leading to CREATE asking me to stay on staff another year.
There are so many summer internship offerings out there. All it takes is a little digging and some patience to find one for you. Similarly, don't over think it. Finding an internship can be relatively easy.
You don't have to move away to a big city or land a position at a huge corporation. There are hundreds of opportunities in your town or at your school that will give you the same experience, maybe even a better one. I learned so much more about Stevens Point and the arts community here because I worked for CREATE Portage County, a small non-profit. No one else could have given me that experience.
I highly recommend looking for a summer internship now because there are so many ways to help make a difference, right where you live. UW-Stevens Point helps make this process easy by providing lots of resources.
Try looking on Quest or Handshake, two job databases available at UWSP that can help you learn about positions both on campus and locally. The jobs posted there are specifically targeted toward student applicants! You can also stop by the Academic Career and Advising Center in Albertson Hall on campus. The student mentors and career advisors are very knowledgeable and can provide information and resources to help get you going in the right direction.
Lastly, don't rule out networking and attending networking events. These are literally designed to get you talking to your next potential employer and I can vouch for this method personally. Attending networking events have helped me land numerous jobs now! Keep your eyes open for the next PRSSA networking opportunity as well as other student organization events on SPIN.
I leave you with one last thought regarding internships: don't forget to have fun!