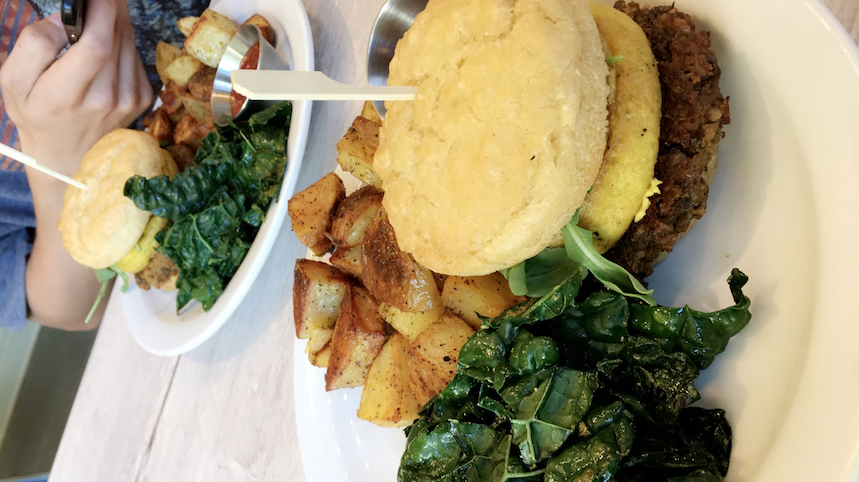 I am currently enrolled in a food and travel writing course, where I get to learn about food from all over the world and the different food stories behind some cultures. It has been very fascinating to learn about and has given me the inspiration to write about my trip to Portland and its food.
About two months ago I made the trip to Portland, Oregon with my brother, Mitchell. Being the first trip we had planned on our own, we wanted to make the most out of our five-day experience.
We found the cheapest flight we could through Spirit Airlines out of Chicago. We rented a hotel for the first two nights in the city of Portland and then rented a small Airbnb camper for the last three nights in a small suburb right off of Alberta Street. The question I was asked the most when I excitedly informed friends and family of my upcoming trip was, "Why Oregon?" Little did they know, Portland has been portrayed as one of the vegan food capitals in the United States and honestly, my motives were all food driven. I had also seen beautiful images of Multnomah Falls and other hiking scenes, which I was dying to check out. My brother, being vegetarian, was interested in trying the food as well, but was most excited to just travel.
On day one, I had to check out the first-ever vegan mini-mall on Stark Street. This mall contained a small strip of four different stores ranging from a grocery store to a bakery to a cruelty free tattoo shop. We stopped in SweetPea Baking Co. first, where we split a warm raspberry tart and a plate of biscuits and gravy. Not only were the biscuits just the right amount of moist and flaky, but the gravy was creamy, rich and contained the perfect amount of pepper. We left feeling very satisfied as we made our way through the mall.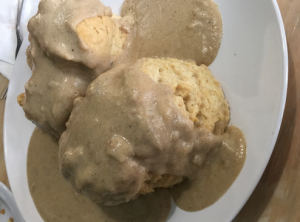 Our next stop would be our best stop because it set us up for the rest of our stay. We stopped in Herbivore Clothing where we purchased a few things and the workers were very friendly. We made conversation with the cashier, who (when she found out I was vegan) gave me a pamphlet with the best restaurants, stores, food trucks and things to do in Portland – all vegan friendly! The pamphlet was titled "Herbivore's Faves in PDX," and my brother and I were able to make a stop at nine of the locations in only five days and without a car.
Of all the stops, my top food choice was DC Vegetarian where I chose the vegan version of a Philly cheesesteak. It might be the best sandwich I have ever had in my life. With creamy cashew cheese, a meaty seitan beef and some roasted peppers and onions, my taste buds were extremely satisfied.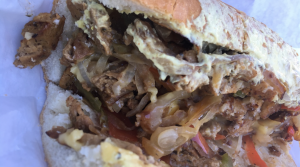 Another stop we made was at Bye and Bye, which is the nation's very first all-vegan bar! We actually stopped here twice because the variations of rice, tofu, vegetable and a perfectly sliced avocado half on the top were so abundant we could not only try one. Other stops we made included Native Bowl food cart, Next Level Burger, Vita Cafe, Rabbit's Cafe and a few of the hiking areas I mentioned, such as Multnomah Falls.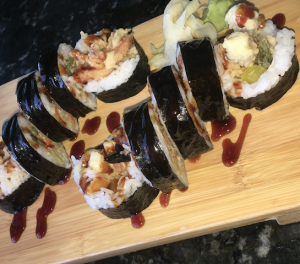 Not only did we experience great breakfast, lunch and dinner variations, but dessert as well. For the last three days, when we stayed in a small camper just outside of Portland, we walked every night to Back to Eden Bakery. Here I experienced my first vegan banana split, dark chocolate lavender shake and a warm chocolate fudge brownie with vanilla ice cream to top it off. The food never disappointed in PDX and was by far the highlight of our trip.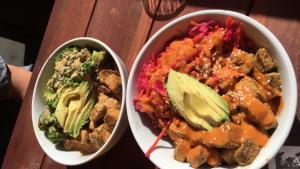 The convenience of a vegan friendly restaurant on every corner is not as common here in Stevens Point as it was in Portland. While going vegan, I had to learn to adapt without depriving myself of the food I enjoyed so much. A common food-theme I saw among many of the restaurants on my trip were rice bowls. With all the possible variations, I thought it would be easy to recreate my own at home. I started off with the most basic recipe and change it every time.
Rice Bowl Recipe
Ingredients:
½ C Jasmine rice
1 C water
1 block firm tofu cubed
1 small carrot shredded
Purple cabbage shredded
1 C cooked broccoli
Thai peanut sauce
Sesame seeds
Pink Himalayan sea salt
Instructions:
Cook the rice and tofu according to the instructions. The veggies are up to you to determine how much you want, or if you want to differentiate from this basic version.
I buy the Thai peanut sauce from Walmart, but there are a few homemade recipes online I am looking to try. Drizzle it over the top of your bowl, season with Himalayan pink sea salt and sprinkle with the sesame seeds to top it off.
Enjoy!