Pointers, get ready because Centertainment Production's events are in full bloom this spring semester at UW-Stevens Point! For anyone looking for something fun to do on campus, here's a list of what's planned for the rest of the semester:
Unless otherwise noted, all events will be held in the Dreyfus University Center Encore.
February
Poker Night: Get your poker faces ready for this night – Feb. 1 at 8 p.m.
Comedy Kickoff with Pete Lee: Take a break from studying and come have a laugh with this comedian, recently featured on The Tonight Show with Jimmy Fallon – Feb. 2 at 8 p.m.
Alabaster (Blues Funk): Enjoy a night of funky live music – Feb. 3 at 8 p.m.
"Daddy's Home 2" Movie: Feb. 7 and 9 in the Dreyfus University Center Theater with showings at 7 p.m. and 9:30 p.m.
Bag-Dad: Enjoy a night full of space pop music – Feb. 8 at 8 p.m.
Thompson Square: Get your tickets today to check out this Country Music Award-winning country duo – Feb. 10 at 7:30 p.m. in the Dreyfus University Center Laird Room
Poet-Tea: Come for some moving poetry from guest poet Ebony Stewart – Feb. 10 at 10 p.m.
Nick Toombs (Hypnotist): Get ready to hop around like a bunny when you come check out this hilarious hypnotist – Feb. 15 at 8 p.m.
Hip Hop Hoopla: Get your sneakers ready for a night full of hip hop with some awesome artists – Feb. 22 at 8 p.m.
Marvel vs. DC Movie: Choose your side! The side with the most votes will determine which movie will be shown. Choose wisely, the winning movie will be showing on Feb. 22 and 24 in the DUC Theater with showings at 7 p.m. and 9:30 p.m.
Poetry Night with Kyla Lacey: Get your snapping fingers ready and come prepared. Refreshments included – Feb. 23 at 10 p.m.
Mid-Winter Melody (Open Mic): Bring your instruments and/or voices. Show off your talent! This is a time to shine – Feb. 24 at 8 p.m.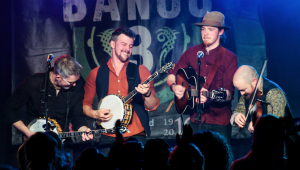 March
Astonishment Artist with Mat LaVore: Enjoy a night of magic, mentalist hijinks and hypnosis – March 1 at 8 p.m.
Hungry Mouse: Branch out from your current playlist and come listen to experimental electronic blues – March 2 at 8 p.m.
Sammy Obeid (Comedy): Knock-knock your way into a night full of laughter – March 3 at 8 p.m.
"Coco" Movie: You'll surely 'remember' this movie on March 7 and 9 in the DUC Theater with showings at at 7 p.m. and 9:30 p.m.
Harry Potter Trivia: Alohomora! The moment you've been waiting for is now here! Unlock your Harry Potter knowledge and put it to use for a trivia night full of witches and wizards – March 8 at 8 p.m.
Golden Dragon Acrobats: Don't miss out on your chance to see this premier Chinese acrobatic touring company live and in person – March 9 at 7:30 p.m. in the DUC Laird Room
Rumble Roots (Funk): Come jam out to live funk music – March 10 at 8 p.m.
We Banjo 3: If you missed them last year, here's your chance to see Ireland's own Billboard #1 artists and the originators of Celtgrass music – March 13 at 7:30 p.m. in the DUC Laird Room
Comedy Open Mic: Bring your best jokes and puns for a night of fun – March 15 at 8 p.m.
Deerskin (EDM): Hip hop and R&B in one night – March 16 at 8 p.m.
Recess (Game Night): Take a breather and have some fun during this night full of games – March 17 at 10 p.m.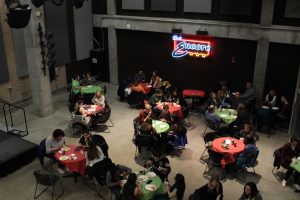 April
Brother Brother: Enjoy some great live music from Brother Brother – April 5 (time and location are still TBD – stay tuned!)
Zen Gardens: Come experience stress relieving exercises and methods to help stay calm as you finish off the semester – April 6 (check S.P.I.N. for updates here, too!)
The Bbys and Sleeping Jesus: It's time to rock – April 7 at 8 p.m.
Disney Trivia: Let your inner princess or prince and heroes or heroines come out. Remember Walt Disney's said, "It's fun to do the impossible" – April 12 at 8 p.m.
"Pitch Perfect 3" Movie: Get your vocals ready – April 18 and 20 in the DUC Theater with showings at 7 p.m. and 9:30 p.m.
Genesis Renji with Solo Davis and CAMB: Enjoy groundbreaking live music – April 19 (details to come!)
Chris Carter (Mentalist): Be ready to be blown away – April 20 at 8 p.m.
Earth Day – Craft Edition: Celebrate Earth Day early through crafting. Paint plant pots and make recycled shirt tote bags – April 21 (more deets are on the way!)
Sweet Delta Dawn with Padre and Krogan's Garage: A night of acoustic and funk punk rock – April 26 (time and location are also TBD)
Mission Improvable: Check out this hilarious comedy improv group – April 27 at 8 p.m.
Hailey Klinkhammer with special guest Selfish Skin and Courtney Cordova: Come listen to some talented artists – April 28 at 8 p.m.
May
Milwaukee Brewers Game: "Take me out to the ball game," and don't forget your money for a hot dog and peanuts. Tickets will be sold at University Information and Tickets in the DUC. Game day is May 5 at 6:10 p.m. – more info will be provided closer to game day for those attending.
Nacho Ordinary Cinco De Mayo: Dance the night away and enjoy the nacho bar for an early celebration of Cinco De Mayo – May 4 (stay tuned for time and location!)
Slow Pulp with special guest Handsome Ed: End the semester with some catchy live music – May 10 at 8 p.m.
Be sure to check S.P.I.N. (Stevens Point Involvement Network) for updates and details on these events and more! Just log in with your university email and password.
Excited, Pointers? Movies, comedians, music and much more are bound to make this semester one for the books. Don't forget to tell your friends and invite them along to check out what our campus truly has to offer!
And please note: all events, schedules and times are subject to change. To learn more about Centertainment Productions and see the full calendar of events, check them out online and follow them on Facebook, Instagram and Twitter.