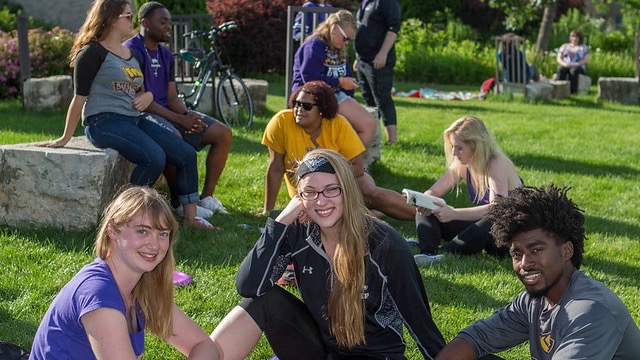 By Jody Rowland
For each of us Pointers, attending school and being engaged with the campus was as easy as getting up in time for your 9 a.m. English class. Well, maybe easier than that.  You lived in a dorm, or maybe house close to Old Main, took part in a club or activity, and of course found time to socialize!
But how can you stay connected once you have moved on to the real world?
Here are seven easy tips that might get you right back to thoughts of the sundial and Stevie Pointer.
Join a local alumni group. Most can be found on Facebook. If you don't see one for your area, start one! Be sure to contact the Alumni group at alumni@uwsp.edu.
Watch for UWSP sports teams playing in your area. The men's and women's basketball teams historically travel for non-conference games and do well in the post-season. Or maybe you live in (gasp) another WIAC city. Don a purple Pointer sweatshirt and cheer your brains out.
Which brings me to that Pointer sweatshirt. There's a fine line between vintage and cheesy. Check out some new gear via the Pointer spirit shop on campus, or order online at universitystore.uwsp.edu. There are great alumni items and a broad range of fashion cuts and styles.
Make a donation to the school. If your company has a matching program, it can really add up even if you start small. Recent tradition gifts graduates with a shiny silver dollar and many of you give it right back. Remember how good that felt?  It could be time to start a new tradition to thank the school that made you what you are today. With Day of Giving coming up (May 7), it's the perfect time to give back through donations.
Come back for Homecoming in October. I know, you may have different memories from when you were on campus. Trust me, the old feels come back hard the longer you are away. Contact several former classmates and meet up Friday night for a fish fry, or possibly a Saturday morning cup of coffee.
Read Straight to the Point. Don't get the email? Sign up right here. It's chock full of the latest campus news, sports and alumni results, and messages from leadership.
Follow UWSP, or other UWSP groups on social media. Stay up to date via Instagram, Facebook and Twitter. You'll find fun photos, updates on the latest campus events, and a way to connect with other alumni. Who knows, you might also find a former professor, or get reminded of things like WWSP FM Trivia in April (another way to connect) or the Day of Giving, or how Stevens Point the city is also giving back.
The second best thing to attending UW-Stevens Point is finding ways to stay close and give back. What are your favorite ways to stay connected?  What did I miss?