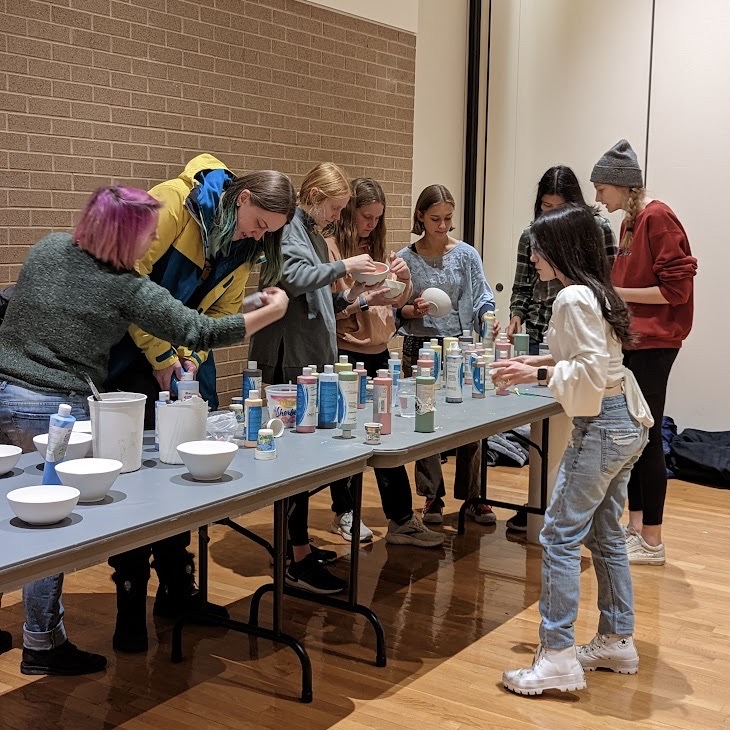 By: Carmen Morgan, Student Volunteer Coordinator for CASE
Did you know that CASE (Campus Activities and Student Engagement) hosts several volunteer events each semester?
We have two ongoing monthly events in the fall and spring semesters called Sustainable Saturdays and Sundays with Seniors.
For Sustainable Saturdays, we volunteer monthly on Saturday mornings at Central Rivers Farmshed, which is a non-profit that helps community members find locally sourced food. If you have an interest in natural resources, community development, food, or sustainability, this may be the perfect opportunity for you! You'll meet like-minded people while supporting our greater community.
For Sundays with Seniors, we typically go to The Lodge at Whispering Pines in Plover monthly on Sunday afternoons. Don't worry, transportation is provided! While there, we socialize and play games with the seniors! If you have a passion for social service, this is a great volunteer opportunity for you.
CASE also holds blood drives each semester right on campus in the Dreyfus University Center, Laird Room. One is usually hosted by the Community Blood Center of Wisconsin and the other by Versiti Blood Center. The best part about these being on campus is that it's easy for students to donate blood and/or volunteer. You can volunteer for registration or for food/canteen support. Registration helps record donors so we know how many students donate at our events. The food/canteen support makes sure donors get a snack and help if they feel faint. The donation process takes up to an hour and the blood you donate has the potential to save THREE lives! All blood collected is donated to local hospitals.
Aside from monthly events and blood drives, CASE holds 2-3 more volunteer events each semester.
During the fall semester, United Way is dedicated to assisting disabled or elderly community members during Make a Difference Day. Volunteers are assigned a yard to rake and are welcome to participate with a friend or with a student organization!
We also host an Empty Bowls painting event with the Hunger and Poverty Prevention Partnership in the fall. Volunteers paint a soup bowl that gets donated to the Empty Bowls community fundraising event. All of the bowls that our volunteers paint are used to sell soup. These funds go towards hunger and poverty prevention and this event is a reminder that someone's bowl is always empty.
Lastly, we host 'Tis the Season on a Saturday morning in December. Volunteers make cards for Cardz for Kidz (donated to hospitalized children over the holidays) and decorate cookies (donated to a local assisted living facility). It's a fun event to feel festive, no matter what celebrate, and volunteers are encouraged to make their cards and cookies as festive (or not) as they want!
During the spring semester, we host events like Alternative Spring Break and Be the Change.
Alternative Spring Break is a spring break service trip in March. This year, student participants are provided transportation all the way down to Memphis, Tennessee! Students will work with Living Lands and Waters to assist in the Mississippi River clean-up. Volunteer activities are scheduled during the day and evenings are left for students to explore Memphis! T
Our Be the Change event is held on a Saturday afternoon in celebration of Earth Day! There is a choice between multiple organizations to volunteer with and each has an activity to clean-up or assist our community. In the past, we've volunteered at Schmeeckle, The Cupboard, the Humane Society, YMCA and MREA!
Volunteer events are a phenomenal and impactful way to get involved on campus with other students and with our local community. You can invite friends, meet new people, gain new experiences, take advantage of learning opportunities and develop new skills! Everyone and anyone are welcome! All volunteer events are posted on SPIN and in campus announcements, so watch for those! The majority of student feedback we get includes insight into how fun the events are, how much they enjoyed meeting other like-minded people and how they felt good giving back to our community. Get involved—be a volunteer!