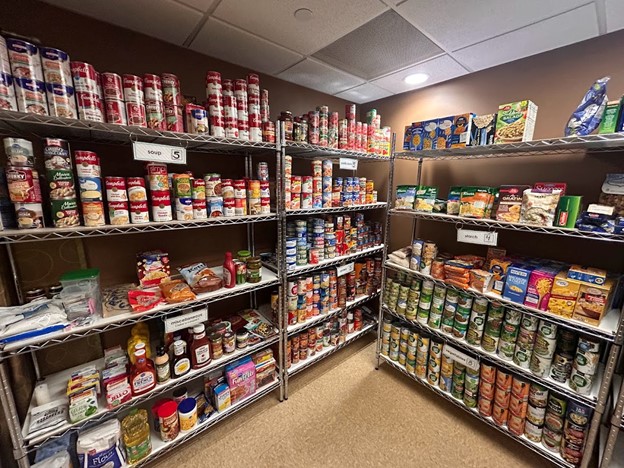 By: Amber DeValk, Cupboard Operations Coordinator
"Nearly 30% of students at four-year colleges reported food insecurity at some point during their college career, and the percentage is even higher for marginalized communities." – Move for Hunger
This statistic highlights the need for accessible food resources for students. UWSP is fortunate to be home to The Cupboard, an on-campus food pantry that has been supporting students since 2011. The Cupboard operates out of the Center for Activities and Student Engagement (CASE) office in the Dreyfus University Center (DUC).
Each semester The Cupboard has 10-15 active volunteers who keep the pantry up and running. So far this semester these volunteers have helped support more than 150 student visits and 1700 pounds of outgoing food. These volunteers are students who wish to keep our pantry organized, support food drives, and share valuable input! In the words of one Cupboard volunteer, "I absolutely love volunteering at The Cupboard. I feel like I am able to make a difference and help people. It allows for students to get volunteer experience, while also being able to schedule for themselves when they are available to volunteer so there are no scheduling conflicts and school is still a priority." Anyone interested in volunteering can reach out to Amber at casecoc@uwsp.edu to learn more.
At The Cupboard, we are always eager to partner with other campus groups and community organizations to further support the students at UWSP. So far, this academic year there have been 21 food drives which are all a collaborative effort. To name a few, these include the Giving Tree Donation Drive in partnership with the Office of Sustainability (The Closet, The Backpack), a Spread the Love food drive with Allen Fitness Center, and a food drive competition among the residence halls in partnership with RHA. We are at the receiving end of many generous community organizations which regularly support the health of our food pantry; Farmshed, Holy Spirit Parish, St Bronislava Parish, a local punk band, Wilted, and Emy J's Coffeehouse have provided recent support.
The final group that makes The Cupboard a success is UWSP students and faculty who donate! We accept donations year-round; donations can be dropped off in the blue bin located outside The Cupboard (DUC 61) anytime the DUC is open. As The Cupboard grows and evolves, we are encouraging the donation of perishable food items such as fresh or frozen produce, bread, dairy products, and frozen meals/meats. We are also looking to expand our selection of gluten-free items and international foods.
All the support The Cupboard has received and continues to receive is important to a lot of students who rely on these resources. It is the mission of The Cupboard to make sure students do not have to stress about figuring out where their next meal will come from, and consequently, they can focus on their academic success!