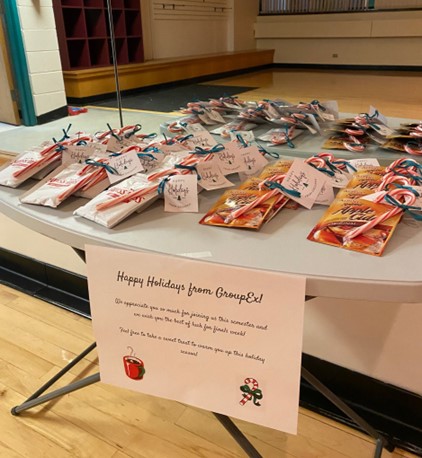 By: Kayla Laridaen, Allen Fitness Center GroupEx Student Manager
Hello, my name is Kayla Laridaen and I am currently finishing up my senior year here at UW-Stevens Point with a major in Health Promotion & Wellness. For the past year, I have taken on the role of GroupEx student manager! As a student manager, a few of my tasks include managing the GroupEx instructors, creating the schedules for each block, setting up different events within our program, as well as collaborating with other organizations for other events outside of our program.
Before COVID-19, participation in GroupEx was very good, offering multiple different classes from Evening Vinyasa to Speed Cycling! However, the GroupEx program fell off with very few participants when students returned to campus in the Fall of 2020 and GroupEx had no student manager at the time. Within the past year, the GroupEx program has done so much to improve, and I am thrilled that I could be part of that transformation and help offer different activities/events to help grow the program.
One of the first events that I helped to set up was our 'mini sessions' during Welcome Week in Fall 2022. During this event, GroupEx instructors would demo their class by offering a 30-minute class for anyone who was interested in learning more about certain GroupEx classes. We had a few different classes that were offered including Yoga, Pilates, Dance Fusion, and Core! These classes were a hit, and right off the bat, we had consistent attendance in our classes.
The second event that I arranged, set up, and marketed was our Finals Week classes. During finals week in December 2022, we offered 2 special classes: Glow Yoga and Glow Cycling! These two classes were a fun way to take a break from studying and try a new class with glow sticks! The week before and during finals week, I made little holiday gifts for all our participants that attended our classes, just as a way to say thank you for joining us this semester and that we hope to see you next semester!
During the spring semester of 2023, we also started doing Theme Weeks for all our GroupEx classes! Once a month for the entire week, all our GroupEx instructors would put together a playlist based on a theme that we agreed on. For Valentine's Day, we decided on Love/Heartbreak songs. Other themes included a 2000's week, Movie Soundtracks, and our last one in May will be Summer Hits! Our 2000's week was a huge hit and our students and our staff enjoyed the music and the fun atmosphere.
Currently, this semester has surpassed attendance numbers since before COVID-19 and I believe it all comes down to our amazing GroupEx instructors and everyone's hard work within the program. Being part of the GroupEx program has been a privilege and working with the staff at the Allen Fitness Center, instructors, and participants has been a major highlight of my time here at UWSP. It will be very hard for me to leave my team and all the friends I have made, but I truly cannot wait to see where this program will be in the future and how what I have helped create will continue to grow and prosper!