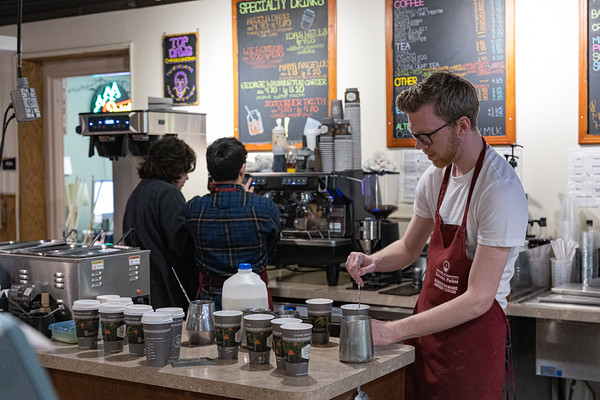 Coffee has been the number one lifesaver for me while going to college. It's gotten me through 8 a.m. classes, late night study sessions, and through some of the toughest finals. You could go as far to say coffee is the closest friend I've made here.
Are you looking for the best place on campus to get your caffeine fix? Looking for a new study spot? Or even a place to meet up with your friends?
Here's a list of all the coffee shops on campus.
Common Ground
Common Ground Café is one of my personal favorite coffee shops here on campus. Why? It features Starbucks-crafted drinks! I'm a sucker for a good iced latte with cold foam on top. So, if you're a Starbucks fanatic like I am but don't have time to leave campus to get your favorite drink, you can head over to the ChemBio Building and order it there! While you caffeinate for the day, you can enjoy the warmth of the attached tropical conservatory or take in the views of campus from the study space across from the café.
Basement Brewhaus
The Basement Brewhaus is the place to be if you're looking for a place to study, hang out with friends, or just need a place to chill before class. They have the comfiest couches on campus, so it feels like you're studying in the comfort of your own home. Not only are the vibes amazing, but their coffee is delicious!
Check out their special drink board that features a new theme twice a semester. They kicked off the start of the year with Studio Ghibli themed drinks, and now they're featuring Cryptid themed drinks. If you want to try them out, what are you waiting for? Head to the Basement Brewhaus for some creative coffee!
Homegrown Café
In a super convenient location, Homegrown is the perfect place to stop if you're on your way to class or studying in the DUC. This is one of two coffee shops located in the Dreyfus University Center. It's a great option for a quick espresso stop. (Hot tip: this is another place you can get customizable cold foam on your drink!)
Homegrown is another coffee shop that has fun drink specials. Currently they're featuring their new smoothie combinations with the newly introduced smoothie mixes. They also have some quick bite options in their cold case so busy students can grab and go!
CPS Café
The CPS Café is the newest addition to our coffee shop list. Located in the CPS building, the Café is pumping students full of caffeine and food! It has a variety of sandwiches, soups, and even baked goods to keep students charged throughout the day. The best part? It's all organic, locally sourced products. College meals aren't always the greatest. So, you know that when you stop by the CPS Café, you'll be eating a meal that is healthy!