Speaking from personal experience, homesickness is real, especially the first semester of your first year in college. You are adjusting to living on your own in a different place, working on making friends and living a completely new life. Homesickness can really start to eat at you.
Here are five ways I combatted homesickness. Hopefully, they can help you:
1. Go do something: Loneliness generates a list of negative feelings at college, especially homesickness. If you meet a friend and do an activity you will be less likely to feel sad or homesick because you will be busy. Keeping yourself busy is a foolproof way to kick homesickness in the butt! Grab a friend, and try one of the following things (which are my favorites):
Go out to eat
Get Belt's ice cream
Walk in Schmeeckle Reserve
Go to a sporting event
Join a club or intramural sport
Join a sorority or fraternity
Watch a movie
Play a board game
Go shopping
2. Call home: Almost all of us have phones, so make a quick call home. (If you don't have a mobile phone, check for landlines around campus.) Talk to your parents, siblings, even your pets if you want! It will help to hear from your family, to talk about your day or week and just reconnect. Remember to always say I love you.
3. Write a letter: Writing a note to home or to a friend will make you feel better. While the impact is not immediate, knowing you will make someone happy can make you feel better. Getting mail in college is one of the coolest things for me, so I like to send mail to have others feel the same way. Hopefully they will answer and you will get a letter, too!
4. Workout: It's easy to forget you are homesick when you are working out. "Sweat out" your sadness. Focus on something else – something that takes concentration, energy and hard work. Exercising can be healthy and effective.
5. Schedule a visit home: Rather than going home every time you feel homesick, planning an occasional visit home can be great, healthy and productive. It is nice to see your friends, family and pets, but use this method sparingly. Sometimes it is even harder when you come back to school. So, just know yourself, and be smart. Go home when you need to and stay when you need to stay.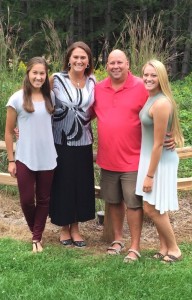 Homesickness can be hard to deal with especially if college is the first time away from your family. But don't worry, homesickness is normal, and you can overcome it. Try these tips or even find others that work for you. You will make it through.