Giving Tuesday is a day dedicated to giving back in any way you can during the holiday season. There are more ways to give back than giving money – whether it is volunteering, helping a non-profit, or sharing why you give to a certain organization, you can contribute in some way. During the holiday season we are busy with our own schedules, trying to get things ready for celebrations, and we sometimes forget about those who are less fortunate.
This year is an opportunity to join the #GivingTuesday movement by donating time and resources. Here are three ways for college students to give back during the holiday season.
1. Donate items
If you have a favorite organization, find out ways that you can give back. Even though we are college students and may not have much money, giving a little can go a long way. Your extra non-perishable food items can be donated to The Cupboard on campus at UW-Stevens Point, or clothes you are not wearing can be given to a charity accepting such items. As the end of the semester nears, it may be a good time to clean out your residence hall room. Instead of throwing items out, you can donate them to a local charity. You never know if you could end up in an unfortunate situation and, in those moments, even the little things matter.
2. Share your story
Stories connect people. If you can convey your story of a time when you needed assistance, it may help others relate to your situation. When they relate, it creates a link to the organizations helping people through unfortunate circumstances. In doing so, people may donate their time or resources, which will help many more in the future. Sharing your story on social media will create awareness for others who are going through similar situations. The more we get the word out there about #GivingTuesday, the more others will know about its significance. Social media is a great way to spread the word and by one post, it could reach thousands. Think of the impact your story could have on others.
3. Give time
Time is a precious thing, but if we are able to give a little time, it may change someone's life. Because as college students we do not always have spare change, time is one of the greatest ways we can give back. Non-profits do not always have the resources for extra staff members, but they are often looking for volunteers. The Student Involvement and Employment Office (SIEO) at UW-Stevens Point offers students ways to get involved on campus, in our community and throughout the world. Check out their volunteer page to learn more about how easy it is for you to support causes. There may be a time that you need others to step in and help you, so when we have the ability to give back, we should.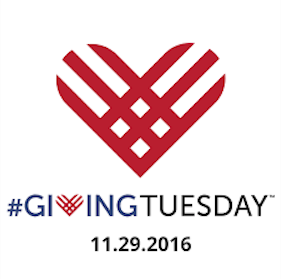 This time of year can be crazy busy, and we often forget about the things we take for granted. For most, the holidays are a joyful time and we forget that others may not have it easy or carefree. Remember to try and give back to those who are less fortunate in any way you can.