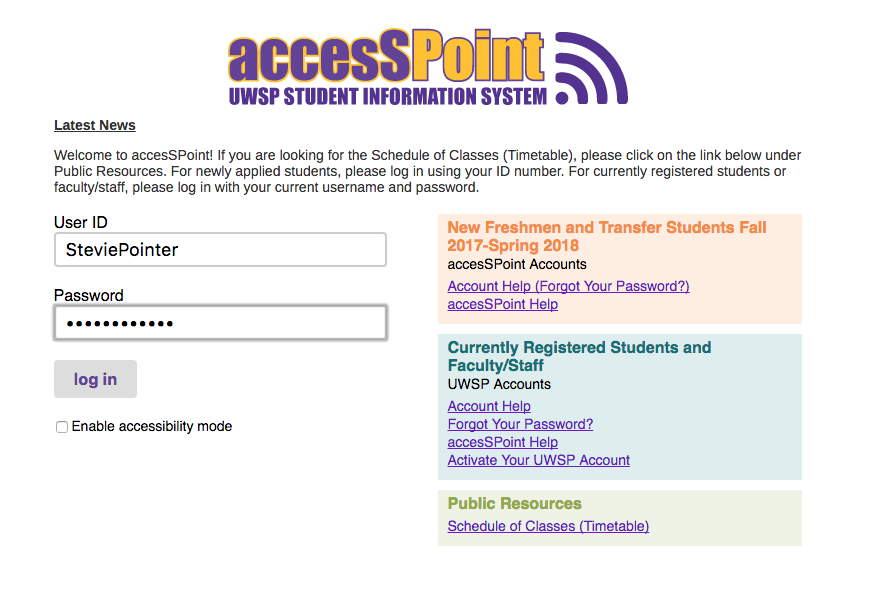 Welcome to accesSPoint 101! I'm here to help you navigate accesSPoint and provide the basics on what you need to know.
UW-Stevens Point implemented a new student information system earlier this year. (For returning students, this system replaces myPoint.)
Your Classes
Once you log in to accesSPoint using your UW-Stevens Point email and password, you'll come up with a menu screen. On the "My Classes" tab, you can find the current courses you are taking. On the "Search for Classes" tab, you can see the timetable, course catalog, and open or closed classes. This will be your go-to spot after the spring timetable opens September 29. In addition, winterim and spring course registration begins November 7. Find more information on course registration here.
Your Bill
To find your bill and any outstanding payments due, click on the "Financial Account" tab. Not only can you see your account balance and activity, but you can make a payment on your bill and see when charges are due. If you do not pay your bill on time, it will result in a finance charge. Your second fall bill is due October 11. If you would like to learn more about your bill and payment deadlines, check out the Accounts Receivable webpage.
Financial Aid
You can view your financial aid award, accept or decline loans, see disbursements, and complete private loan certification under the "Financial Aid" tab. Find links to disclosures, financial literacy, the Campus Activities and Student Engagement office, and consumer information in the "Additional Information" tab. If you have any questions in regards to financial aid, check out these FAQs.
Tasks
This area is important! Under the "Tasks" tab, you can view any possible holds on your account. For example, your advisor-hold will be released once you meet with them. Releasing this hold will allow you to register for winterim and spring classes. Not sure how the registration process works? Go here. Please note: you will find your registration appointment time under "My Classes" in accesSPoint.
Learn More
If you would like additional information on how to use accesSPoint, here is where to find video tutorials and instructions. I highly recommend taking some time to go through the system. I promise it is not too difficult, and it will help you feel more prepared in the future.
If you have any questions about accessSPoint, please don't hesitate to stop by UW-Stevens Point's Financial Aid Office, located in room 106 of the Student Services Center. We are happy to help all Pointers!