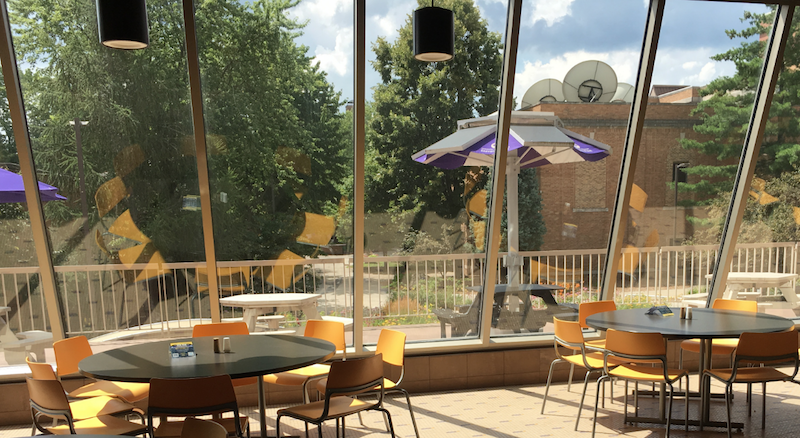 Have you heard about what's going on at UW-Stevens Point recently? There's a lot of exciting projects, new spaces and places, and unique programs that make our university stand out. While there are way more than 10 reasons to come to campus and take a look around, I have condensed the list to some of the best facts and features.
Here are 10 reasons why you need to visit and tour UWSP:
#10 – UW-Stevens Point is a beautiful campus!
Starting at the bottom of the list and talking about all of campus in general, we have one of the most beautiful and vibrant college campuses I have ever seen. I've visited a lot of colleges across the U.S. and I've seen the layout of many institutions, but none look quite like ours. We have so much greenery from building to building – different trees, bushes, flowers, and with that comes tons of wildlife. Birds chirp joyfully as you walk from one end of campus to the other. You'll find squirrels and rabbits hopping trees and racing you as you make your way around. If that's not enough for you, we have our very own nature reserve right on campus, which leads me to the next reason.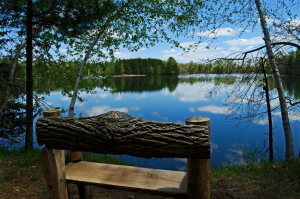 #9 – Schmeeckle Reserve
Schmeeckle Reserve is 280 acres of nature located on the north side of campus, next to our residence halls. The reserve has everything I've mentioned so far and more. There's even more diversity found here – from tons of beautiful greenery, animals strolling through the forest and marsh areas, and Lake Joanis. There is so much to see and do just by walking around. This peaceful area is definitely something we take for granted as students because it's so close to us all the time. But if you ever want to de-stress, it's a nice walk to feel like you're off campus, while technically still being on campus. Not to mention all the fun activities you can do all year round in Schmeeckle – including canoeing or kayaking in the lake, going for a run through the trails and exploring the boardwalk. During the winter, you can try snowshoeing or cross-country skiing. You can even checkout any equipment you may need from the Intramural and Outdoor Rental Office in the Health Enhancement Center at a discounted student price. Not many universities have their own nature reserve right on campus, so this is very unique to UW-Stevens Point!
#8 – Pointer Life and Getting Involved
Touring campus means you can learn more about all the cool ways to get involved at UW-Stevens Point. Campus Activities and Student Engagement (CASE) coordinates tons of different opportunities for students to meet others, have fun, volunteer, find a job or internship and gain leadership skills. CASE focuses on involvement in student clubs and organizations, employment from over 3,000 student jobs right here on campus – and even more off campus, coordinating volunteer opportunities, and helping students gain and build leadership skills.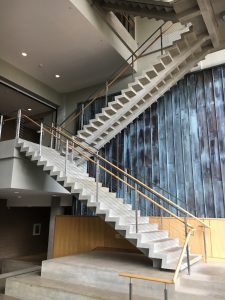 #7 – The Noel Fine Arts Center
When you walk into the entry of the Noel Fine Arts Center, or the NFAC for short, you are greeted by a beautiful floating staircase designed by one of our very own students in the interior architecture program. Natural light shines through the huge glass atrium space, which provides a view across the campus sundial outside. The wall behind the staircase makes for an eye-catching backdrop to the highlighted staircase. This area is great for snapping a good selfie or having some professional headshots taken, but also for just relaxing and taking a minute to sit. You can tell the arts center is truly a fine-arts building because even the architecture is a work of art!
#6 – The Trainer Natural Resources Building
Another fun spot to go and see is inside the Trainer Natural Resources Building (TNR)! In the lobby, behind the Forestry Hall of Fame, is the vivarium. Inside the vivarium, there are four turtles named Swiper, Sheldon, Shelby and Pearl, an iguana named Quasi and a Chinese water dragon named Wanda. As a campus tour guide myself, I love taking visitors by the vivarium because whenever there are people nearby, the lizards perk up off the rocks they are sleeping on and hold their heads up high. They know when they have an audience and they love it! With all the greenery inside the vivarium space, it can sometimes be tricky finding the reptiles that blend in with plants, but you'll enjoy the challenge of finding all four of the turtles, Quasi and Wanda during your visit.
On the top floor of the TNR, there are four greenhouse spaces with varying temperatures. Students can grow plants all year round in any of the rooms, too. When you walk inside the tropical greenhouse, it feels like you are in the rainforest with trees growing, vines hanging from the ceiling and beautiful colored plants and flowers mixed in with the different shades of green. These greenhouses are definitely a hidden treasure on our campus!
#5 – The NEW Chemistry and Biology Building
Did you know we are adding to our campus skyline, next door to the current Science Building? This new space will be dedicated to the chemistry and biology programs offered on our campus, with new classrooms and labs for students to learn in – opening in the fall of 2018! We are very excited to see the growth of these programs as courses will soon take place in their own building. As of now, construction is still underway on the interior spaces, as well as the glass atrium that will be added on the south side of the building. The exterior is looking really cool these days with different types of brick, stone and large glass windows across the walls, but that's just the outside. There's a lot going on over there, so definitely make some time to schedule a visit so you can see developments on the new Chemistry and Biology Building as soon as you can!
#4 – Old Main
I don't know where to begin with Old Main! This building feels like home to me. I absolutely LOVE the front lawn of Old Main. There are many walkways through the lawn enhanced by different trees, shrubbery and gorgeous flowers. The cupola on the top of Old Main is a beautiful sight to see across campus – and especially at night when it's lit up with purple and gold spotlights. Some of the best pictures of campus are taken here all year round, too! Old Main is where it all began. This historic building was the original campus building of UW-Stevens Point, constructed in 1894. Everything else we call campus today were fields and marsh lands back then. There is so much history here! Today, Old Main houses administrative offices, including our Chancellor's and Vice Chancellors' offices. I also have the privilege of working in the University Communications and Marketing office located here, as the Assistant to the Special Events Coordinator. I spend a part of each day here!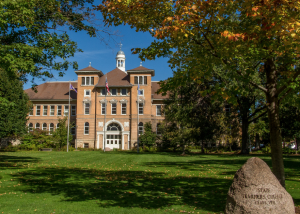 #3 – The E Pluribus Unum Tile Mural
The massive tile mural on the Trainer Natural Resources Building is awesome! Any guesses on how many tiles are on the wall? There are… 286,200 different tiles that create the mosaic mural, and it's the largest of its kind – so it's a landmark right here on campus! The mural was designed by a UW-Stevens Point art faculty member and it took 10 years to complete. WOW! The design features different wildlife, a map of Portage County (where Stevens Point is located), the cupola from the top of Old Main and more – all incorporated in the design. The mural is lit up at night, too, so you can see it at all times.
#2 – Sustainability
If you are interested in sustainability or passionate about the environment, UW-Stevens Point is the campus for you! We are the first university in the state of Wisconsin to have 100 percent of electricity come from renewable sources. And in 2017, we also received the U.S. Department of Education Green Ribbon Schools Award. When you come for a tour, you can see solar panels on top of our residence halls for yourself!
Besides energy, Pointers care about recycling. There is are multiple recycling receptacles in every building across campus including the residence halls. We even compost, too! Students can compost in their residence hall and in the dining locations on campus to help reduce their carbon footprint. Our dining centers and cafés receive a lot of organic food items from local vendors in Stevens Point and Central Wisconsin, supporting sustainable business, too! On campus, students support the #MeatlessMondays movement that encourages a day of eating plant-based and other non-meat food items.
UW-Stevens Point has a Campus Garden and numerous student groups supporting sustainability initiatives and holding events to promote them. You can also bring your bike to campus and join the many students who like to bike all year round. Due to the popularity of biking, UWSP has bicycle shelters available. These shelters also include repair tools, so you can do routine maintenance on your bike when needed. We care about sustainability in many ways here at UW-Stevens Point!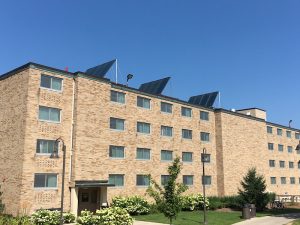 #1 – See YOURSELF here!
The number one reason to tour campus is that you'll have the chance to see if UW-Stevens Point feels right for you! Learning about colleges and universities, and actually going to see them are very different experiences. This is why I believe coming here is critical to knowing if UWSP is the right place to call home for four years. I know this to be true because my visit to campus was the exact moment I knew I wanted to be a Pointer. I came to Transfer ViewPoint Day and went on a tour of campus. After meeting faculty and staff members in my area of study, everything came together in my mind. During my campus visit, I saw the building I would be studying in, was guided through the Dreyfus University Center and got to see all the amazing Pointer life opportunities, and the list goes on and on! But it won't matter until you come and see it yourself.
Does UW-Stevens Point sound like the right place for you? Come visit us, find out why everyone is talking about UWSP. You may come for a tour, but soon call it home!