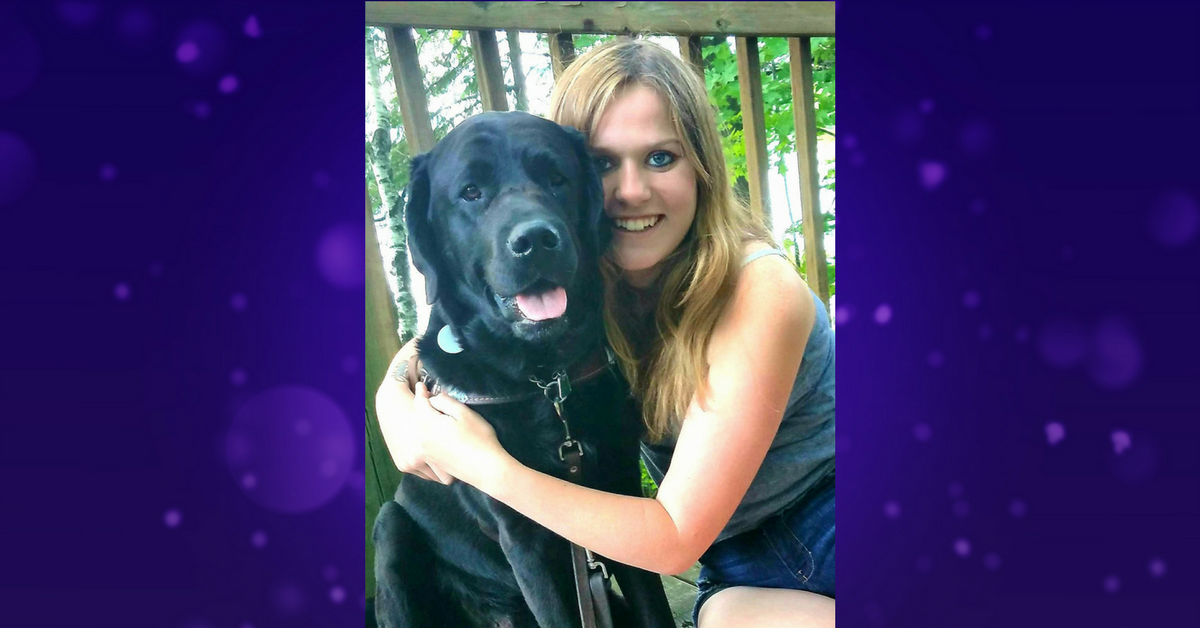 Well, hello there! If my name looks new to you that's because I'm new here. Not just to UW-Stevens Point, but also as the College of Natural Resources blogger!
Allow me to introduce myself: I'm Shannon, a third-year transfer student. Previously I attended UW-Whitewater to pursue a degree in journalism, but soon realized that wasn't the path for me. I started looking into environmental education programs, and that's how I stumbled upon UW-Stevens Point. (I'll go more in depth later about all that stuff.) First, let's take a step back in time…
I'm from Sturgeon Bay, which is located in beautiful Door County, Wisconsin. I was raised on a small dairy farm 15 minutes out of town, among the dense woods and open fields. I couldn't have asked for a better place to call home. Growing up I'd spend dawn until dusk outside. You could find me venturing through our woods with my childhood dogs, a spunky beagle named Scooby and a stubborn Siberian husky named Chase, or "herding" the cows with my trusty stick horse, Brownie. I was an artistic kiddo, too and always had one of my notebooks with me so I could doodle my favorite animals wherever I was. My childhood dream was to be an animator for Disney.
Fast forward to October 2014, when I received my acceptance letter to UW-Whitewater. If you haven't heard of it before, don't worry, few have. The university is situated in a small town surrounded by corn fields in southeastern Wisconsin. I declared a major in journalism because I decided to follow my strength in writing and passion for storytelling, rather than my distant childhood dream. In my time at UWW I experienced a number of amazing opportunities. During my sophomore year I wrote news for the campus newspaper, The Royal Purple, and interned for the Wisconsin Farms Oral History Project, where I wrote blog posts about agricultural and environmental topics. I also managed the project's social media and occasionally hosted its radio show, interviewing farmers on agriculture and environment issues. I was a radio personality for the campus radio station, 91.7 the Edge and had an amazing experience working behind-the-scenes for the college's TV station. I also met a number of my really good friends in the tiny college town. But midway through my sophomore year, I felt like my time as a Warhawk was coming to a close.
I decided to look into environmental journalism because I want to write stories about my passion and make a difference. I looked for a program that would give me knowledge about how to interpret the environment and how to educate others on it. The best program I saw was UW-Stevens Point's environmental education program, and here I am now, happier than ever. Yes, it was extremely difficult leaving my best friends and the college I had grown fond of, but this is the right program and right school for me. Since starting this program and working in the field, I'm aspiring to be an environmental educator, who either works at a camp or a national or state park. But who knows where my future will lead me! As long as I'm outdoors and with people, I'll be one happy camper.
Does it come as a surprise that I absolutely love the outdoors? I spend as much time as I can outside. My all-time favorite hobby is kayaking, but I also love hiking, biking and fishing. I want to learn how to ski, downhill and cross-country. Traveling is another passion of mine. This past summer, I took a road trip to Maine with a few friends…and it was a-MAINE-zing. I haven't traveled much due to my parent's profession, but I plan to do a lot of traveling in the future. One of my life goals is to visit every national park, and I can now cross Acadia off the list! I love to read, too – mainly historical fiction and non-fiction books. I love movies, especially comedies and Disney, and my favorite movie is Up. I even have a tattoo on my inner right forearm that says, "Adventure is out there!" Like any other millennial, I love myself a good Netflix night. Some of my favorite shows include Parks & Recreation, The Office and, of course, Grey's Anatomy. I'm a big fan of documentaries, too. Music wise, I can listen to anything. I love indie, country, pop, early 2000s, 80s, anything but screamo… a little too angsty for me.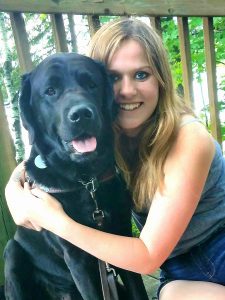 If you're wondering who that handsome fella is in my picture, he's my guide dog, Frasier. I have an eye condition called Retinitis Pigmentosa. This condition causes me to have night blindness, no peripheral vision, little depth perception and other vision issues. I don't let my sight stop me from living my life – I just live life differently. I'll write a future post about life with a guide dog, which will go more in depth about the accommodations I receive.
That seems like a good summary of me, if I do say so myself. If you see me around campus with my burly pupper, feel free to say hello! I'm so excited to see where this semester goes. Talk to y'all soon!