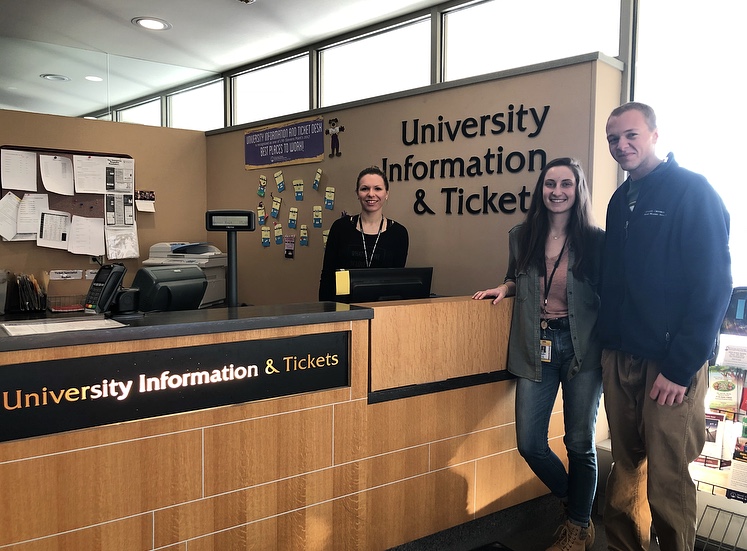 I don't know about you, but when I think of the University Information and Tickets desk I think, "a place to purchase tickets and…," yeah – that's pretty much it.
So for your benefit and my own, I'll shed some light on this lesser known campus service by sharing five useful need-to-knows about University Information and Tickets at UW-Stevens Point. You may already be familiar with its central desk, located in the first-floor lobby of the Dreyfus University Center.
1.It's the campus operator for the whole university.
University Information and Tickets is essentially the go-to center for any questions you, or your parents, may have about the university. The campus phone number listed on the university's website is directly linked to the University Information and Tickets desk. The staff members here are capable of answering most common questions. If they don't know the answer, they'll help transfer your call to someone on campus who does with the help of their handy directory services and network. If there's ever another department closed on campus, University Information and Tickets encourages your visit or phone call, so the staff can assist you with any needs.
2. It serves as an information hub, helping students and the local community with any inquiry.
Whether it's getting the address and location of a building or event, or a question about general services provided by the university, University Information and Tickets staff will find an answer for you in one shape or form. If you happen to stump them, they'll at the very least give a direction and point of contact for your questions. Although the staff specializes in on-campus questions, they're more than happy to help answer a question you may have about the local community.
3. Complete your ticket transactions here.
Surprise, surprise! They provide students with all things connected to ticket sales. Whether you're an organization trying to sell tickets to an event or a student trying to buy them, University Information and Tickets will assist you. Most events on campus are free with student IDs, but occasionally there are larger concerts and events that cost money. University Information and Tickets sells tickets associated with student organization and events, Centertainment Productions, university theater, dance and music concerts, and sometimes local events. Tickets are sold to UW-Stevens Point students and members of the local community through in-person transactions, over the phone or online at tickets.uwsp.edu.
4. Benefits are offered to student organizations.
Not many campus organizations realize the benefits University Information and Tickets can offer them.  If you're a part of a student organization or in the process of developing a new one, University Information and Tickets staff can help your student org as a whole. They offer services including: accepting dues payments, giving out change funds and offering ticket sales for your events – just to name a few! University Information and Tickets is typically the designated place for students to sign up for bigger student org events that occur off campus, such as the Milwaukee Brewers Game trip happening on May 5.
5. University Information and Tickets staff are here to help YOU! No question is too small or "stupid" to ask.
Not only do they act as the campus operator, but the staff is here to assist you with all of your needs. They even have a list of unusual questions and answers for students who may need additional help in making our campus a home-away-from-home. Such things include purchasing stamps from the desk when the University Store is closed, breaking change, sending out mail and serving as an area for misplaced items – commonly referred to as UWSP's Lost and Found. University Information and Tickets staff routinely pick up lost items from all campus buildings. Stop by and check, if you have something missing!
Whether it's to stop by and say hello, ask questions, purchase a ticket or to break change, University Information and Tickets is here to help you! The University Information and Tickets desk is located by the north entrance of the Dreyfus University Center, across from the University Store.
"We're happy to assist you in any way we can," said UIT Student Manager Jared Plamann. "We enjoy interaction with the student body as a whole."
There you have it, Pointers! Five essential things every student should know about the University Information and Tickets desk. If you still have unanswered questions, feel free to message UW-Stevens Point University Centers on Facebook, or head right over to University Information and Tickets. Desk hours are 7 a.m.–9 p.m. on week days and noon–9 p.m. on weekends.