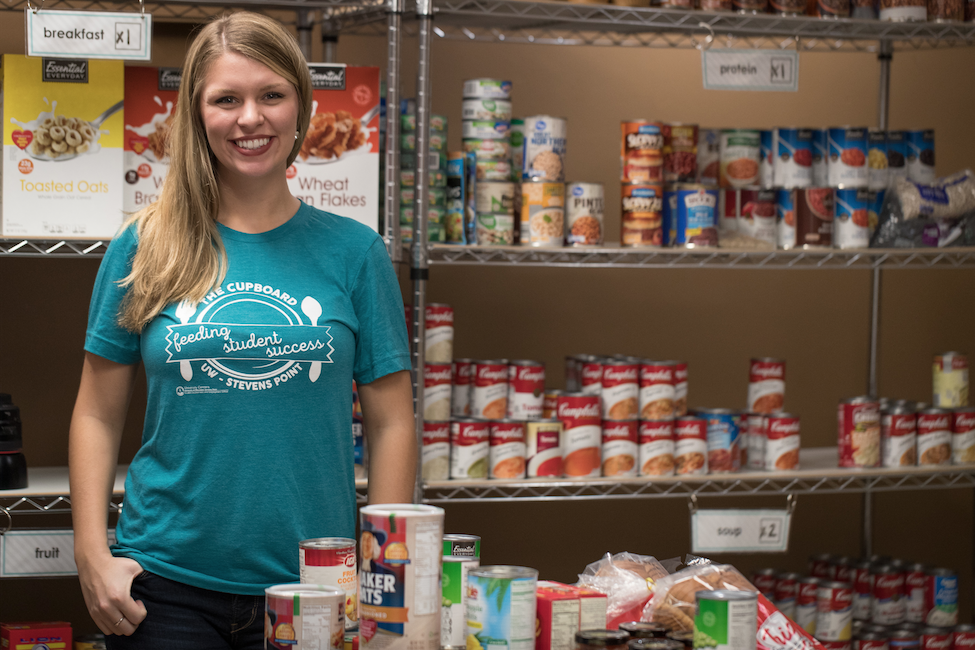 Mom always told my siblings and I to save our money for school during the summer because we never knew when we'll need it. We each responded with, "Sure, sure – I know what I'm doing." Then, our friends would call us saying our favorite band is in town, and we absolutely have to go to their concert!
Ok, maybe that's a little exaggerated. It was more like our friends called us saying McDonald's updated their menu and it's time to chow down! Regardless of where our money goes during the summer or throughout the year, there sometimes comes a time in every student's busy life where our tummies are rumbling. Instead of making that shameful call of despair to your mother admitting defeat, she was right… again, you have other options!
The University Centers Campus Activities and Student Engagement – also known as CASE – provides a food pantry called The Cupboard for students living on and off campus. It's located on the lower level of the Dreyfus University Center in room 061.
The Cupboard is available for any student during its open-door hours from Monday to Wednesday at 1:30-4:30 p.m. For students who cannot make those hours, CASE has an online request form students can fill out on The Cupboard's webpage. The request form is a process made up of four quick and easy steps:
Pick a food from each category that you would like and submit the request.
A volunteer will pull the items off of the shelves and bag them for you.
A volunteer will take your bag of items to CASE's front desk.
You come pick up the bag anytime during CASE's office hours: 8 a.m.-4:40 p.m. Monday-Friday.
The Cupboard is offered to any student in need of food with no strings attached. The only thing you need when entering the room is your student ID or student ID number. The food offered is donated from the community, local businesses, restaurants, your fellow Pointers, university staff and faculty, and other community partners. All of the food brought into The Cupboard follows standard food pantry regulations, so no student is in harm's way. As an extra precaution, the binder with these regulations is onsite at all times, and volunteers check expiration dates frequently.
The Cupboard is also in the process of making the pantry more vegetarian friendly for our many vegetarians and vegans on campus. For those who are gluten free or have severe allergies, the volunteers strongly encourage reading all of the labels on the shelves and will assist you if needed.
Not only does The Cupboard offer students free food, but its volunteers also host fun food drives throughout the year. One in particular is Welcome to the Giving Tree, held during the fall semester. The Cupboard also partners with Centertainment for movie showings, such as Jumanji and Pitch Perfect 3. If movie attendees provide a canned good at one of the showings, The Cupboard volunteers will give you free popcorn. Don't miss out on that opportunity!
If you're a current student looking to give back to your fellow Pointers, keep in mind UW-Stevens Point's Day of Giving is on Tuesday, May 1! Donating food items or volunteering your time to The Cupboard is a great way you can give back to your community here on campus. You can find more information about participating in next month's Day of Giving at givinguwsp.org.
To learn more about The Cupboard, be sure to watch for CASE's video series that will be released on the CASE and University Centers Facebook page soon!