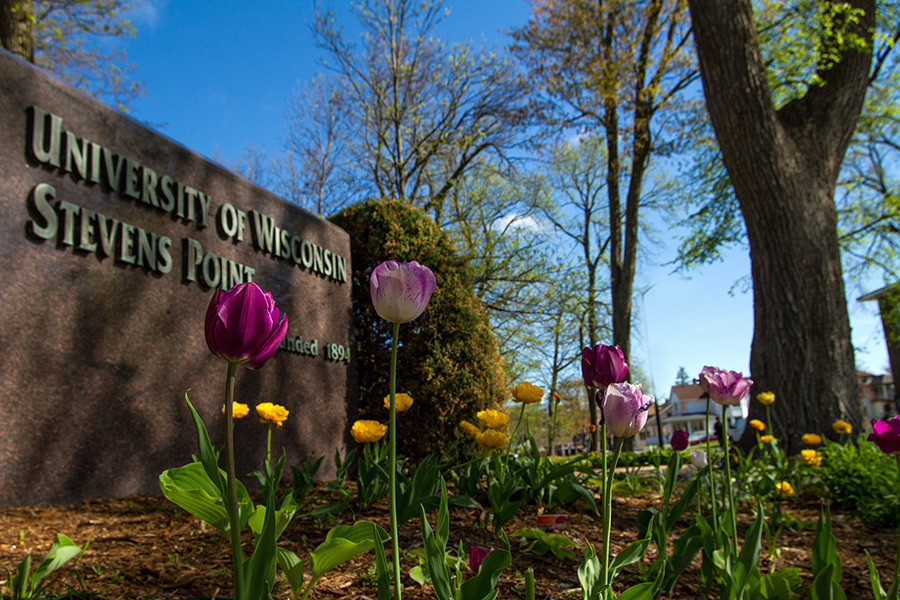 Although you've already made it to college, let's go back to the basics and go over some ABCs of the University of Wisconsin-Stevens Point.
A: Athletics: UW-Stevens Point students take pride in supporting their athletic teams. In fall, you can catch a crowd at a football game; in winter you can catch a mass of students at a hockey game. No matter what the sport is, Pointers support one another in athletics.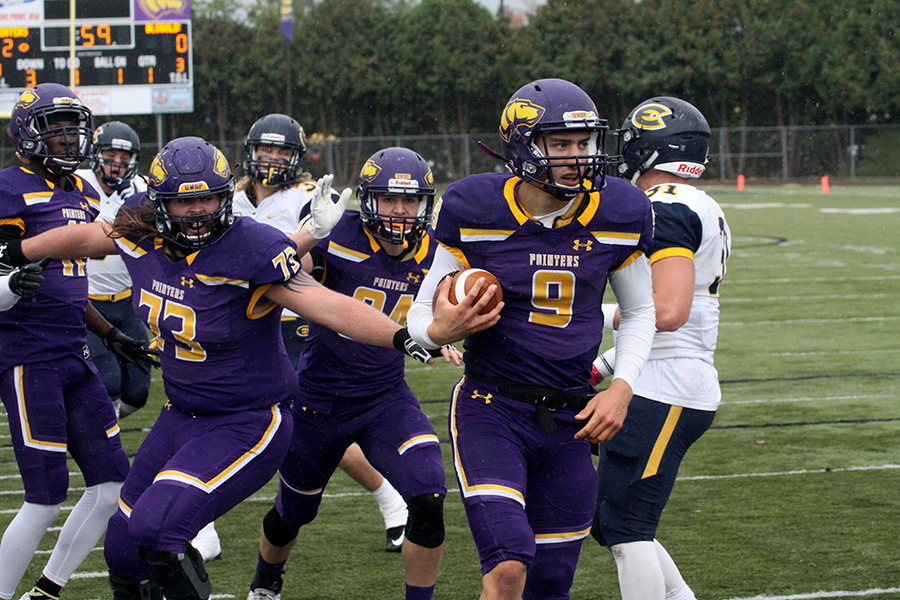 B: Basement Brewhaus: The Basement Brewhaus on the lower level of the Dreyfus University Center (DUC) unites the UW-Stevens Point community for stories, laughs, live entertainment, and refreshments. Be sure to check out all that the Basement Brewhaus has to offer! Many students spend time between classes here to study, work on homework, or have a bite to eat.
C: Club Sports: UW-Stevens Point is home to more than 30 club sports. From dance to rugby, UW-Stevens Point has it all! Joining an intramural team or club sport will allow you to meet fellow Pointers who share the same interests.
D: Disability and Assistive Technology Center: UW-Stevens Point's Disability and Assistive Technology Center (DATC) provides accessibility, accommodation and assistive technology services to students with disabilities, working individually with qualified students to identify, design and implement an accommodation plan that will aid them in acquiring equal access to their education. Contact the DATC if you have questions regarding what they have to offer!
E: Employment: UW-Stevens Point students can search and apply for jobs on campus and off campus using Quest, a platform that aids in finding students jobs with the specifications they choose. Jobs at UW-Stevens Point are designated by federal work study jobs or non-work study jobs. Federal work study is a program for students with demonstrated financial need. Students must complete and return a FAFSA each year to be considered for the program. Non-Work Study Jobs account for over half of all the positions on campus and almost 100 percent of off campus positions.
F: Farmer's Market: The Stevens Point farmers market is located downtown, open daily as produce is available between the hours of 6:30 a.m. and 5 p.m. Saturday is the biggest market day of the week. Many community members shop during the Saturday Market Day and produce quickly sells out, so the best time to shop is from 8 a.m. – noon.
G: Greek Life: Greek Life at UW-Stevens Point includes four fraternities and four sororities. These organizations are always looking for quality members who have the potential to succeed. Fraternities and sororities at UW-Stevens Point focus on leadership, scholarship, community service, and support.
H: Hammocking: Hammocking is a favorite pastime of UW-Stevens Point students. If the temperature is above 50 degrees on any given day, chances are you'll find at least one student studying in their hammock.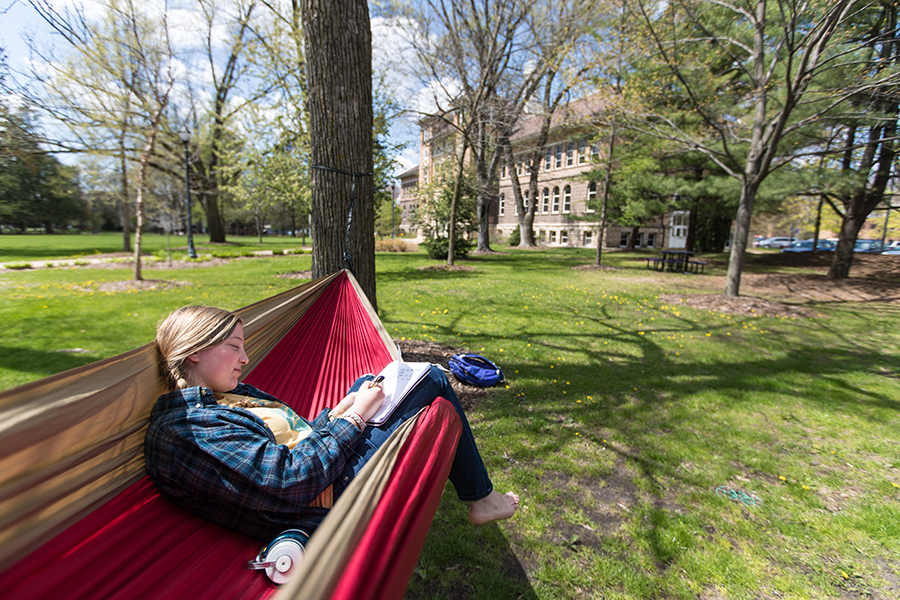 I: Intramurals: UW-Stevens Point Intramurals offers around 25 different activities per six-week session during each semester. From flag football to log rolling, there's always something that you will enjoy.
J: Joanis: Lake Joanis, located in Schmeeckle Reserve, is a common location for university students to unwind after a long week of classes. The University of Wisconsin-Stevens Point Outdoor Rentals program is dedicated to providing students, faculty, staff and our community with many opportunities for involvement in outdoor activities. Outdoor Rentals allows students and non-students to rent reasonably priced outdoor equipment such as canoes, kayaks, camping equipment, backyard games and more. Take in the surrounding natural beauty of Schmeeckle Reserve and Lake Joanis with one of our many outdoor rentals.
K: Knowledge: You will be surprised as to how much you grow and learn while in college, both academically and socially. After many hours of classes, studying and homework, your brain may hurt! Learn to pamper yourself once and awhile.
L: Lynda: Lynda is a service that provides on-demand video training for students, faculty, and staff. Qualified members have free access to more than 1,400 training videos on a broad range of subjects, including business skills, photography, design, music and video, and web design and development. Lynda is a service that many students don't take advantage of, but it can aid greatly!

M: Murals: When browsing in Downtown Stevens Point, you'll likely run into many murals. Whether it's a selfie or a landscape shot, capture these beauties that local artists have worked so hard on!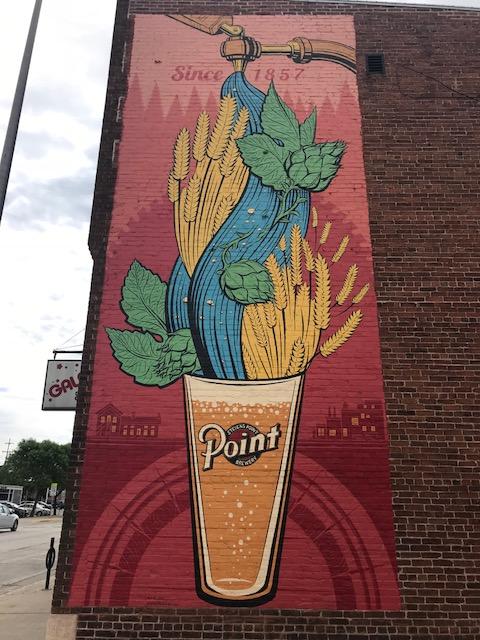 N: Natural Resources: The College of Natural Resources at UW-Stevens Point is the nation's largest and premier undergraduate institution for natural resources and environmental management. UW-Stevens Point offers three outdoor classrooms for natural resource students to study and do field research. If Natural Resources is up your alley, this campus is for you!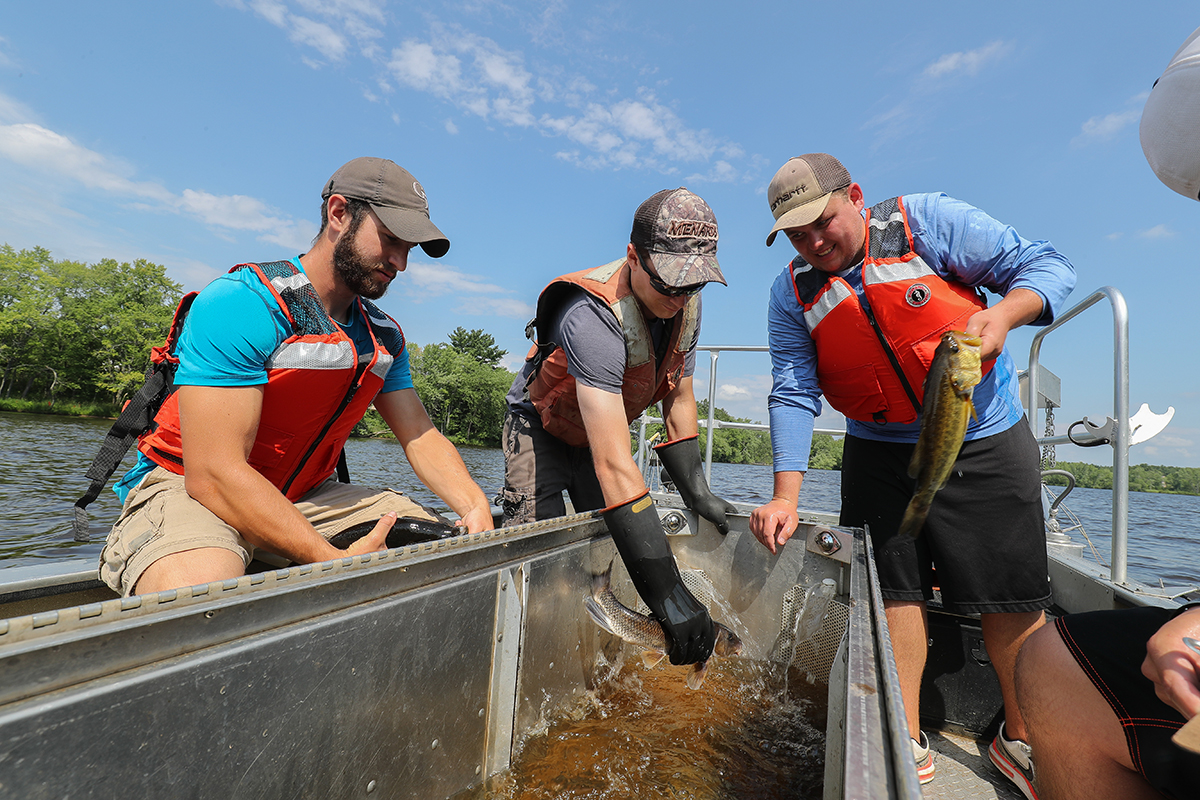 O: Old Main: Old Main, a classic UW-Stevens Point landmark, opened in 1894 and was home to both classrooms and administrative offices. Old Main is now home to the Human Resources Office, the Chancellor's Office, financial operations, and event planning. The cupola, which sits atop Old Main represents the university's past, present and future as a guiding light to students, alumni, friends and members of the community.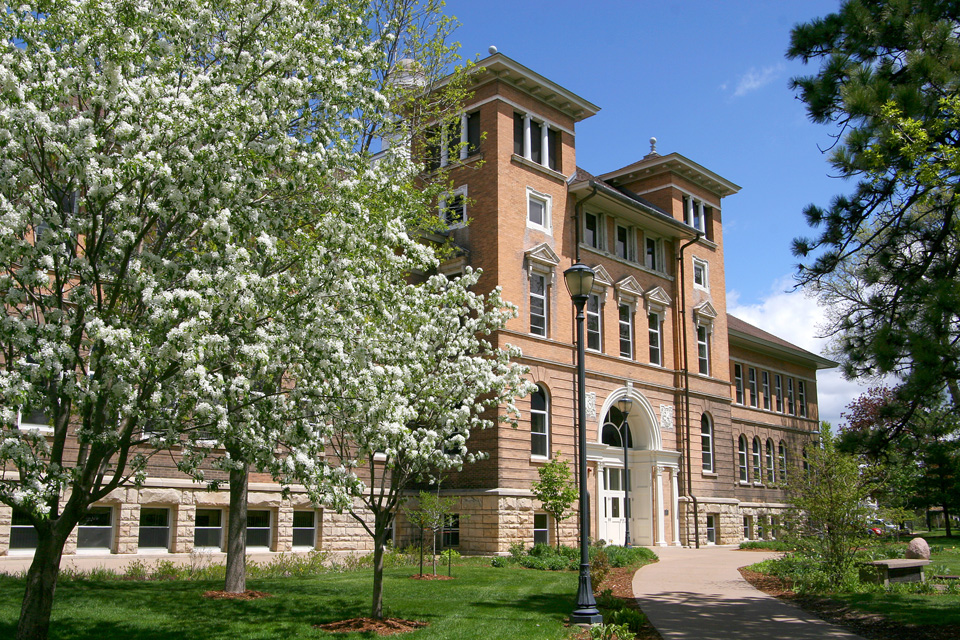 P: Parking: UW-Stevens Point parking designates available student parking lots at Lot J, P, Q, and W. If you are planning on bringing a car to campus, consider calling or visiting Parking Services in late summer to get the 2018-19 annual student parking permit. These parking passes are first come, first serve so be sure to get yours as soon as possible if you plan on bringing a vehicle to campus! Failure to have a parking permit showing through your vehicle's front window will result in a parking citation, and those are no fun. Parking Services will be open during move-in on August 30-31, 8 a.m.-4 p.m. Special hours will be available Sunday, September 2 and Monday, September 3, from 11 a.m.-3 p.m. for students to pick up their permit.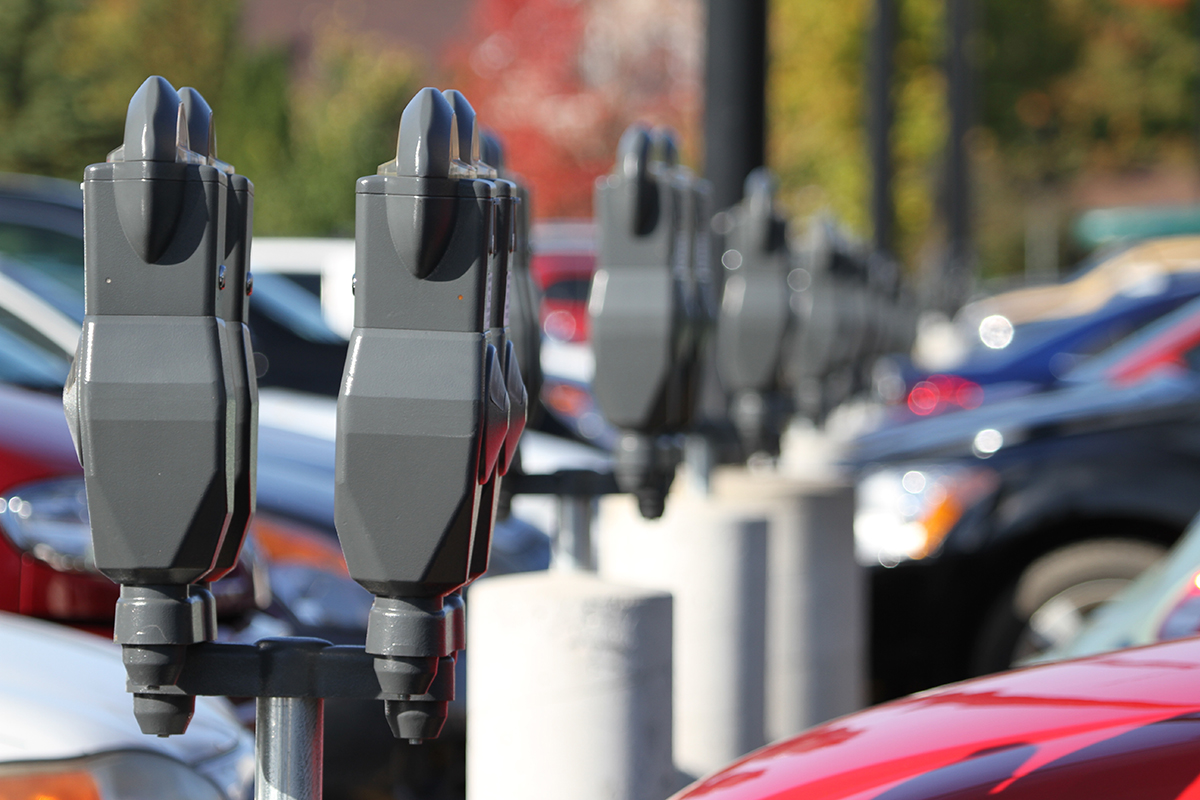 Q: Quest: Quest is UW-Stevens Point's large database where students can find part-time work either on or off campus. Simply login to Quest and narrow your search to fit your needs. I've found many jobs and have had success applying for jobs and internships through Quest.
R: Residential Living: Residential Living is the control center for our residence halls, all 14 of them! All first-year students and sophomores are required to live in the residence halls at UW-Stevens Point, with some exceptions if you live within a 40-mile radius of campus. Residence halls offer a supportive environment in which students live and learn. In-room internet connections, in-hall laundry facilities and air conditioning are some services that are available in the residence halls.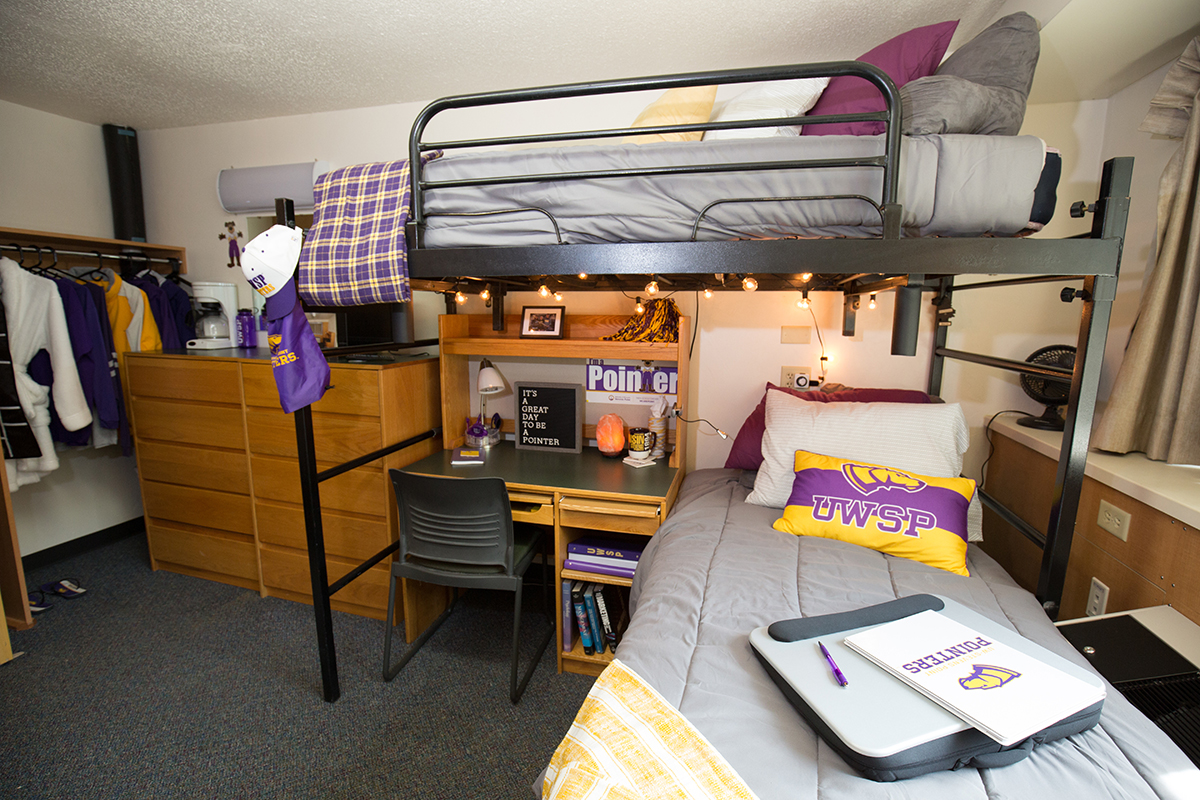 S: Stevie Pointer: Stevie Pointer, UW-Stevens Point's mascot, makes an appearance at many events on campus throughout the year. You can catch him at parades giving out high-fives for people of all ages.
T: Tuition: One of the reasons I chose UW-Stevens Point was to obtain a quality education with a low tuition. The tuition at UW-Stevens Point is one of the lowest in the state of Wisconsin and the Midwest – that's something to brag about!
U: University Store and Text Rental: UW-Stevens Point's University Store and Text Rental provides students with everything they need to succeed, including school supplies, art supplies and supplemental books. Textbooks are rented for free by students who have a valid UW-Stevens Point ID. Some classes require supplemental books, which are available for purchase at the University Store. I have saved loads of money through UW-Stevens Point's textbook rental program! It's truly a gem that many students grow to appreciate. Join the University Store discount club for special deals and discounts on Pointer gear that are emailed throughout the semester!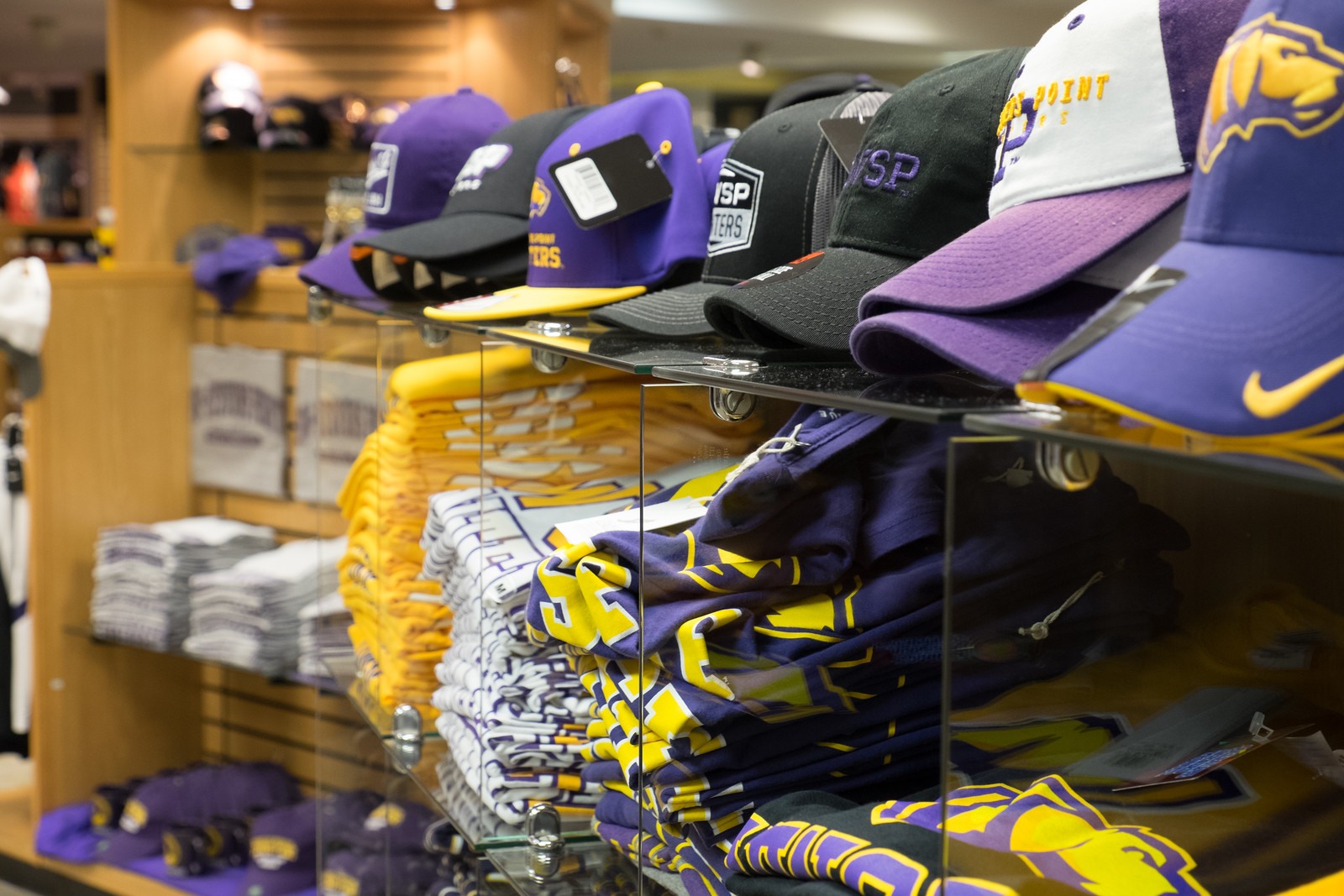 V: Volunteering: Campus Activities and Student Engagement (CASE) provides organized and structured volunteer events for UW-Stevens Point students. Every semester, a volunteer fair takes place where students can gather information so they can attend a volunteer event that interests them! Volunteering is a great way to boost your resume, as well as to learn and grow as an individual.
W: Willett Ice Arena: Willett Ice Arena is the go-to place on Friday nights in winter, since the UW-Stevens Point men's hockey team plays here. You can catch the pep band, Stevie Pointer and some good food when the men's hockey team is playing at home. When the Pointers score five goals or more playing at Willett, everyone in the audience walks away with a coupon for a free taco from Taco Bell!
X: X-cellent views: Although the winter months take over campus for quite some time, wonderful spring flowers emerge when the ground thaws. Many of these buds make great Instagram-worthy shots.
Y: Yearlong Activities: Whether you are more of a warm weather person or a winter fan at heart, there's always something to do at UW-Stevens Point. Everything from broomball in winter and volleyball in fall is enjoyed by students all across campus.
Z: Zest Bakery and Coffeehouse: Prepare to come to Zest between classes to chill out in their quaint, unique atmosphere. Located next to the academic buildings, many students and professors are seen here between classes. Hang out inside during the colder months, and on the patio during warmer days. Check out their delicious food, lattes, and smoothies!
The University of Wisconsin-Stevens Point will shortly grow to be your new home, so learning some tips and tricks are essential! Exploring the city and the area, as well as college activities are important to take part in… after studying of course!