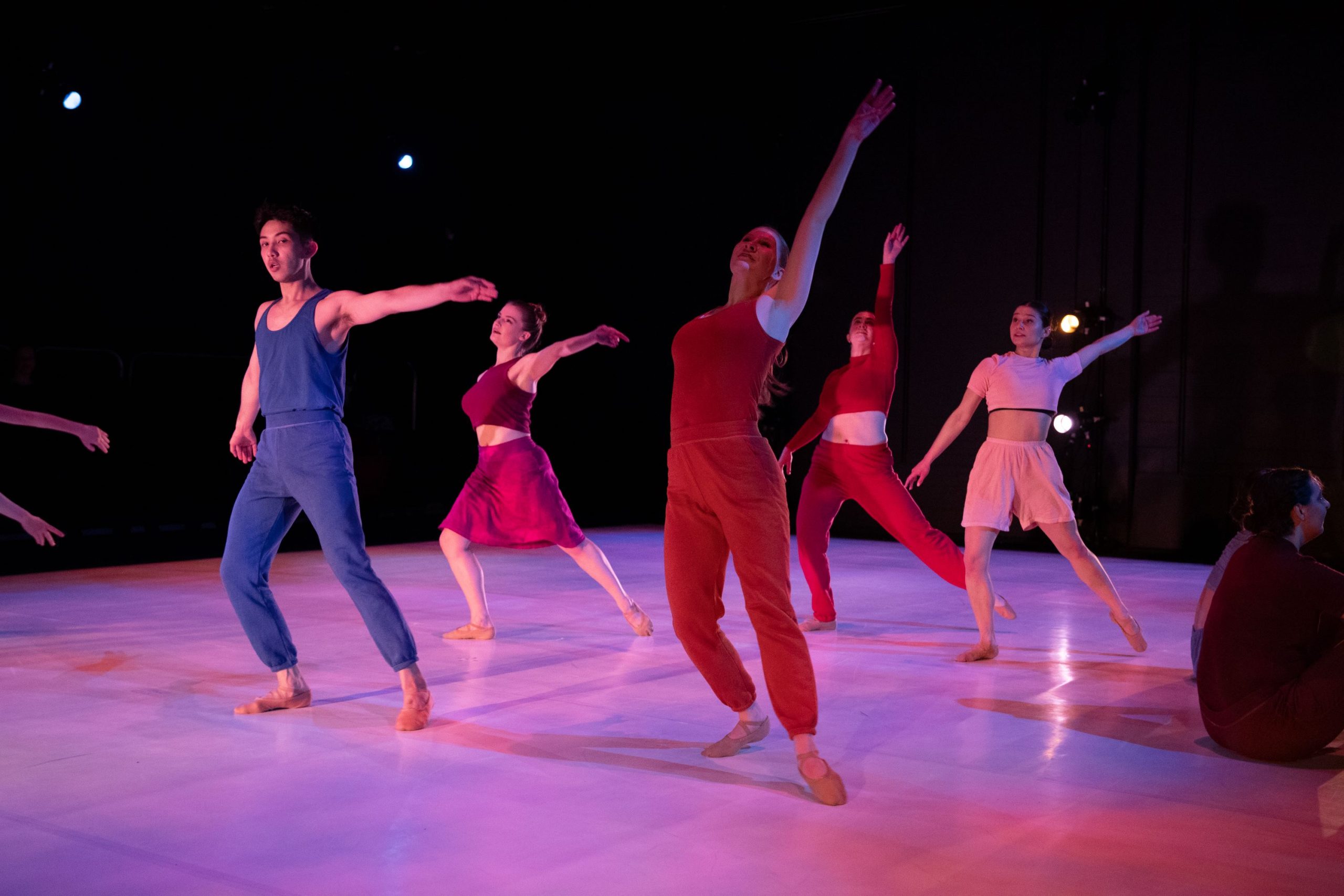 By: Cara Langhauser, COFAC Intern
This year for Danstage 2023, not only is there fantastic choreography by guest artist Heather Cornell, but for the second act of the dance concert, the UWSP Jazz Ensemble, led by Mathew Buchman will be playing live with our dance students! 
Professor Mathew Bachman is very excited about the project, "Jeannie Hill and I have combined our classes (dance and jazz ensemble) every year since at least 2014. And every year we've always dreamed about producing a larger project; something that resulted in a public performance highlighting the dance and jazz ensemble. When Heather Cornell was asked to be this year's guest artist, Jeannie and I knew the time was right. Repertoire was suggested by all three of us (Jeannie, Heather, and me) and work began on choreography and arrangements in January. I hope the students find joy and inspiration in working with each other, and that this project will encourage regular collaboration between students and faculty in dance and music (and beyond!)."
The UWSP Jazz Ensemble will be playing for Heather's two pieces, "Three Takes on Monk" and "African Folk Song" and Professor Jeannie Hill's piece "Swing Suite". Dance students previously learned Heather's pieces in a week when she was on campus back in February. Heather also held masterclasses with students, including learning the "Walk-Around", a famous tap piece that she has performed with tap legends: Buster Brown, Eddie Brown, Harriet Browne, Cookie Cook, Steve Condos and Chuck Green.
"I am so excited to perform with the live band. The energy that the band provides will give me the energy to perform. It is a great opportunity as well to work with these amazing artists." Said dance student Abby Hermans.
Dancer Kathryn Laird spoke of her current experience. "We have been practicing with the bands pre-recorded rehearsals up until now and transitioning to live was practically seamless. They are such a talented group and its very fun and collaborative experience to use the rhythm of our taps in tandem with their instruments."
Dancer Megan Shields got goosebumps the first time the practiced with the UWSP Jazz Ensemble, "The amount of talent in the room at that moment was insane. It honestly didn't feel like a huge adjustment transitioning from using recorded music to live music because of how in sync the band is. As dancers, we rely heavily on the tempo, rhythm, and feelings we get from the music to inform our performance. When dancing to live music, it becomes a conversation between the musicians and dancers. We have to tune into each other and give the same amount of energy and passion to be successful. We become one collective voice, and that's what makes performing with live music so special."
Past productions of Danstage have previously had live music, with a trio in one number and dueling grand pianos in another, however there has never been a live music performance of this quantity or quality at Danstage.
Join the Department of Theatre and Dance for Danstage 2023, May 5-7 in the NFAC Jenkins Theatre, and come see the UWSP Jazz Ensemble make their Danstage debut!
Tickets available at tickets.uwsp.edu