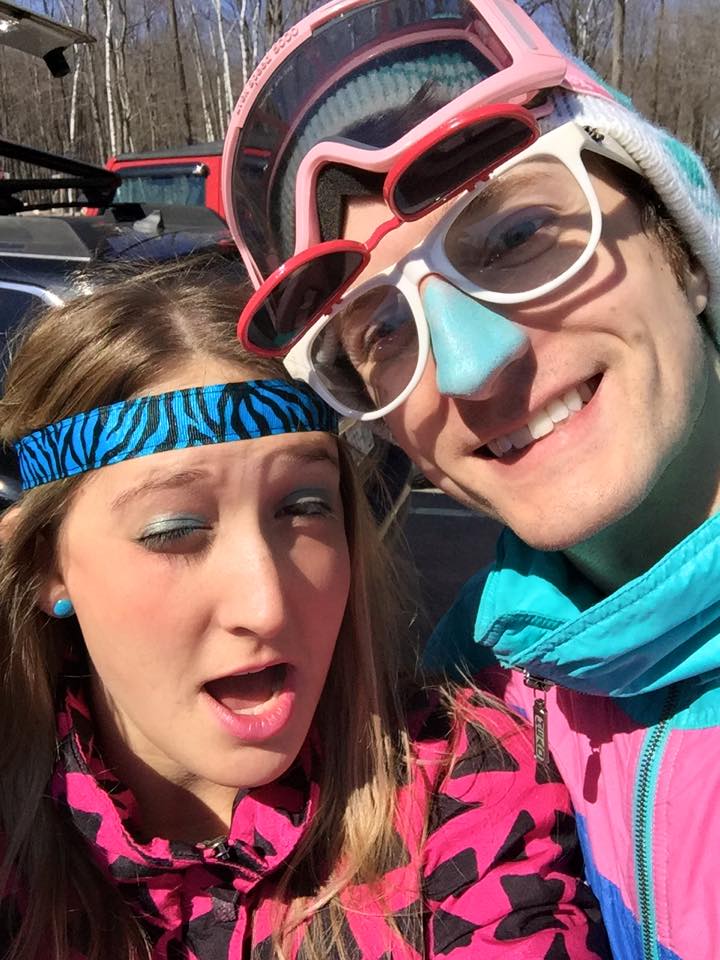 I thought it appropriate for my first post to be about the most exciting moment of my semester. So here's my story. Hopefully it'll be a little glimpse into who I am and what a great place Stevens Point is to live and be a student!
I feel so lucky to have found a school I love only 30 minutes from the highest point in Wisconsin, close enough for me to throw my snowboard and my boyfriend's skis into the back of the car and head up for an afternoon of powder.
THE STORY
One particularly fun event is called "Gaper Day." It is a day at the very end of the season when everyone goes to "the hill" (Granite Peak), grills out, listens to music and dresses like ridiculous skiers from the 1980s.
But this past Gaper Day ended less than ideally. After snowboarding for about seven hours, I told my boyfriend I wanted to head home. After he suggested just one last run, I went down one of the steeper headwalls and had to carve around a beginner. As I did, my heel edge slipped out and I went tumbling down between two runs, falling more than 10 feet down into rocks. I slowly took off my board and proceeded to fall several more times trying to walk down the run. I'll save you the boring details, but our story ends with hours of testing in the emergency room, two fractured ribs, a strained rotator cuff, and dark bruising all down the right side of my body.
Click on the photo to get an idea of what this looked like:
THE RECOVERY
The next week I could barely get out of bed. For the next three weeks, sitting upright (in class for instance) for more than a half-hour filled me with too much pain to concentrate. But now, the semester has ended and I have finished with high grades. I am finally recovering just in time to go kayaking at one of the gorgeous spots around Point, like Schmeeckle Reserve, which you can read more about in Brandin's post.
So how did I do it? Magic.
Well no, but something close to it: Mad communication skills.
My favorite thing about the University of Wisconsin-Stevens Point is the feeling of community. Part of that is the relationships that you are able to create with your professors. When it comes down to it, I was able to do well this semester due entirely to communication. As soon as I got home from the emergency room, I took a picture of my doctor's note and emailed it to my professors. Then, I stayed in constant contact with them whenever I would miss a class or was falling behind. Every one of them was understanding and concerned for my well-being.
THE MORALS:
1. Always communicate with your professors. Making sure they know you care about missing class prevents it from seeming like you're just blowing it off.
2. Stay in good academic standing because you will fall into a hole at some point in your years in Stevens Point, all-be-it probably a less literal, more metaphorical hole. *One way to make sure you are staying in good academic standing is by utilizing on-campus resources such as the Tutoring-Learning Center.
3. Never call last run. It's a ski/board thing. Everyone knows it's bad luck. Except me on Gaper Day apparently.
It was definitely one of the most difficult times I've had yet, but I've already placed an order for a new snowboard in the fall, so we'll see where I'm at after next season.
Taylor Maas is a philosophy and religious studies double major, a political science minor and a blogger at UW-Stevens Point. Follow her this summer and beyond at the UW-Stevens Point blog.