I first tried Himalayan pink salt when my dad bought some from the local grocery store and told my siblings and I this salt would be better for us. Initially skeptical, but always open to trying new things, I sprinkled some on my lunch…
Himalayan pink salt has a much stronger and more powerful taste than regular table salt, but I was surprised by how much I enjoyed it and how it enhanced the flavor of my food. From that day forward I've been addicted. Pink salt has become somewhat of a "trend" over the past few years among  those in the health community, but many people don't know the benefits and effects it can have on your body. According to Collective Evolution, the benefits of Himalayan pink salt include: reduced signs of aging, improved circulation, muscle cramp prevention, hydration and more.
Regular table salt is known for its high amounts of sodium and chloride, making it unhealthy because it has been stripped of its other key minerals. Table salt is also bleached and cleaned, making it unnatural and hard for the body to dissolve. Sea salt is another option that people can consider. Sea salt is more natural than table salt, coming from the ocean, but not as pure and clean as Himalayan pink salt.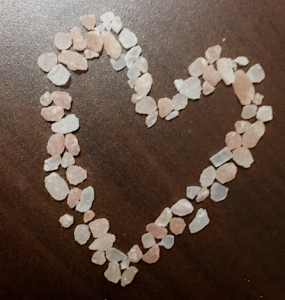 Himalayan pink salt can be used for more than just consumption by adding flavor to your foods. (It does have a more distinct taste than table and sea salt.) Empowered Sustenance gives a list of seven different ways we can use Himalayan pink salt including: salt therapy to reduce asthma, salt lamps for air purification and salt detox baths. 
Personally, I love Himalayan pink salt! The flavor is perfect, and I enjoy knowing that I am putting unprocessed, clean and beneficial salt into my body. I use it daily and guilt-free because consumption is not tied to high blood pressure, like other forms of sodium. I recommend buying it in bulk and filling a salt shaker to use with meals. Pink salt will intensify the flavors in your favorite dishes and provide a healthier way to enjoy salt.
If you're interested in learning more about health and fitness during your time as a Pointer, stop by the Student Health Promotion Office, located in the Allen Center on campus! Learn more about studying health promotion/wellness at UW-Stevens Point here.