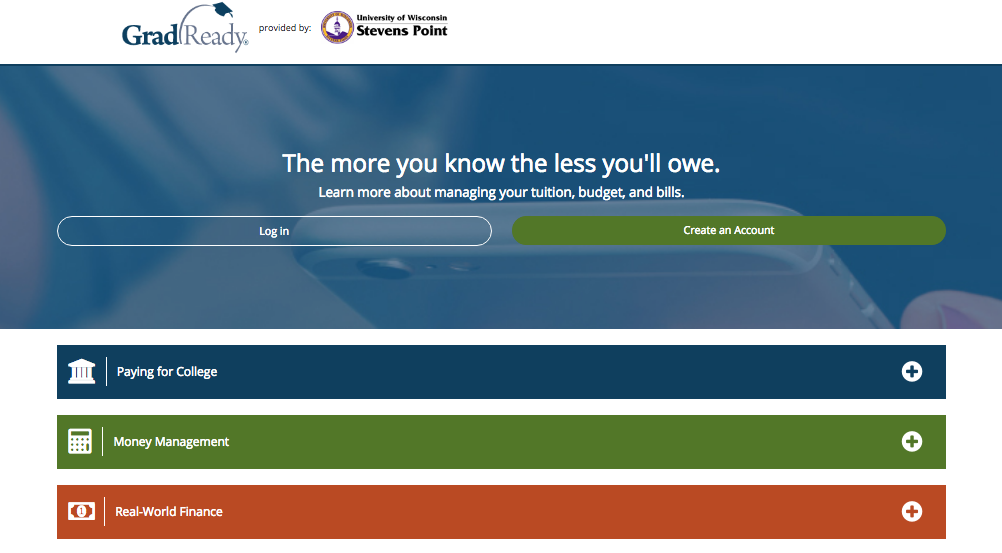 Hello, Pointers! Have you ever heard of GradReady? It's a free, interactive, online financial literacy resource offered by UW-Stevens Point's Financial Aid Office and NorthStar Education Services. This resource can be used throughout enrollment and even after you've graduated. GradReady contains different learning methods to appeal to anyone's preferred way of learning. There are videos, downloadable PDFs, interactive components and quizzes to test your knowledge.
Part of becoming financially literate, as a college student, includes the ability to use knowledge and skills to make good decisions related to budgeting, borrowing and repayment strategies. Financial literacy resources can help build the financial capability needed to make smart choices about reaching graduation, learning to stay within a budget and promoting lifelong financial health.
Throughout my upcoming blog posts, I will detail the GradReady program in depth. First, I'll start off by teaching how to use the Paying for College module.
GradReady's Paying for College module includes all you need to know about how to cover the cost of school. You can learn about different federal student loans, the Free Application for Federal Student Aid, work study, scholarships, and other ways to help you pay for college.
This path contains an interactive resource where you can create an online, editable finance plan on how to pay for school. By taking your financial aid award and entering it in this system, you can calculate your funding gap. (You can find your financial aid award on accesSPoint.) Your funding gap is the gap between what your financial aid covers and what you owe on your bill.
Learning how to create a budget has never been so easy, thanks to GradReady. Budgeting is the single best way you can take control of your money. You will be surprised at how easy it is to watch your spending and save money here and there. Here are some tips on how to reduce your everyday expenses. For help on how to use the GradReady budget, click here.
As a current UW-Stevens Point student, I find GradReady's Paying for College path the most helpful. I learned so much about loans and what each type of loan means. Not only that, I learned how to create a budget, so I'm less stressed when it comes to money. I highly encourage you to check out GradReady!
You can sign up for GradReady here using your UW-Stevens Point email address and password.
If you have any questions about signing up or about the GradReady program itself, please don't hesitate to stop by UW-Stevens Point's Financial Aid Office. We are located in room 106 of the Student Services Center on campus. We are happy to help Pointers and Pointer family members!