Last year was the first year we had an entirely vegan Thanksgiving at my house, and it was a huge success. From the creamy mashed potatoes with warm mushroom gravy, roasted brussel sprouts, wild rice and mushroom casserole and apple raisin stuffing to rich pumpkin pie topped with homemade coconut whipped cream, there was not an unsatisfied stomach in the room.
I am highly anticipating this year's Thanksgiving and thought I would share two of my favorite recipes from last year, since I can not wait to make them again! The wild rice and mushroom casserole is what we used as our main dish. The wild rice adds texture and makes for a full, hearty dish. With the mushrooms, onions and carrots, the fresh thyme and parsley topped with breadcrumbs really pulls through the flavors of Thanksgiving. The casserole is binded with a silky cashew cream sauce made from five simple ingredients.
Cashew Cream Sauce Ingredients:
½ C raw cashews
2 C almond milk
3 Tbsp arrowroot powder
¼ C nutritional yeast
Salt to taste
Wild Rice and Mushroom Casserole Ingredients:
3-1/2  C vegetable broth
2 C wild rice
4 Tbsp vegan butter (I use Earth Balance brand.)
1  medium white onion
3 carrots
16 oz diced mushrooms
3 minced garlic cloves
½ tsp salt
½ tsp pepper
3 Tbsp tamari or soy sauce
2 tsp fresh thyme
2 tsp fresh parsley
½ C Panko breadcrumbs
Instructions:
Start with the sauce by bringing 2 cups of water to a boil. Place the cashews in a small bowl and pour the boiling water over. Soak for 30 minutes.
While cashews are soaking, move on to the rice. Boil vegetable broth, then add the wild rice. Reduce to a simmer and cook for 30 minutes. Remove from heat, cover and sit for 15 minutes.
Preheat oven to 350 degrees Fahrenheit. Lightly grease a 4-quart casserole dish.
In a large pot, warm 4 tablespoons of vegan butter over medium heat. Add onion, salt and pepper and cook for 3 minutes until the onion is translucent.
Add the mushrooms, garlic and carrot, cook together then add the tamari, thyme and parsley. Cook for 5 minutes.
Once the cashews are finished soaking, strain the water and blend them until smooth. Add the almond milk, nutritional yeast, arrowroot powder, salt and blend until smooth.
Pour cashew cream mixture in with the veggies and bring to a boil. Reduce to a simmer for 10 minutes.
Turn the heat off, add the cooked rice and stir to combine together. Salt to taste.
Transfer to the greased casserole dish and top with the breadcrumbs. Cover with foil and bake for 25 minutes or until the breadcrumbs reach a golden brown.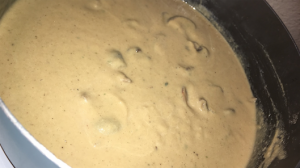 One other Thanksgiving recipe I cannot resist sharing is for the mushroom gravy. Can you tell how much I love mushrooms? They are a great "meaty" substitute with tons of flavor and variation.
Mushroom Gravy Ingredients:
½ medium white onion diced
½ C mushrooms diced
2 Tbsp vegetable oil
2 C vegetable broth
3 Tbsp nutritional yeast
½ tsp onion powder
½ tsp garlic salt
Approx. 3 Tbsp flour
Instructions:
In a large pan, saute onion and mushroom in vegetable oil until soft for about 3-5 minutes.
Add all the remaining ingredients, except the flour, and bring to a simmer, stirring frequently.
Slowly add flour, 1 Tablespoon at a time and whisk thoroughly to combine and rid of any lumps.
Continue adding flour and whisking until gravy reaches a desired thickness.
Thanksgiving does not have to make you feel as if you overate and need to spend the rest of the day slumped on the couch. Make healthy, but still hearty substitutes for a filling and satisfying dinner that leaves you wanting more. Enjoy!