Military Science/ROTC opens new facility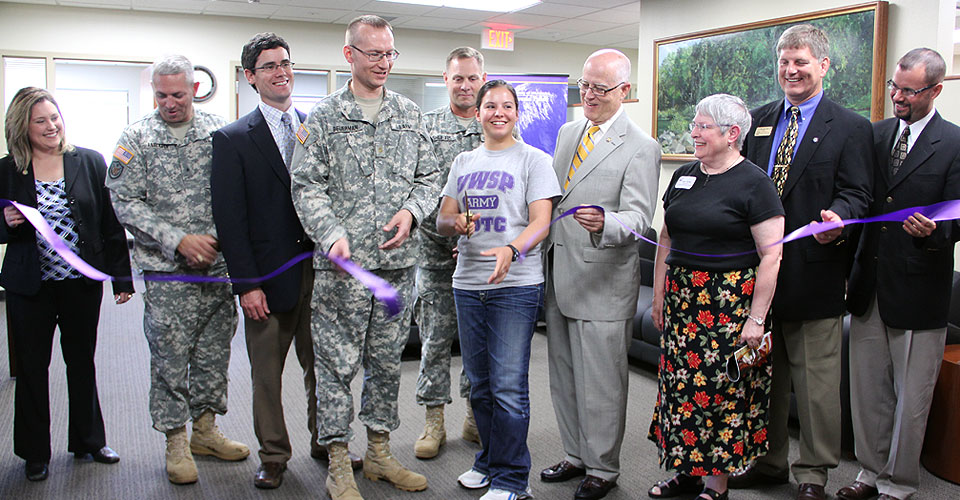 The Military Science Department at the University of Wisconsin-Stevens Point celebrated its new space with a ribbon-cutting ceremony in the Health Enhancement Center on Thursday, Sept. 1.
The new facility includes offices, a 32-seat classroom, 10-seat tactical laboratory, a student computer lab and storage areas.
"The Department of Military Science's ribbon-cutting ceremony marks not just the completion of a year of construction, but indeed the many years of planning and effort by so many to provide a quality facility for ROTC at UW-Stevens Point," said Major Eric Beuerman, professor and chair of the Military Science Department. "Our location places us in the midst of campus activity among student living, academics and athletics."
Previously the department was housed in the Student Services Center, with half of the department on the second floor and the other on the mezzanine level at the other end of the building.
"The new space has already proven to be a terrific place for the cadets to learn and gather, and for the cadre and staff to work. We now operate cohesively rather than separately, as we did within the previous building for over 40 years," said Beuerman.
The new construction adheres to the Leadership in Energy and Environmental Design (LEED) rating system for sustainability in its use of durable materials for maximum life span; energy efficient windows, walls, roofing, heating and ventilation, thermostats and lighting; a charging station for electric vehicles; regionally supplied materials to minimize fuel usage; safe wood, paint and adhesive products for maximum air quality; a sediment- and erosion-control plan; and minimum exterior lighting to control light pollution. In addition, 75 percent of construction waste was recycled or reused.