Sing about a Song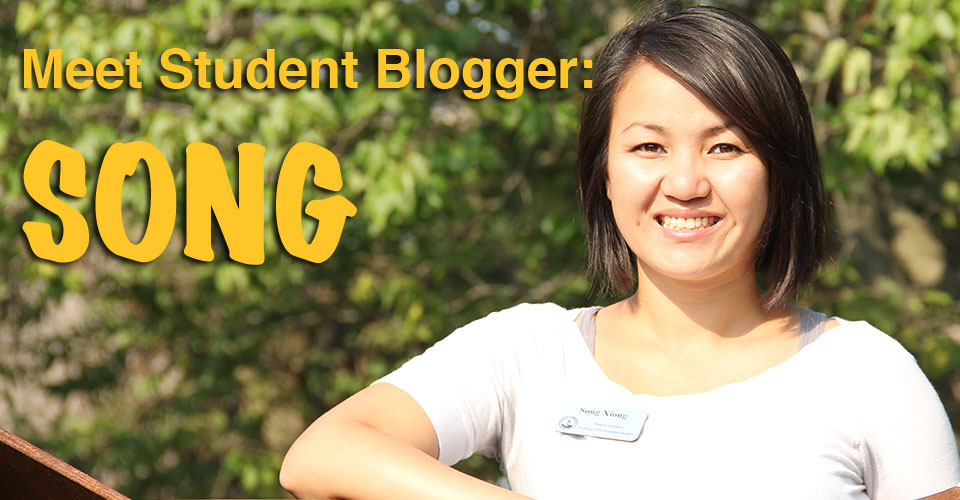 Hello. My name is Song. I am a dietetics and communication double major with an emphasis in public relations.
I grew up in Eau Claire, Wis., with a HUGE family (five sisters and two brothers). After graduating high school, I went to UW-Milwaukee for three years before transferring here to UW-Stevens Point. Yes, I've been in school forever and that makes me a super duper (awesome) senior.
I'm a total nerd in disguise and have been told I'm a workaholic. I am currently the co-president of the Student Association of Nutrition and Dietetics. I am looking forward to being involved in other clubs as the semester begins. I am also involved in Big Brothers Big Sisters and am doing projects for the Stevens Point Community Weight Race.  I am employed as the dean's assistant in the College of Professional Studies, and no, I can't access student personal files so I can't change grades.
Despite my hectic and stressful schedule, I try to keep a positive attitude and outlook on life. I believe that humor is the cure for everything, so remember:
When life throws you high fructose corn syrup, ascorbic acid, citric acid, maltodextrin, sodium acid pyrophosphate, yellow 5, and less than 2% natural flavors, MAKE LEMONADE!
-Song
Song Xiong is a senior at the University of Wisconsin-Stevens Point majoring in dietetics and communication.