Phase 1: Complete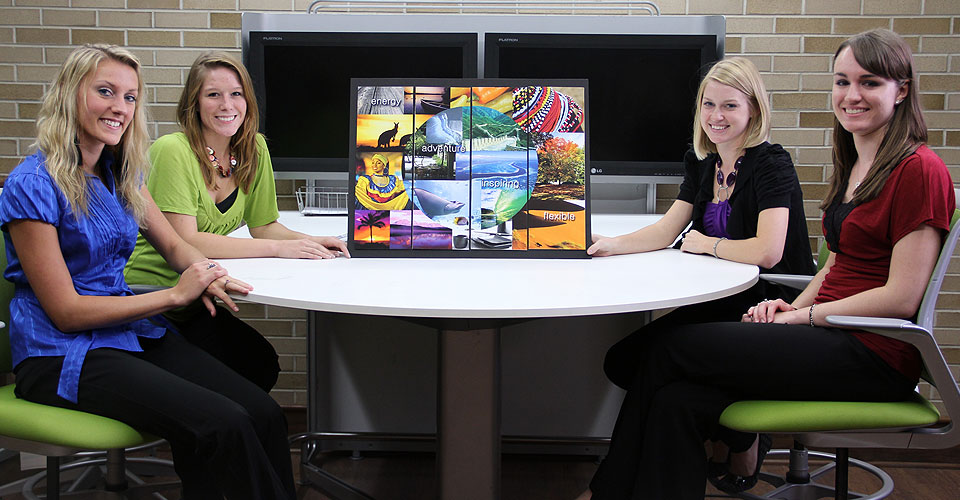 Hello, my name is Lauren and I am one of the four in our group. It's been about two weeks of work time for our project and now the phase 1 deadline is coming up! We have a fantastic start and managed to only procrastinate a little bit.
The first phase of the project (and most IA projects) is the conceptual stage. We are assigned to do different exercises to get ideas for what design direction we want to go. The end product is the result of a lot of research on similar spaces to find the best possible solution for the client. Some of the usual considerations include budget, location, client/company needs, and history of the client/company. Contrary to popular belief, it's more than simply choosing pretty finishes and furniture.
As Meg briefly mentioned, we had the freedom to choose our client for this office design project, fictional or nonfictional. This is the first time we have had this opportunity, therefore the four of us were eager to get started. After some discussion and inspiration from Hawaiian pizza, we decided on a fictional travel agency office located in Houston, Texas. This may be our only opportunity to choose our client, therefore we wanted a client that would allow us to be over the top creative, and a travel agency does just that. Plus three out of the four of us had just come back from studying abroad so it seemed to be a fairly easy choice.
Once we established our client, the research began. We have created a fictional company, named Great Escapes, a logo and each employee. We are currently working on the existing building conditions, researching office equipment, space planning to make sure each employee has ample work space and design guidelines. We worked a few late nights to get ahead with some of the work and to make sure we covered each requirement. We used Steelcase Media:Scape to collaborate on our project. This system made our work so much easier than huddling around one computer.  This week we present our conceptual ideas in the form of a mood board, to our professor and fellow classmates to receive constructive criticism on our concept.
Wish us luck!