German Armed Forces Military Proficiency Badge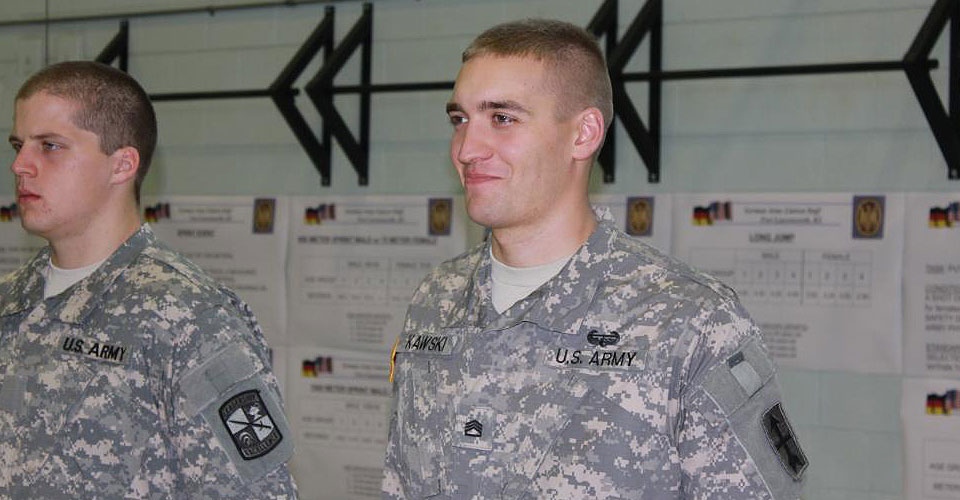 The UW-Stevens Point Army ROTC participated in this year's German Armed Forces Military Proficiency Badge (GAFMPB) competition. The GAFMPB is a sought after German military badge, which is authorized for all German troops and may be awarded to American soldiers. Participants must complete the following events: a written test on first aid, 25-meter marksmanship with a 9mm handgun, a 200-meter swim, track and field events including sprints, long jump or high jump, 5K run, shot put, and a 7.5-mile ruck march.
A participant can be awarded gold, silver or bronze, which is dictated by accuracy on the 9mm marksmanship and completion of the ruck march. Upon successful completion of the GAFB the solider is then authorized to wear the GAFB award on his/her dress uniform. For those who do not successfully complete the competition, there is always next year.
The UWSP ROTC sent eight cadets to compete in the GAFMPB event. Tom Fritz, Jeff Hensley, Brad Kawski, Kurtis Larson, Josh Lysaght, Alex Reeder, John VandenHeuvel and Stefanie Wolosek were all successful during the competition and all were awarded gold badges upon completion. Their success comes in no small part from the excellent training they received leading up to the event. SFC Jason Pond, the ROTC's Senior Military Instructor, implemented and supervised their rigorous training regimen. Congratulations to the cadets, and the ROTC program as a whole, for the successful year at the GAFMPB competition.