Beuerman promoted to Lieutenant Colonel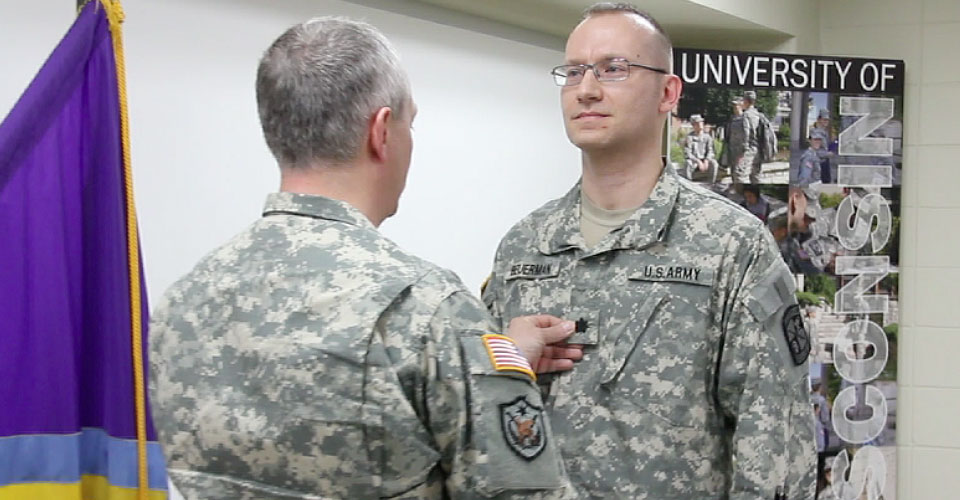 Professor of Military Science Major Eric G. Beuerman of the University of Wisconsin-Stevens Point Army ROTC program was promoted to the rank of lieutenant colonel at a special ceremony on Thursday, Jan. 26. UWSP alum Gen. Mark Anderson of the Wisconsin Army National Guard presented LTC Beuerman with his new rank in front of friends, family and Pointer Battalion cadets.
Beuerman joined the military in 1991 when he received his commission from ROTC through North Dakota State University while receiving his bachelor's degree in music and German from Concordia College in Moorhead, Minn. He earned his master's degree in music from the University of Denver and the Doctor of Musical Arts in piano from the University of Arizona. He has taught in the music departments at the University of Arizona and the University of Wisconsin-Madison.
His military education includes the Field Artillery Officer Basic and Field Artillery Officer Advanced Courses, Combined Arms Services Staff School and the Advanced Operations and Warfighting Course. He has served in field artillery units in the Wyoming Army National Guard, the Arizona Army National Guard, and the Wisconsin Army National Guard, and since 2002 has served as a full-time National Guardsman with assignments with the 57th Field Artillery Brigade in Milwaukee.
Beuerman completed a three-year duty assignment as the assistant professor of military science at the UW-Stout and UW-Eau Claire prior to being assigned as the professor of military science at the UW-Stevens Point.