Students to compete in financial research challenge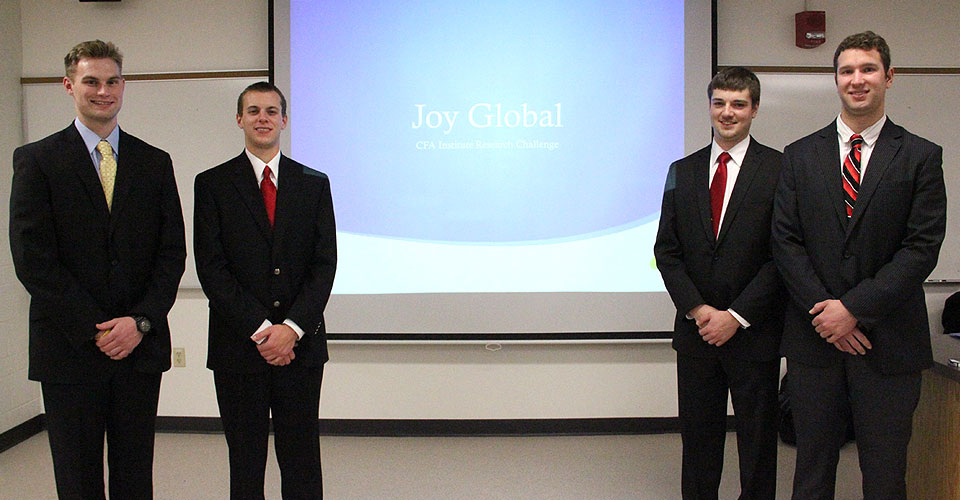 Four UW-Stevens Point School of Business & Economics students will present their company financial analysis of Joy Global, Inc. at the local finals of this year's CFA Institute Research Challenge on Thursday, Feb. 23 in Madison.
UWSP seniors Chase Sellnow, Kevin Klement, Tyler Crawley and Max Trzebiatowski have spent 20 hours a week since November researching Joy Global, a worldwide leader in high-productivity mining solutions based in Milwaukee, to prepare for the competition. The Research Challenge is a competition in which student teams from the top area business schools write an equity research report on an assigned company and present their findings to a panel of investment industry experts.
The UWSP team will compete against graduate students from UW-Madison, UW-Oshkosh and UW-Whitewater in the CFA Society of Milwaukee region. The winning team will advance to compete in the Americas Regional Final hosted by CFA Institute.
This annual educational initiative is designed to promote best practices in research among the next generation of analysts through hands-on mentoring and intensive training in company analysis. It complements students' university curriculum by simulating the 'real world' experience of an equity analyst.
The Research Challenge spans one semester and consists of the following components:
Analysis of a public company
Mentoring by a professional research analyst or portfolio manager
Question and answer session with the assigned company's CFO
Writing an equity research report
Presentation of research to a high-profile panel of experts
Last year, the competition featured more than 2500 students from over 525 universities worldwide. The competition will culminate with the CFA Institute Research Challenge Global Final, to be held in April. The Global Final consists of the winners of the regional finals held in Asia-Pacific, EMEA, the Americas and New York. The 2011 winner was Politecnico di Milano from Milan, Italy.
Update: The UWSP undergraduates came in second on their Research Report Presentation. They were competing against a team of UW-Madison graduate students and several other UW System schools.