A View of Teaching by Thomas McCaig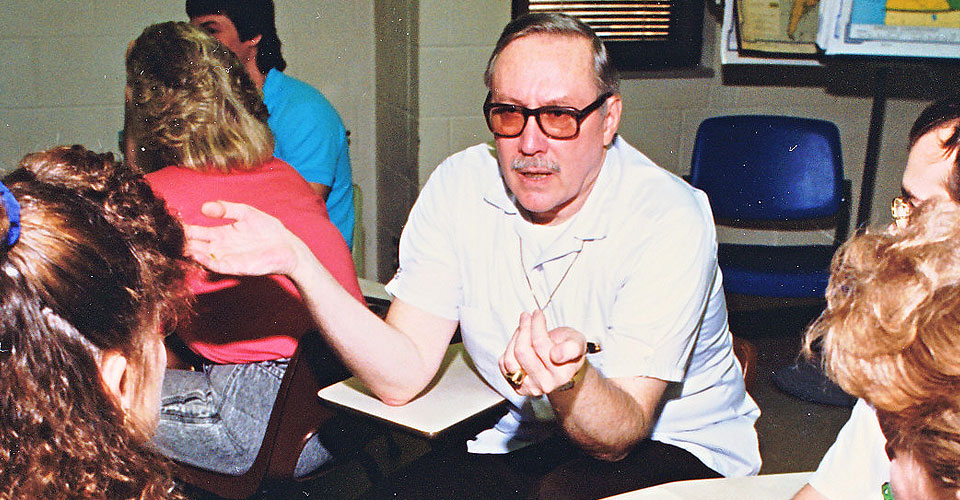 Thomas E. McCaig, former professor and head of the University of Wisconsin-Stevens Point School of Education, passed away May 21, 2012.
McCaig joined the faculty of the School of Education at the UW-Stevens Point in 1966. He served as associate dean and head of the School of Education from 1972-78. He received the UW-Stevens Point Excellence in Teaching Award in 1969 and 1990 and was the University's nominee for the CASE Professor of the Year award and the Joyce Erdman Excellence in Teaching Award. In 1992, he was named Outstanding Teacher Educator of the Year at UW-Stevens Point by the State Superintendent of Public Instruction.
Visitation will be at St. Joseph's Convent Chapel, Stevens Point on Friday, June 1 from 9:30-11 a.m., with the Mass of Christian Burial immediately following. Entombment will be at Queen of Heaven Mausoleum in Hillside, Ill. Memorials to Newman University Parish, 2108 Fourth Avenue, Stevens Point, WI 54481 would be appreciated.
Below is Prof. McCaig's "A View of Teaching":
It was while I was teaching in Chicago's inner city schools that I learned how to teach: my students taught me. Faced with poverty and discrimination, they taught me those characteristics necessary for effective teaching. They also taught me what teaching the "whole child" really meant. What those students taught me then, I have tried to put into practice over the past 40 years, and at every grade level I have taught. There are specific characteristics an effective teacher must have.

First, an effective teacher must understand the unity of all knowledge. Different academic disciplines are varying reflections of "Scientia" – knowledge, and insofar as possible, academic disciplines should be fused during every class hour. An effective teacher models the oneness of human knowledge.

Second, an effective teacher understands that another mission of the teacher is to transmit the best and the worst from the past in order for students to translate them into the present and transmute them into the future.

Third, an effective teacher understands the unity of human nature, and the beauty of racial, ethnic and sex differences among human beings. The effect of this understanding will be to raise the esteem levels of students, enhance self concepts, and to create a classroom environment wherein every student feels safe to learn and to be.

Fourth, an effective teacher is one who unconditionally loves all of his or her students. Love, I define as a positive will act of commitment, very often devoid of any emotional content. We are not enjoined to like our students – but to love them, and to give all of them our knowledge, time, understanding, compassion, and guidance. Love is obviously a hard discipline to learn and to practice.

Fifth, an effective teacher is one who understands that teaching is more an art than science, more intuitive than concrete, and more personal than impersonal. An effective teacher personalizes instruction i.e. causes each student in a group to feel that he or she is being personally addressed and cared about.

Sixth, an effective teacher uses method as a process to transmit academic content, and technique as the creative use of the teacher's self within the dynamic process of the method. A method is virtually useless without the teacher's effective presence within it.

Seventh, an effective teacher teaches in such a way as to insure students ultimately learn those ideas, concepts, and appreciations that are good, true, and beautiful. These should insure that students will incorporate harmony, wisdom, and simplicity into their adult lives.

Eighth, an effective teacher is not afraid of being vulnerable. A good teacher is a risk-taker, and is not discouraged because of criticism or out of fear of success or failure.

Ninth, an effective teacher is one who teaches his or her students to think at the highest levels of intellectual and will functioning. The teacher will teach in such a way as to cause students to become independent thinkers.

Tenth, an effective teacher presents to his or her students a model of moral and ethical behavior, and teaches those values necessary for human nature to grow, and for societies to survive and to flourish.

Eleventh, an effective teacher maintains an optimistic view of life, possesses a great sense of humor and a keen respect for the absurd.

Twelfth, as I indicated earlier, my students have taught me these concepts, and I believe them to be correct. For all these understandings, I am grateful to all those students who taught their teacher so well.