Arriving in Brazil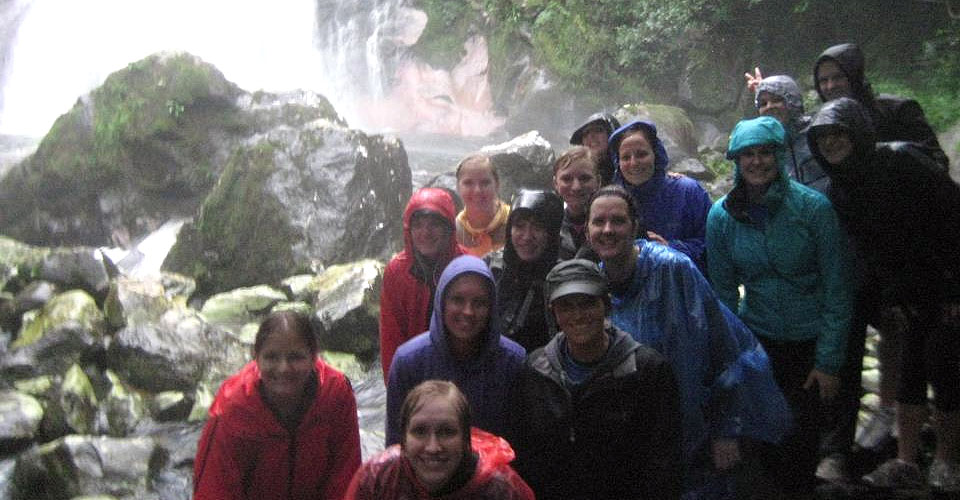 A group of 15 UW-Stevens Point speech-language pathology graduate students are on a 12-day trip to the Center for Cleft Lip and Palate Care (CAIF) in Curitiba, Brazil.
By Pam Terrell, Ph.D.
We arrived safe and sound, with all of our luggage, on Saturday afternoon. We took some time to unpack, shower, and rest a bit before heading out to dinner at an Italian restaurant. Curitiba, Brazil, is a city of Italian, Polish, and German immigrants (just like Point!), so Italian restaurants are very common. Everyone got different kinds of pasta, gnocchi, and pizza, even with palm hearts as a topping. We went to bed fairly early because we were exhausted from the 24 hours of travel.
Sunday morning
Up bright and early to catch a bus…which never came. After some frantic phone calls, our tour bus arrived to take us to the train station where we met our guide, Eugenio. We took a three-hour scenic train ride through the Serra do Mar mountains to the colonial city of Morretes. Morretes is famous for its traditional meat stew that is slow cooked in clay pots. It's called barreado. We ate barreado, fried fish, shrimp, rice, and bananas at a restaurant and then set out for a hike through the Atlantic rain forest. Ironically, it did indeed rain a steady soaking rain the entire time.
We climbed vertical over boulders and rocks, along slippery paths covered with mud and old vegetation. We also cross two rivers complete with rapids and thigh-high rushing water. Thank goodness for our guides! I am pleased to report no bad falls because it was really very treacherous at times. We reached our destination of Salto do Fortuna waterfall and were completely soaked!! Then we had to do it all again backward. I think everyone  felt strong and quite accomplished after completing such a challenging hike and it really helped create an atmosphere of unity and camaraderie since we all had to help each other along the way. The 1.5-hour bus ride back in soaking clothes was less than comfortable, but I didn't hear any whining or complaining. Great group!