CAIF Rotations & Charrascaria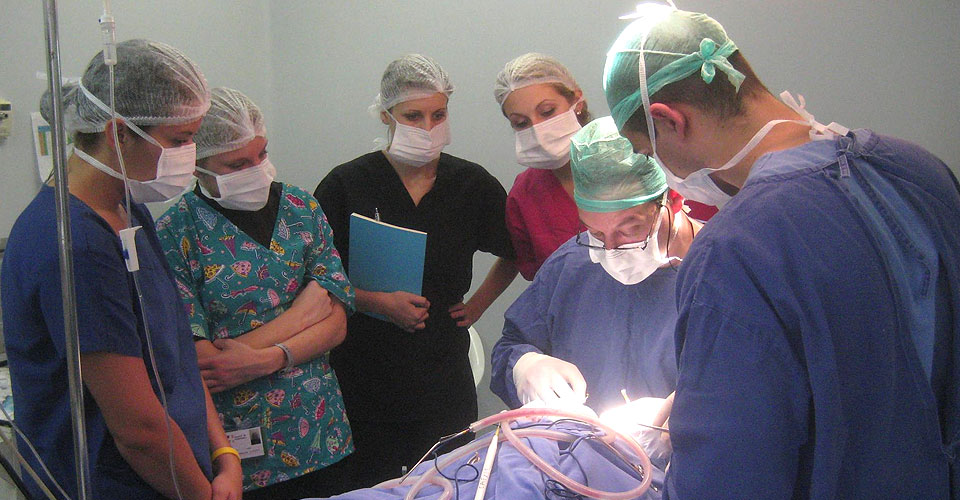 A group of 15 UW-Stevens Point speech-language pathology graduate students are on a 12-day trip to the Center for Cleft Lip and Palate Care (CAIF) in Curitiba, Brazil.
By Pam Terrell, Ph.D.
Today at CAIF the students rotated through psychology, orthodontia, genetics, and pediatrics. While they were doing that, I got to go in and observe craniofacial surgery. The students were unable to do this because the surgeon is a professor at the medical school and the OR is full of med students, in addition to two surgeons, anesthesiologist, scrub nurses, etc. It's simply too crowded. However, I got to learn more about two surgeries that I teach about in class and was able to take photos and video to use in class. I saw an alveolar bone graft, in which bone from the hip is grafted into the upper gum where the cleft was. I also saw orthognathics surgery. This patient had hemiofacial microsomia in which one side of the face doesn't fully develop, so that side is smaller. The results in a crooked face and smile. For this surgery the surgeon cut the upper gum away from the face and repositions it and then does the same for the lower jaw. This was quite an intense surgery involving chiseling bone, using a bone saw, and screwing bone back together. I honestly think we may have had a student or two pass out with that one.
The afternoon was spent with a lecture by the teacher who evaluates and follows the educational progress of the patients at CAIF. Many children of normal intelligence and aptitude are refused entrance to schools simply because they have a cleft. There is a lot of ignorance about clefts which results in this type of prejudice here. That lecture was followed by a talk by Dr. Lauro, who founded CAIF. He is a humble, soft-spoken, and grandfatherly man who has a heart of gold. He was a dentist and he founded CAIF when he realized that cleft care was not being coordinated by a team. He gave up his private practice to go into public health and has a great desire to help the poor and see all children with clefts and craniofacial disorders reach their full potential. After these talks, there was an opportunity for students to ask cultural questions.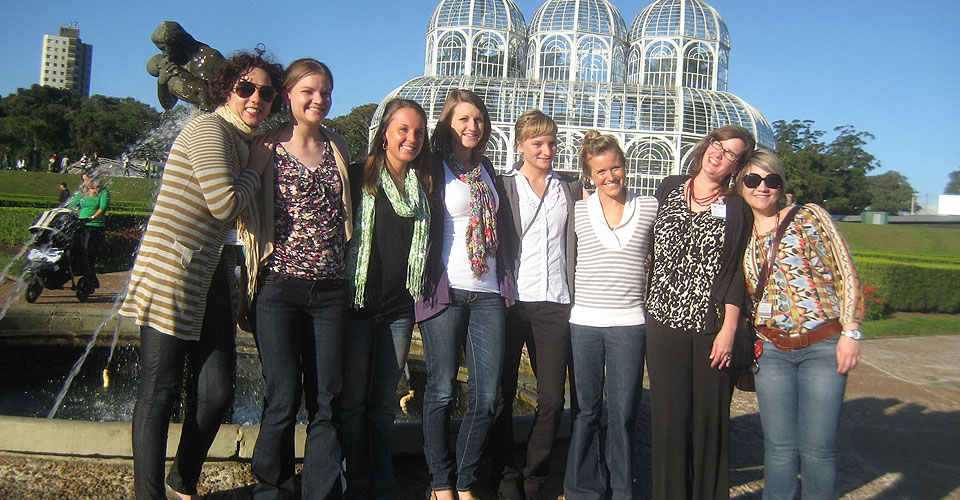 The afternoon and evening were very busy with a tour of Curitiba. We visited the botanical gardens, the opera house, the Oscar Niemayer museum, the Oi Panoramic Tower (where we could see the entire city lit up at night), and Santa Felicidades (means "Saint Happiness"–an Italian neighborhood in Curitiba where students sampled quentao, which is a warm wine only served in June and July, and sampled cheeses). We were entertained at a winery by a man who simultaneously played the guitar, harmonica, and maracas. One of the students had a birthday today, so he sang to her. Then he passed off his guitar to another student and had her sing and play/ Very fun! Finally, we ended at a charrascaria which is a traditional Brazilian steakhouse. I don't think the students believed me when I told them to pace themselves at the buffet of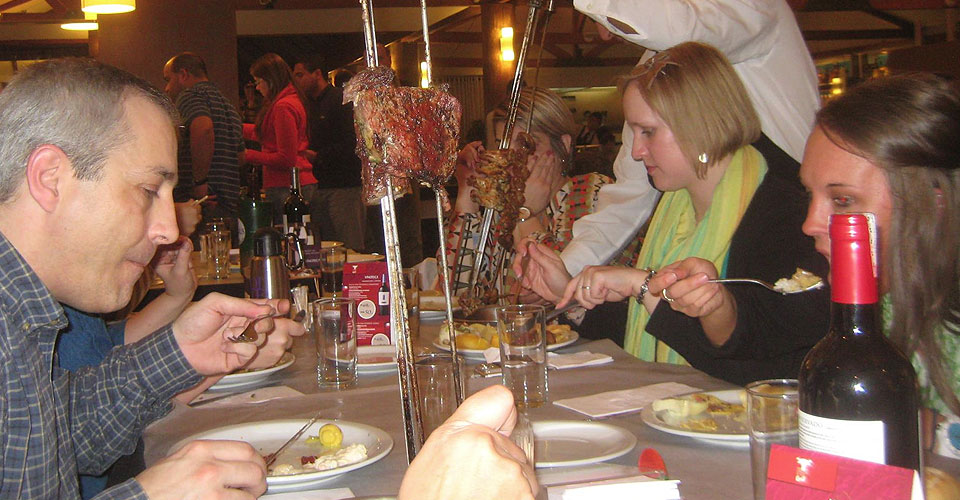 salads, appetizers, fruits, vegetables, and breads. Once we sat down, large skewers of all types of meat are repeatedly brought by the table on long skewers by many, many waiters. They are also bringing pasta and other foods. Each table has a red and green disk on the napkin holder. If the green part is up that means "keep the food coming." Red means "No more! I'm stuffed!" The students and I ate and ate and ate…including a few adventurous students who tried chicken heart. However, all of the steak was the overwhelming favorite. We finished with the dessert buffet and the deliciously sweet and very strong Brazilian coffee. We were all looking forward to getting back to the hotel and putting on clothes with elastic waistbands.
It has been a great day of learning, exploring the city, and experiencing the Brazilian culture. Oh! And we celebrated Valentine's Day today in Brazil as well. More tomorrow!