Thanks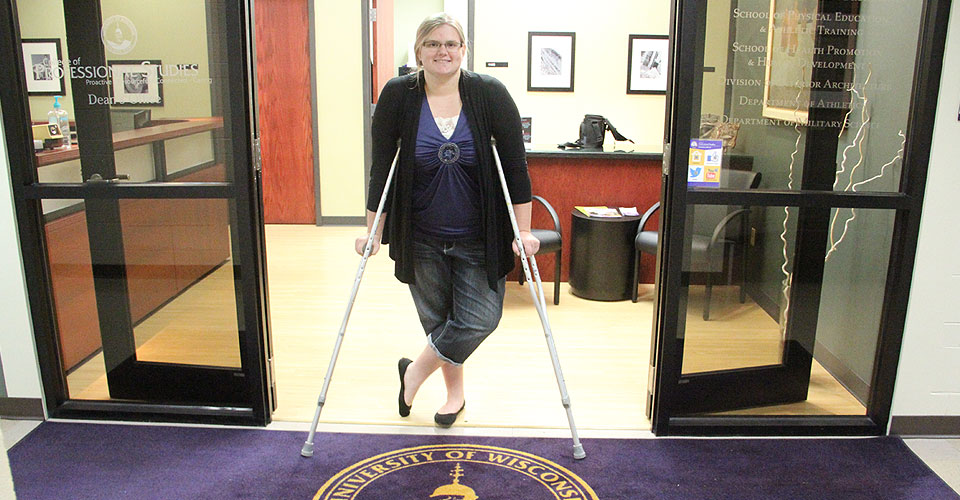 Well, we just finished week three of classes. How's your stress level? I am to the point where it will be a miracle to have a full head of hair for winter break.
In college, we take on a lot of stressful situations once we get to the higher level classes in our majors. Some people have added stress when you mix a part-time job into the equation. It can get to be pretty hard juggling those two things just by themselves.
For me, I am juggling full time schooling, as well as a medical condition.
During puberty, I developed too much bone in both of my hips, which resulted in damage to the cartilage that lines the socket of both hips. It took four-and-a-half years, numerous imaging studies, surgeons, surgeries, and locations between Wisconsin and Minnesota to finally get a complete diagnosis. For a while there, it just seemed like everything was against me.
Some of the surgeries required that screws be used to hold bone together. For most people, they can live the rest of their lives without issues with the screws once their bodies have healed, but for me, that wasn't the case.
On Monday, September 17, I underwent my seventh surgery related to my hips, a screw removal. These screws had done their job, but they became more of a hindrance than a help. They needed to come out.
This surgery was incredibly straightforward. I reported to the hospital at 6 a.m. and I was discharged (on crutches) around 1 p.m.  My mom later told me they actual "surgical" portion of that time was just over a half hour.
I was back in class by Wednesday!
Now, a week later, I am still on crutches, but it's nice not to feel like I am on a tilt-a-whirl when I try to study. I am in physical therapy to strengthen my leg, and the limp is getting better, but for now, I still need to use the crutches.
There are some people that need to be thanked because of their part in this journey:
Thank You Drs. L, H, C, and L, the specialists who pointed me to the man who was able to put all the pieces together and who gave me a full and current diagnosis.
Dr. S: You have seen me through so much! Thank you for  listening to me when I didn't know how to describe the pain. Thank you for not giving up on me after the fall. Thank you for finishing what another started.
To my parents: You have helped me in so many ways while I was dealing with this condition. You were there when I looked like crap in a hospital bed. You were there when they had to poke me oh so many times. You were there when I was going stir crazy around the house and would take me to Walmart to zoom around on the scooters. You were there when I needed you. Thank you!
To my professors: Thank you for understanding that sometimes the only way for me to handle the pain was for me not to be in class. Thanks for being flexible when I needed to miss class for appointments or surgery.
To my friends: Thank you for putting up with me while I was in pain or stuck on crutches!
To my fellow hippies out there, still facing surgery and the unknown: Hang in there, you have the power of the internet to unite each other to talk about the frustration of having to wait while in pain, you have someone who knows the frustration of feeling like you've plateaued after surgery. You have people praying for successful results. Thanks for being there for me when I was frustrated with my results and feeling helpless.
Right now, my specialist and my family are hoping that these next steps will be ones without pain.
I am hoping this next hurdle won't take four-and-a-half years!
-Kate