Life in the Fast Lane
Yet another month has sped by, but these days have not disappeared without some fun activities along the way. As a tour guide for the University of Wisconsin-Stevens Point, I am often asked the same question, "Is there anything to do while I am at school besides homework?" Well ladies and gentlemen, I am pleased to announce that there are a limitless amount of activities offered for students and the community in the Stevens Point area. Some of the recent places that I have visited are the Sculpture Park near Stevens Point Area Senior High School and the apple orchards near Gays Mills, Wis. As for activities as of late, my friends and I have made homemade custard in our apartment, become intramural champions for
the women's volleyball league, attended the UWSP production The Importance of Being Earnest, carved pumpkins, and attended a UWSP men's hockey game.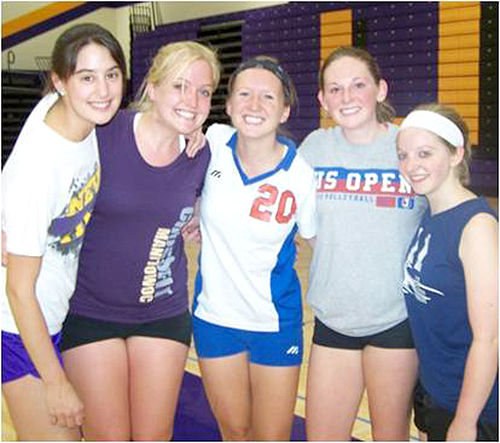 Now after reading this list of activities, many of you are probably thinking, "So where does homework fit in?" This is where my lesson of the day comes in. Even when I was playing NCAA Division III volleyball here at UWSP which took up a ton of time, I still found time to get my homework done. (Congratulations is in order for the UWSP volleyball team as the Pointers just earned their second conference championship in a row!) I have found that the more you do or have to do, the less you procrastinate. When I have more time to study, I find myself either procrastinating or studying more slowly and less efficiently, taking up all of the time that I have. Therefore, I could have completed my study guide in 1 hour, but instead it takes me two hours.
As it is the middle of the semester, midterm exams are in progress, so this is a valuable lesson to be learned. The sooner you learn that it is not how much time you have, but instead how you make use of your time, the less stressed you will be. Speaking of using my time wisely, I better return to my studies to prepare for my midterm exams.  See you on the other side!
I don't suffer from insanity; I enjoy every minute of it.
-Brittany
Brittany Melby is a senior at the University of Wisconsin-Stevens Point majoring in business administration and interior architecture.