Skyward CEO visits alma mater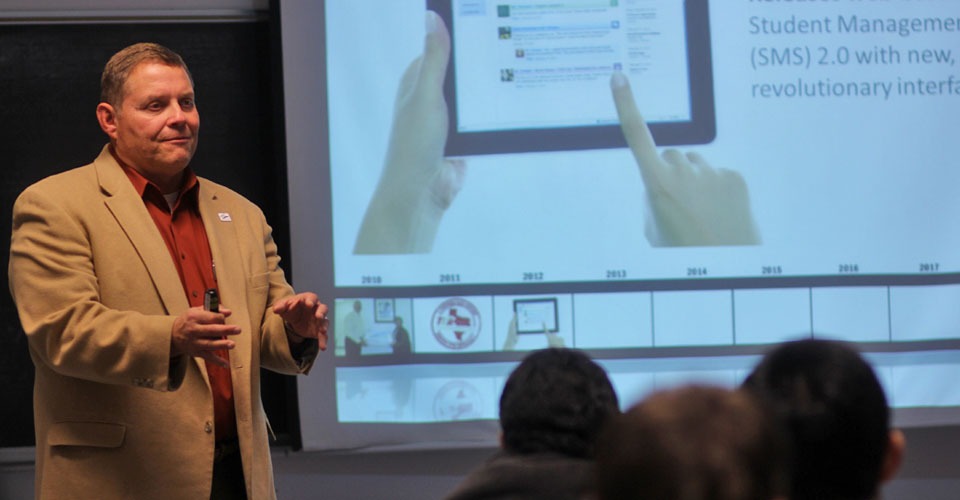 Cliff King '83 is a Stevens Point success story. Born and raised in Point, King attended K-12 in Stevens Point before graduating from UW-Stevens Point with a business degree in 1983. Two years earlier, King became the first full-time employee of Skyward, Inc., another Stevens Point success story. He shared his story with students from the UWSP School of Business & Economics Tuesday, Nov. 13.
King is now CEO of Skyward, a leading provider of administrative software solutions for K-12 schools. Skyward provides software for more than 1,500 districts across the globe. Skyward's School Management System™ allows districts to manage student progress, annual budget, employee pay, and even food service from a single centralized database.
King has learned a lot of lessons from his 30-plus years working in every department at Skyward, including customer service, sales, marketing, and product development:
Treat everyone like you would like to be treated.
Be ready to make new decisions based on new information.
Listen. It is a lost art that presents many opportunities to learn.
Change is inevitable and ongoing, be a catalyst of it.
Be passionate about what you do.
Today, Skyward has 366 employees, including 107 UW-Stevens Point alumni. Maybe one will be the next Stevens Point success story.