UWSP cheer team succeeds at national championship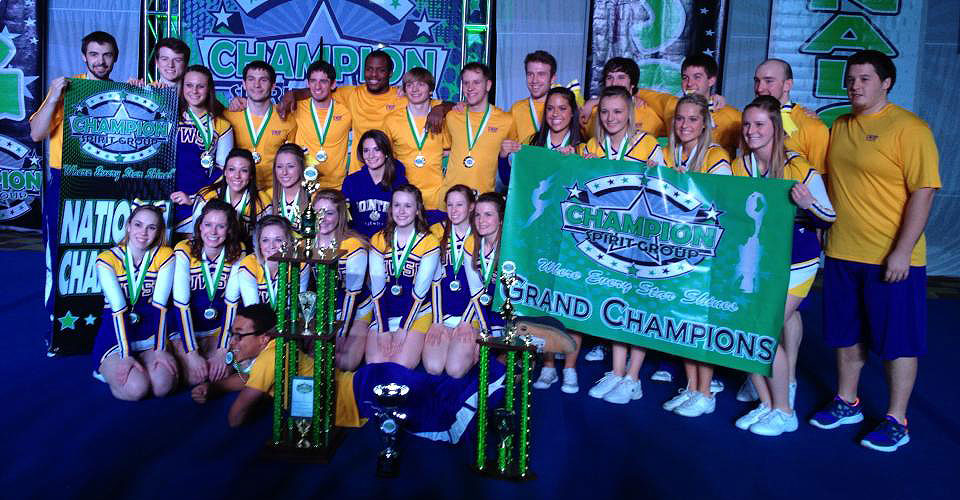 Hard work and dedication paid off for the University of Wisconsin-Stevens Point cheer and stunt team as they succeeded at the Champion Spirit Group (CSG) Wisconsin Dells Nationals/College Championship. The team attended the two-day competition at the Kalahari Resort in Wisconsin Dells on January 26-27, along with four other college teams: UW-Eau Claire, Winona State and UW-Stout.
Judged on a variety of skills including stunts, pyramids, tumbling, jumps and tosses, UW-Stevens Point won the CSG National Champion title after taking the lead with a combined score of 8.32 over the two days. UW-Eau Claire placed second with a score of 7.78, UW-Stout third with a score of 7.63 and Winona State fourth with a score of 7.29.
In addition, with a leading score of about 20 scholastic teams in their session, the UWSP cheer and stunt team was awarded Grand Champions and the Best Choreography trophy. Of over 100 teams, UWSP completed with the third highest score overall.
Members of the UW-Stevens Point cheer team are Staci Schneider, Moriah VanAsten, Savanna Hunter, Kelsey Stevens, Meg Kasulke, Brittany Erickson, Reann Dvorscek, Whitney Golla, Nicole Ziehl, Haley Stege, Krysti Konopacky, Sydney Mory, Libby Vodra, Skye Kilkenny, Kim Arcand, Max Schmidt, Colton Funk, Nick Adams, Sam Fischer, Adam Cadena, Matt Lopas, David Birenbaum, Austen Dins, Jed Strobel, Austin Meinholz, Shawn Ward, Austen Loveless and Deontue Griggs.
Congratulations on a successful weekend at this national championship!