IA and iPads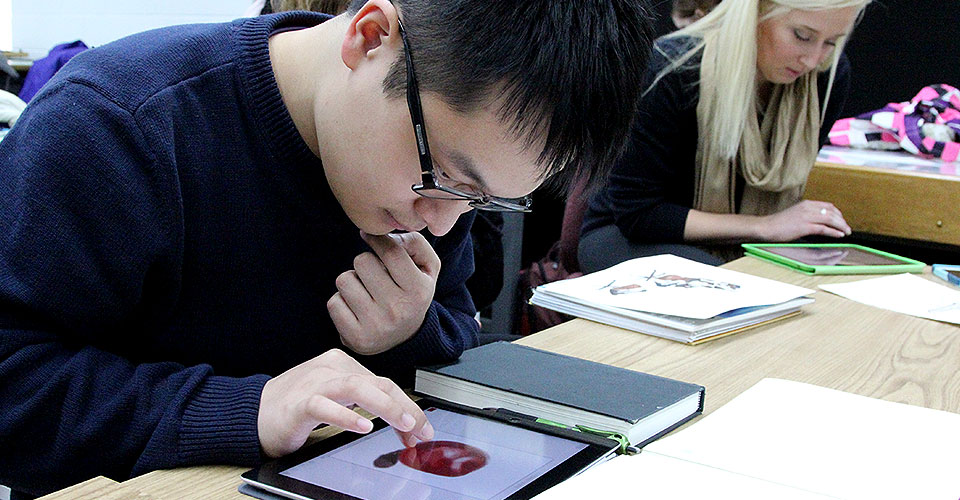 Students in interior architecture at the University of Wisconsin-Stevens Point put a new spin on finger painting. Prof. Kathleen Julin introduced the iPad app Brushes to her Architectural Watercolor (IA 331) class and the creative juices started flowing. [Photo Gallery]
By simply taking a photo of their artwork with an iPad, students could edit and manipulate their original watercolor artwork using the app. Once completed in Brushes, the file could then be printed off.
Using a basic toolbar at the bottom of the screen, students could bring up a color wheel/picker, work with layers and switch between various brushes. A useful feature of Brushes is the ability to record each brush stroke, enabling users to play back exactly how they created each piece of iPad art via the Brushes viewer.
The lower toolbar offers a color palette, eyedropper tool, bucket fill, brush, brush properties, eraser, undo and redo, and layers. The color palette has 28 swatches plus a color wheel and slider bars for dark/light and opacity. Brushes offers 19 brush choices with options for spacing, size, and opacity. Users can create up to six layers and there are several different options for manipulating those layers.
More info:
Brushes users Flickr gallery | Brushes creator Steve Sprang