The Power of Negotiation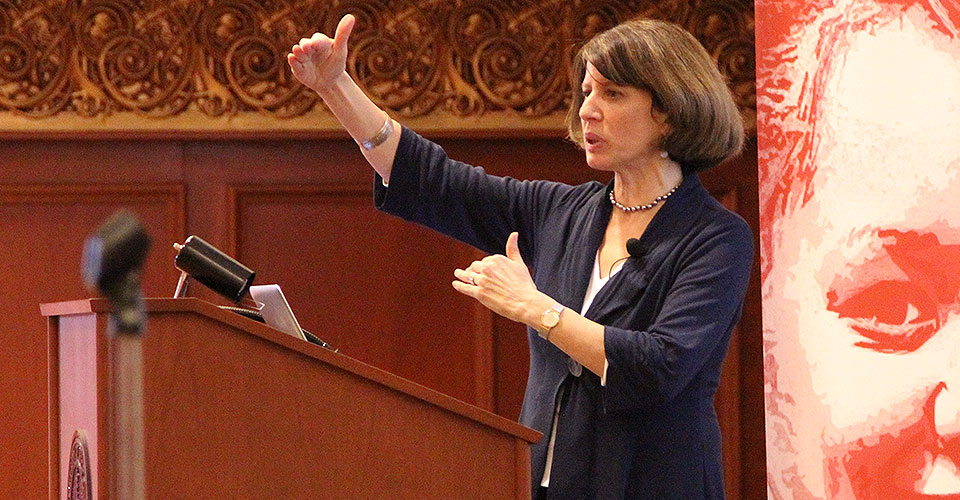 "Ask for it!" That's what author Sara Laschever told students, faculty, staff and community members as she wrapped up the week-long Portage County Business Council Business | Consumer Marketplace with an informative free lecture on the power of negotiation in at the University of Wisconsin-Stevens Point on Friday, March 8. [Photo Gallery]
Laschever spoke to over 250 people in a packed Alumni Room in the Dreyfus University Center about the social fact that women are much less likely than men to ask for what they want, and in most cases, what they deserve. She provided evidence and research on why this is the case.
Laschever also gave attendees advice and tools on how to address the issue of negotiating:
Don't accept the status quo; assume everything is negotiable.
Identify what you want. Be strategic.
Can you strengthen your position? (Additional education, professional development, field experience, expand skill set.)
Define fairness for yourself.
Do your research. People don't prepare to fail, they fail to prepare.

Research the context.
Assess your market value.
Set a high target.
Combat anxiety by role-playing.

Be careful how you ask.
Solve their problems.
Sara Laschever is the co-author, with Linda Babcock, of Women Don't Ask: The High Cost of Avoiding Negotiation and Positive Strategies for Change and Ask for It! How Women Can Use the Power of Negotiation to Get What They Really Want. She lectures and teaches workshops about women and negotiation and women's challenges in the modern workforce for corporate audiences, colleges and universities, law firms, government agencies, and women's leadership conferences in the U.S. and around the world.