Rakin' in the Dough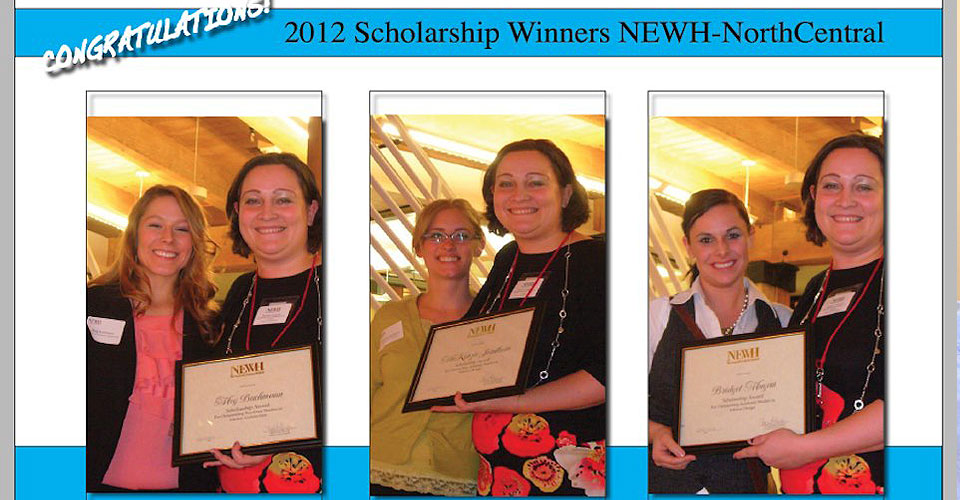 One thing I learned while at UW-Stevens Point–and I guess not really about life–is how to apply for scholarships. I have put myself through college the last four years (plus interims!) so I had to apply to countless scholarships. I recently looked at my little Financial tab-thinger under myPoint and found I was awarded around $6,000 bucks for submitting essays, recommendations, portfolios and what ever hoops they make you jump through. I'm not an expert, but I have a few tips to share!
Research scholarship programs either at UWSP, for the state of Wisconsin, or whatever program or interest groups you're in. Two large scholarships I received were for interior architecture but offered through Wisconsin and the Midwest. There is a lot of free money out there–get your treasure huntin' caps on.
Read the directions!!! I heard from so many scholarship givers that half of the people miss a step. Make a to-do list for each one if you have to and check it twice.
Research the foundation, last year's winners and what the foundation is looking for in a recipient. By doing this you'll be able to gear your essay towards more specific items, but don't lie!
The essay: I wrote one essay my freshman year. I updated, adapted and changed various things to pertain to each scholarship. This makes scholarship deadlines less intense! Just dig out the old, make necessary changes and make sure some one else reads it! Although, you want to say how wonderful you are,tone it down. be honest and really try to show who you are (unless you're a narcissist). Try to sound professional (unlike this blog). Another little tip: I also use the synonym button quite a bit to make sure I sound like I am really educated 🙂
Most scholarships ask for recommendations. This is more important than you may think. You can say so many wonderful things about how great and fabulous you are, but other people want to know what other people think about you. Gaining strong professional and personal connections with people, faculty and staff is crucial! Maybe, you meet with your professor every once in awhile to "make sure you're understanding the material" (wink, wink) and just get to know them and in return they get to know you. Sit in the front row, ask questions and try to be more than a bump-on-a-log in sweats. Personal connections/networking is key (and will be discussed in a later blog).
Write a cover letter and stick it in the package even if it is not required. This will greet the person but it will also show exactly what you have included so they don't have to check it off. If you have multiple pages and items make sure they all coordinate so that your "stuff" is easily identifiable-even the mailing envelope. (see pic below)
Thank them!! They are giving you an opportunity that they really don't have to. Thank who ever it is for taking the time to review your application and that you look forward to hearing from them.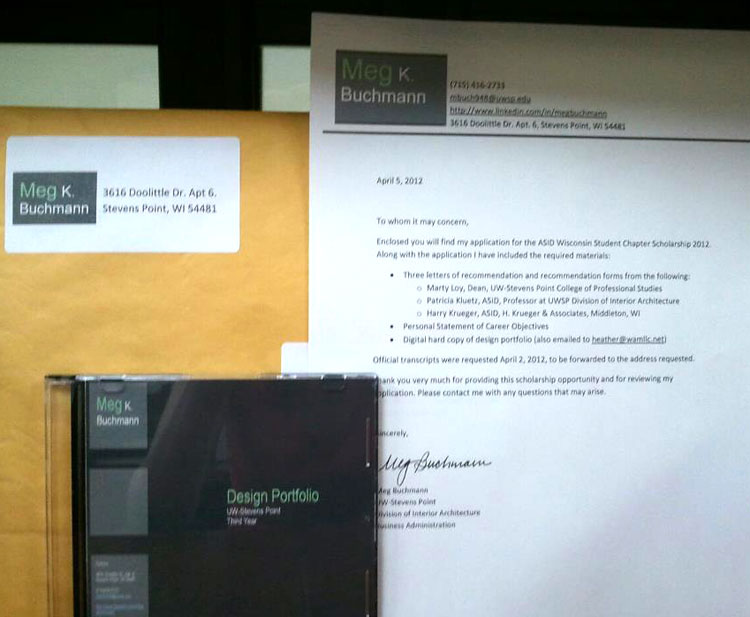 Now these are just a few things I've done that have worked. This is not a guarantee otherwise I would be asking you for three easy payments for my fool-proof system.
One scholarship I was recently awarded was for NEWH, a hospitality industry foundation. In order to receive the scholarship I had to attend a speed mentoring event in Minnesota. I was not looking forward to it, but through this scholarship I found out about this group and how it will really benefit me in my future. I met some great professionals with knowledgeable insights into my profession. I also received a complimentary two-year membership to the organization for winning! Now I have access to resume posting sites, professionals' contact info and a lot more. So scholarships are not always just about the dough, the recognition and sometimes other perks follow…like connections and networking (stay tuned).
Hope this helps in all your scholarshipping endeavors!
-Meg
Meg Buchmann is a senior in the interior architecture program at the University of Wisconsin-Stevens Point.