Semana Santa Euro Trip
Hola chicos!
I hope everyone had a wonderful spring break and time away from school! I just returned to Valladolid yesterday after 12 days of nonstop traveling. It was crazy insane and I loved every minute of it.
First stop was London where I spent two nights exploring the city by myself. I know a lot of people would not choose to travel alone but I loved it. I would not recommend doing it unless you are completely comfortable and confident in yourself, but I knew I would be able to handle it. I was able to do what I wanted, when I wanted, and it was fantastic. Some things I saw and did while I was there: Big Ben, Shakespeare's Globe, Tower of London, London Bridge, Platform 9 3/4 (from Harry Potter!), Buckingham Palace, Piccadilly Circus, Abbey Road, booking signing by Jodi Picoult, rode the tube, and explored every part of the city I possibly could. I found it to be a very easy city to navigate because English is the official language and the tube (underground subway) is super easy to figure out, I never had any problems. I think my favorite thing was walking across Abbey Road, but I had a great time all around.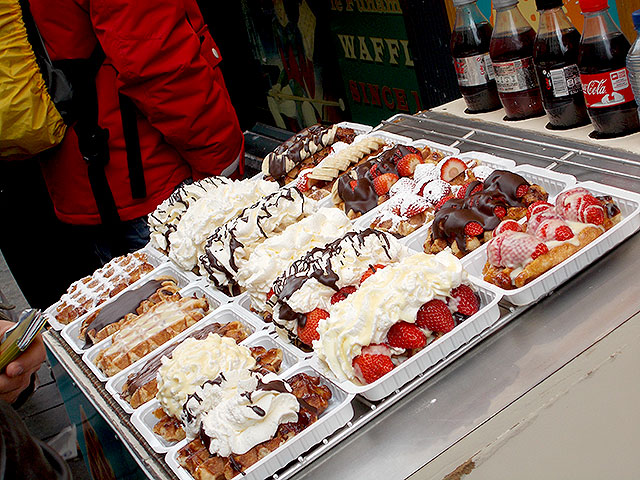 Next I rode a train through the English Channel to Brussels, Belgium, where I met up with a friend from school. We spent three nights exploring the city. It was nice because Brussels is much smaller than London and very laid back; in fact it is looked down upon to be trendy or uptight there. We saw the Grand Palace, Manneken Pis, amazing street art, the European Union, and just about everything in between. One day we rented bikes and adventured to see the Atomium structure. It was giant and it was so fun to ride a bike since I haven't at all since I've been in Europe. We ate a lot of Belgian chocolate and waffles and had a blast.
Third stop was Stockholm, Sweden, where we spent two nights. Stockholm was the coldest place and they even had snow and ice on the ground! It was the first time seeing so much ice and snow since I was in Wisconsin, and I almost fell a couple times on the ice hahah. We walked along the water that surrounds Stockholm because it is composed of several islands. We took a guided tour through the new and old parts of the city. We saw where the Nobel Prizes are given out, the royal palace and the changing of the guards, and city hall. We went to a famous jazz bar with people who were staying in our hostel and I met a lot of locals. Swedish people are the nicest people I have ever met, they start up conversations and will go out of their way to help you if you're lost in the city. Stockholm was fantastic but it was nice to get away from the cold when we left.
We then headed to Berlin, Germany, where we spend one night. We were supposed to have more time there but the airline (advice: NEVER fly Lufthansa) changed our flights so it shortened our time there. Berlin was definitely one of my favorite places, and I know I will return one day and spend more time. We took a guided tour of the city and saw the Berlin Wall, Checkpoint Charlie, Hitler's bunker, the Holocaust Memorial and so much more. We actually took the tour in Spanish since we hadn't heard or talked Spanish in a while and it was a blast. We also went to a little flea market (I LOVE flea markets) where we shopped around and got food from little stands. The best part was walking along the East Side Gallery, the part of the Berlin Wall that is covered in art. It was beautiful, but I've heard that they are thinking about taking it down to build something else there and I really hope they don't because it's so amazing.
Lastly, we spent two nights in Geneva, Switzerland. Geneva was another one of my favorites mostly because I would like to live in that area in the future. Geneva has a main office of the United Nations and my dream job is to work as an accountant for the United Nations. Geneva is beautiful and so relaxing. It's right on Lake Geneva and has amazing views of the surrounding mountains, and you can even see France. While there we walking through the city, saw the giant fountain in the lake, toured through the old city, and (my favorite part) toured the United Nations. It was a nice relaxing, perfect ending to our trip.
Backpacking through various countries for an extended amount of time taught me countless lessons:
Be nice to everyone you meet because you might need their help sometime.
Keep good records of how much you're spending.
Never fly Lufthansa, in fact maybe just take trains instead of airplanes.
Have fun! You're on vacation, relax and go with the flow.
Do what you want, have no regrets when you leave.
I could go on forever but I know no matter how much I explain will not be sufficient. To everyone who thinks they can't travel for whatever reason, I think that's a lie. People like to tell themselves excuses like it's too expense or too much time or whatever, but that's all in your head. If you want to do it, then do it. I'm not saying it's a piece of cake, but it's completely worth every penny, every second, every sacrifice, whatever that may be. When I'm old I want to look back on my life and think 'I did what I wanted, I'm happy, I have no regrets.' So that's exactly what I'm doing. The only person who can get in the way is yourself. My last bit of advice: Live your life how you want.
Enjoy more photos below … I have some exciting things coming up in the future so check back for more fun adventures and posts!
Hasta Luego,
Alexia
Alexia Szabo, a junior majoring in accounting, Spanish and international studies at UW-Stevens Point, is blogging about her study abroad experience in Spain.