Buchmann named UWSP Student Employee of the Year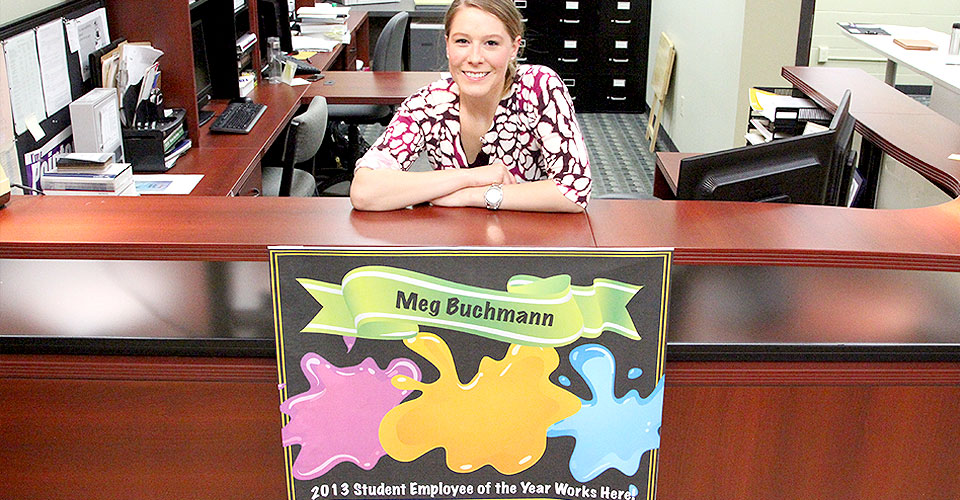 The College of Professional Studies at UW-Stevens Point prides itself on being proactive, resourceful, connected and caring. That is epitomized in our students, including dean's assistant for design Meg Buchmann who was selected as the 2012-13 UW-Stevens Point Student Employee of the Year.
"I'm in awe of the work Meg has done for us," said CPS Dean Marty Loy. "I know she will be successful in the future because of the talent she has lent to us. Meg isn't just a student working in our office, in many ways she's become part of what we do and who we are. We've been able to entrust her with any project and we know it will be done well."
Buchmann, who has worked in the CPS dean's Office since November 2010, also works for UWSP Facility Services. She will graduate with honors in May with a Bachelor's of Art in Interior Architecture.
"I have gained an immense insight into my career path of interior design," said Buchmann. "By completing projects, I am coming into the field with hands-on experience most students with my degree don't have."
One of Buchmann's biggest projects was a complete remodel of the a 4k program Gesell Institute. She was able to transform a room that was not functioning properly and uncomfortable for timid students into a space that maximizes the space and creates a welcoming and flexible environment. The remodel benefited the community, teachers, student teachers and the 4k students.
Completed projects:
Gesell Institute: complete remodel and project management (CPS 124/126)
Health & Human Performance Lab: complete remodel and project management (HEC 033)
Student Lounge: redesign (HEC 112)
Center for Collaborative & Interactive Technologies Lab: remodel (CPS 104)
Distance Learning Lab: redesign (CPS 234)
"Most importantly I gained a family," said Buchmann. "The CPS Dean's Office has been a place of retreat for me, even when completing tedious tasks. The staff and faculty here have supported me in both academics and my personal life. Of all the things I will miss from UWSP, my part-time job and the people I worked with will be missed the most."
The Student Employee of the Year award includes a $100 scholarship that will be presented at the UWSP Leadership Awards Ceremony on Wednesday, May 1. There are over 2,000 UWSP students who work on campus.