UWSP baseball team visits McDill Elementary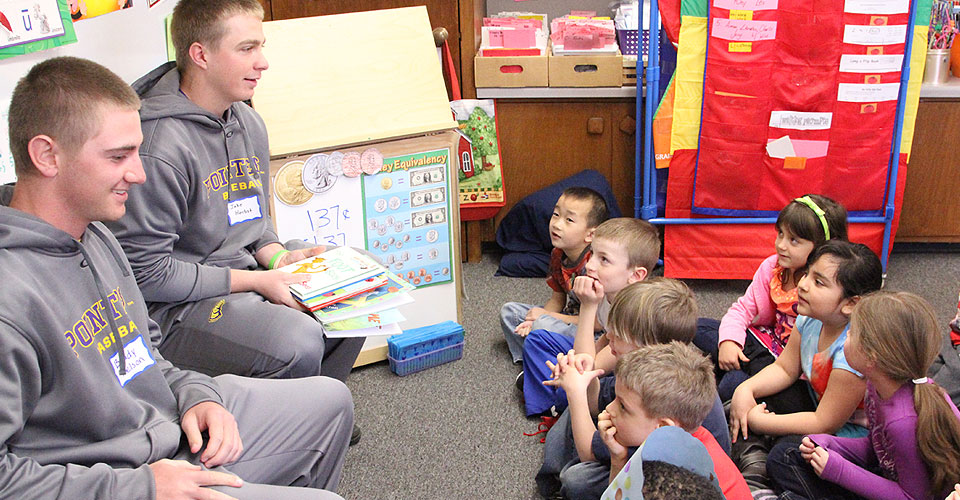 Members of the UW-Stevens Point baseball team were literally the big men on campus when they visited McDill Elementary School on Friday, April 12. [Photo Gallery]
The Pointers stopped by kindergarten-sixth grade classrooms to read stories, answer questions, eat lunch and even sign a few autographs for the students. Many of the books were about baseball, including stories about Jackie Robinson and Lou Gehrig. The Pointers also stressed the importance of practicing reading every day, just like practicing sports.
UWSP head coach Pat Bloom also presented the school with an autographed baseball by Washington Nationals pitcher Jordan Zimmerann, who played for the Pointers from 2005-07.
Here are some of the best questions and comments of the day from McDill students:
Are you studying to be a professional baseball player?
Do you play football?
I am a baseball player, too.
I've been practicing baseball since I was four with a real bat.
In college, you learn how to get a job.
What's your favorite place to go for ice cream?
Were you ever on the Cubs?
If you could meet one famous baseball player, who would it be?
This is the third year UWSP baseball has visited McDill Elementary.