School of Education students awarded for inspirational efforts in Namibia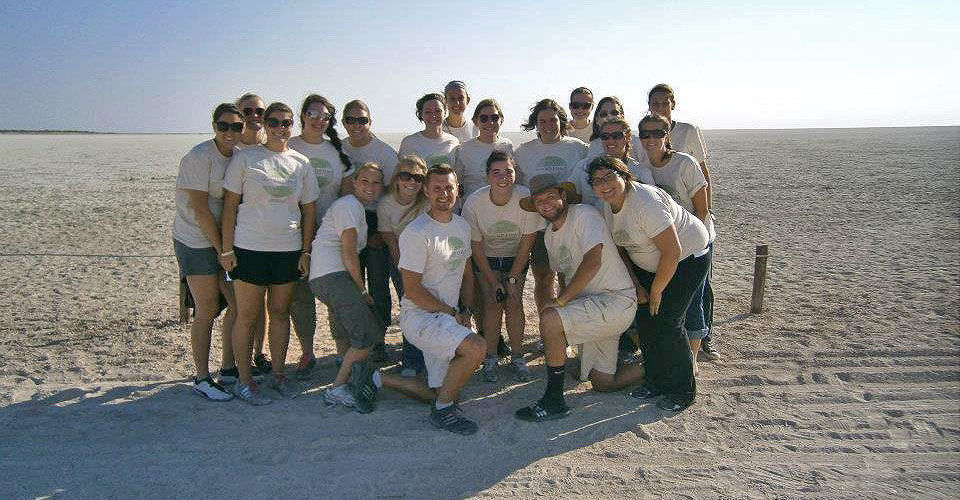 A group of 18 University of Wisconsin-Stevens Point education students enriched and inspired the lives of children with disabilities in Namibia, an experience that earned the students the College of Professional Studies Heroes Award.
On this trip to Windhoek, Namibia, the UW-Stevens Point students had the opportunity to work within an unfamiliar culture as they taught 94 children with visual, hearing and intellectual difficulties at the National Institute for Special Education. They adjusted to the different social norms, customs, expectations and curriculum of the culture enabling them to create the most beneficial experience for the children while gaining important teaching skills and techniques through working with diverse learners.
The Heroes Award is a $1,000 scholarship created in honor of Casey Gazdik, a health promotion/wellness major who died in 2001 from the rare lung infection of blastomycosis. The award is funded through generous donations from family and friends of Gazdik and also others who wish to honor their own hero through this fund.
The award is presented to a CPS student who has demonstrated the ability to overcome or help someone overcome an obstacle in life through courage or ability, bravery or noble qualities.
In this case, all 18 students proved these heroic qualities together as a group. Through their work, they revitalized the school into a vivacious place of learning for the children with disabilities. The students enthusiastically met each challenge by demonstrating respect and sensitivity towards the perspective of both the children and teachers as they acted on ways to improve the learning experience and environment.
"We can take tremendous pride in their being the very best representatives of CPS," said Patricia Caro, head of the School of Education, who nominated the group of students and headed the trip. "They conquered the unknowns on behalf of children with disabilities."
Close student-teacher relationships were developed and they continue interaction through Skype, writing letters, sending packages of supplies and more. Both the lives of the children of Namibia and the 18 UWSP students were impacted and changed through this inspirational trip.
The School of Education students who received the Heroes Award for their inspirational activities in Namibia are:
Casey Bahr
Taylor Burns
Carrie Denor
Tamar Dropkin
Jackie Haen
Mallory Isbell
Curtis Kadow
Emily Loose
Lexi Morgan
Rebecca Morrical
Laura Mueller
Kaitlyn Reil
Zachary Ruesch
Bryanna Seidl
Allison Shadick
Ciera Staehle
Kayley Tesch
Julia Weinberg