Taste of NFL founder visits UWSP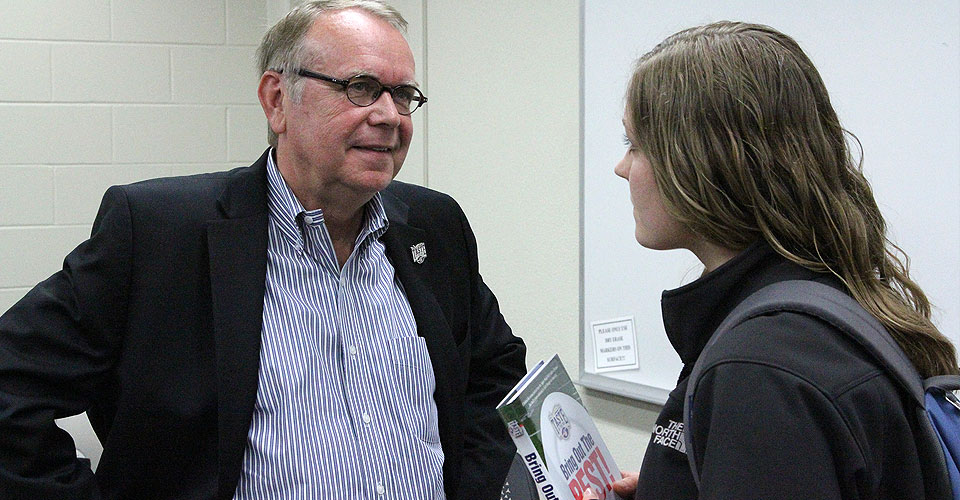 The founder of Taste of the NFL, a non-profit organization dedicated to kicking hunger in America, spoke to business and dietetics students at UW-Stevens Point about "Giving is Good Business" on Thursday, May 2.
Stevens Point native Wayne Kostroski and the Taste of the NFL Foundation has raised over $13 million for hunger relief over the past 22 Super Bowls. He also co-authored "Bring out the BEST!" which promotes building a strong culture with motivated employees in both business and non-profit organizations.
Kostroski, the co-owner Cuisine Concepts in Minneapolis, encouraged students to find the balance in their personal, professional and community as they pursue success. "Any ideas you have, don't let anything stop you," said Kostroski. "Especially if it will help those around you."
The Taste of the NFL is known as "The Party with a Purpose" and addresses the needs of the hungry and homeless by raising awareness and money through special events. Since 1992, the Taste of the NFL has rallied the country's top chefs and the NFL's greatest to raise money in support of food banks throughout the United States. Held on the eve of Super Bowl, this event is a unique way to experience exceptional cuisine, meet NFL players and coaches, and support our fight against hunger. Through the efforts of hundreds of volunteers who help make Taste of the NFL the single most successful charitable event at the Super Bowl, Taste of the NFL continues to help feed the 37 million Americans who have turned to their local food banks for assistance.